Amdocs LTD To Unlock Value From 5G IoT Connectivity Market
Please Note: Blog posts are not selected, edited or screened by Seeking Alpha editors.
Seeking Alpha Analyst Since 2020
"It is the emotional side of investing that destroys even the greatest minds. If you can't master your emotions, all the data in the world can't save you" - James O'Shaughnessy


Summary
Amdocs role as a vendor is critical for CSP's to exploit new 5G and IoT opportunities.
B2C and B2B markets are the key areas for 5G IoT connectivity growth.
COVID-19 makes IoT a necessity to the most impacted industries.
Amdocs top line to reach $8 Billion by 2030 with rich margins to create a huge influx of cash flow.
The company
Amdocs Limited (DOX) offers software and services for communications, media, and entertainment industry service providers. The company offers, enterprise and connected society, media and digital services, open cloud networks, and customer experience and monetization solutions. It develops publishing software for creating print, online directories and also offers data center service and outsourced customer services. It also provides software testing, system integration, consulting, media and digital, consumer advisory, data and intelligence, and quality engineering services. The company markets its services to various industries including technology and communications, information technology, media and entertainment, and consumer. It has business operations in the Americas, Asia-Pacific, and EMEA. Amdocs is headquartered in Chesterfield, Missouri, the US.
Despite losing more than 15% versus the S&P that gain more than 14% and decline in IT spending, according to Statista, In 2020, IT spending worldwide is expected to reach about 3.61 trillion U.S. dollars, a decline of 5.4 percent due to the negative economic impact caused by the global coronavirus (COVID-19) pandemic
Amdocs still managed to beat analyst estimates and posted revenues of $1.05 billion for the quarter ended September 2020 had revenues of $4.2 billion in fiscal  2020 which is up compared to the $4 billion in 2019 making another tech company to see revenue growth during the pandemic all while netting $587 million for the year
Amdocs Limited is a company with a sustainable business model, as a software company it also has a lot of room to grow thus making it a good long term investment to have in an investors portfoli o
Fifth Generation Technology and Internet Of Things
5G is the fifth generation of mobile networks, following on from previous generations; first-generation mobile network (1G) which was all about voice. 2G was about voice and texting; 3G was about voice, texting, and data; 4G was everything in 3G but faster; and now 5G which offers much faster connection speeds than previous networks. Also, being more reliable with lower response times and greater capacity
The first and most evident advantage of 5G is that it is faster and more reliable than 4G or 3G. It's fast enough to download a full-length HD movie in seconds or stream a 4K film without buffering, there will also be an improvement in virtual and augmented reality applications.
Due to 5G's high capacity and low latency, advanced processing will be able to be handled remotely rather than relying on mobile devices and headsets for local handling.
This greater capacity will enable the growth of the Internet of Things (IoT) devices, with goods including refrigerators, lights, cars, and even advertising hoardings being able to connect and communicate with one another. While the Internet of Things devices is already taking hold in the market, 5G will improve the speed and capacity whereby almost every device could become connected and 'smart.'
The Internet of Things describes the coordination of multiple machines, devices, and appliances connected to the Internet through multiple wired and wireless networks. These include everyday objects such as smartphones, tablets, and other consumer electronics, and machines such as vehicles, equipped with IoT connectivity that allows them to send and receive data. Machine-to-machine (M2M) refers to services that are enabled by the communication between two or more machines
According to Statista, As of 2020, 749 billion U.S. dollars were expected to be spent on IoT technology worldwide and to reach 1.1 trillion U.S dollars in 3 – 4 years.
5G and IoT Connectivity
5G will not just improve how we connect with each other, it will bring great benefits to how we interconnect and control machines, objects, and devices while delivering higher speeds, lower latency, and better security. It's been designed to meet the high growth in data and connectivity of today, while also keeping a firm eye on tomorrow's innovations. It will initially operate in conjunction with existing 4G networks, before evolving to fully standalone networks.
5G is consistently a much more reliable technology than earlier generations.  This is important when it comes to outages or when parts of the network need to be updated.  The 5G architecture is much simpler while at the same time it is built on more robust foundations and standards. This means there should be fewer incidents and a lot less downtime, which is great news for IoT, particularly mission-critical solutions.
LTE will not suffice to meet the standards and expectations of new technologies. LTE was primarily designed and optimized for use on smartphones, whereas 5G will be the mobile standard for all connected Things. 5G sees speeds of 1 Gbps up to 10 Gbps (which is also said to reach up to 1+ gigabits per second at peak speed) which means 5G will be, on average, ten times faster than 4G.
Higher speed and low power requirement makes 5G ideal for IoT
Lower latency means near real-time communications, which can be a big boost when it comes to real-time control of devices, automation, autonomous vehicles, industrial robotics, and security systems. 4G latency is quick (around 30-40 milliseconds) but with 5G that number is reduced to 1-2 milliseconds, which again, makes 5G a major game-changer when it comes to IoT, for example, real-time control of devices, industrial robotics, vehicle to vehicle communication, and security systems or even remote surgery and other remote medical care, procedures, and treatment which can make a huge difference in the not just the healthcare industry but society at large
This statistic shows the investment areas that are likely to be a company priority for telecommunications industry professionals worldwide in 2020. Sixty-six percent of the survey respondents said that 5G is likely to be one priority investment area for their company in 2020, with 49 percent identifying the Internet of Things (IoT)as a priority area.
Communication service providers (CSP) need to act quickly to capture the revenue opportunities offered but will need help from vendors like Amdocs
Amdocs Limited
Amdocs is the market leader in customer experience software solutions and services for the world's largest communications, entertainment, and media service providers. For more than 30 years, Amdocs solutions, which include BSS, OSS, network control, optimization, and network functions virtualization, coupled with professional and managed services, have accelerated business value for its customers by simplifying business complexity, reducing costs, and delivering a world-class customer experience. The Amdocs portfolio enables service providers to capture the world of digital immediacy by operating across digital dimensions to engage customers with personalized, omnichannel experiences; creating a diversified business to capture new revenue streams; becoming data empowered to make business and operational decisions based on insight-based and predictive analytics, and achieving service agility to accelerate the fast rollout of new technologies and hybrid network services.
By leveraging the fifth-generation technology,  Amdocs can help CSP's to maximize the potential of IoT services by creating new offerings and revenue opportunities, especially in the consumer IoT technologies, (Consumer Internet of Things or CIoT is an interconnected system of physical and digital objects, personally used by a consumer) through services like Amdocs Enterprise Accelerator (which enables providers to successfully grow their enterprise (B2B) business with value-added services through automated solutions for digital engagement, accurate selling, and faster service delivery.
Increase revenues beyond connectivity and overcome the challenges of servicing the high-potential enterprise market). Or with products like RevenueONE (which offers a cloud-native, carrier-grade, scalable solution that empowers operators to act faster and capture every new revenue opportunity of the 5G era while maintaining a low footprint and reducing the total cost of ownership) that includes the industry's first 5G-ready charging which is ready to handle every new service in the 5G digital economy including Internet of things technologies.
Amdocs's products and services help create a seamless customer IoT experience putting the consumer in the center of it all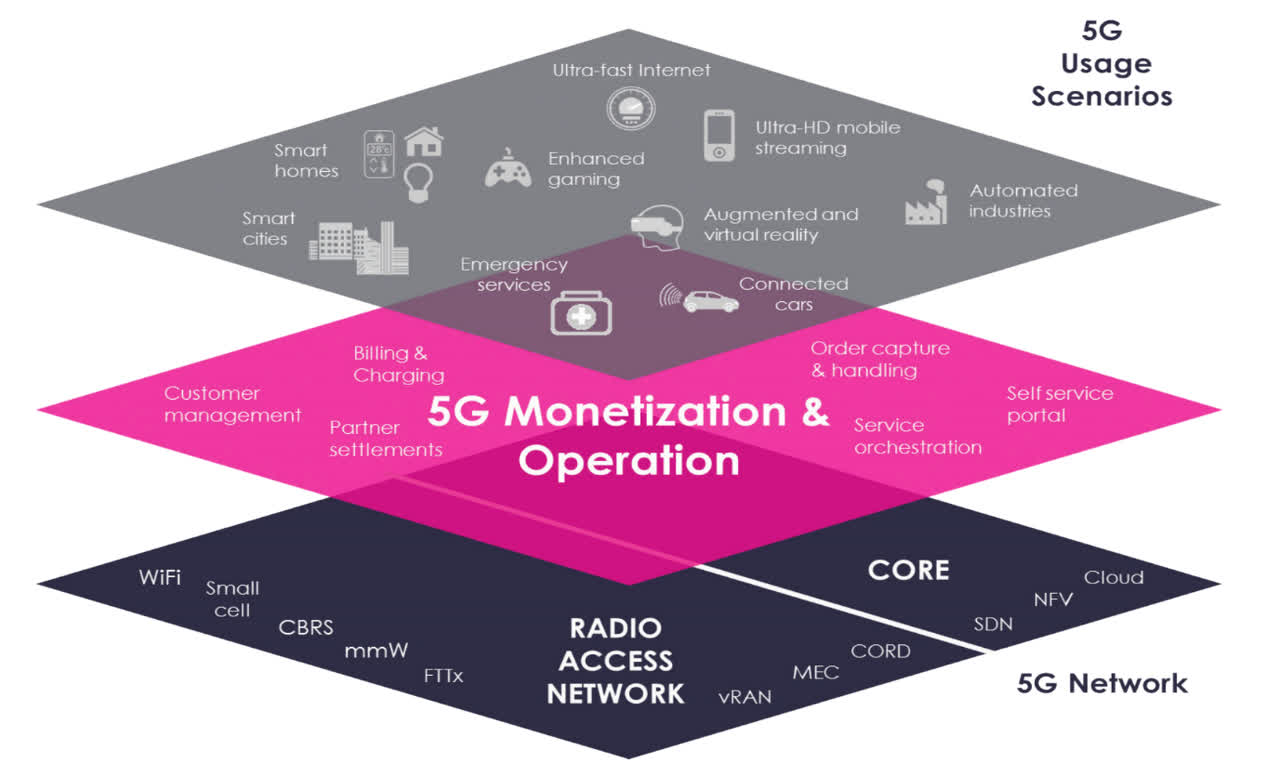 Source: Amdocs
B2C,B2B and Other
I'm expecting CSP's to expand and focus on 5G IoT connectivity in the coming years as more devices become connected thus creating demand for Amdocs who will help providers monetize and create new revenue streams.
The main areas that I see to be the most beneficial to Amdocs as a vendor will be in the Business to consumer IoT and Business to Business IoT
Business to Consumer (B2C) IoT
B2C offerings will focus on using the capabilities of 5G networks to strengthen service offerings to end customers
Providers are looking at billions of dollars in the coming years, according to Omdia and Ericsson study on IoT consumer spending, service providers could earn a total cumulative USD 131 billion in direct revenues from 5G enabled digital services/use cases over the decade. This includes cloud gaming, smart homes, augmented and virtual reality, etc.
As more service providers become aware of the massive opportunity that 5G has created for IoT consumer devices, the role of vendors like Amdocs becomes increasingly important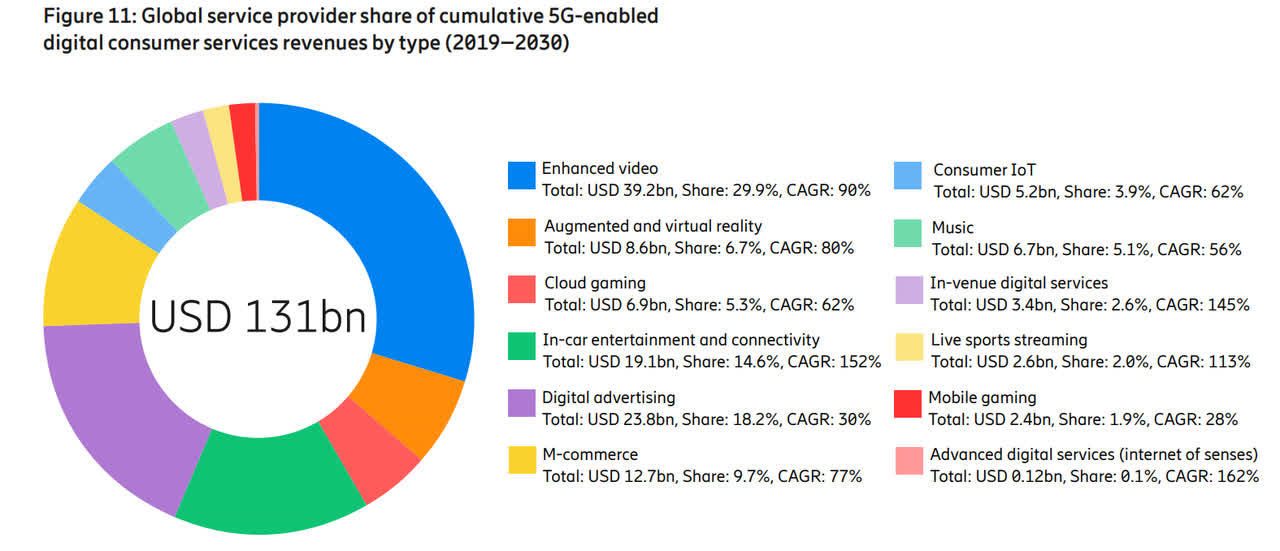 Source: Omdia and Ericsson
Business to Business IoT ( B2B)
B2B is a large area of potential growth for service providers, a huge area that will be impacted the most by 5G IoT connectivity will be industry 4.0.
The massive connectivity that 5G brings to the table will enable virtually everything to be connected, in an IoT driven world, where, more than 1 million device connections per kilometer squared. With the accelerated proliferation of Industry 4.0, there are many commercial applications that will benefit (and which can be monetized) from 5G
It's a huge boost to the fourth industrial revolution
With 5G, Amdocs will enable operators to transform the B2B engagement as well by embedding connectivity and eSIM management for organizations across multiple verticals, managing connectivity, and security on behalf of those organizations, enabling intelligence and automation, etc. for example, The continuous data exchange between machines, systems, robots, and people will become an integral part of industrial production. The number of connected devices and parts will increase enormously. Another example could be the control units of industrial robots are addressed in real-time and error probabilities are ultimately reducible to a minimum. Another example is with the driverless courier service, They would always be picked up the materials on time at the loading and unloading points of the machines.
There are numerous examples in the industry to show how 5G can be used to optimize operational processes. The new technologies give rise to opportunities and ideas that nobody had thought of because they were not technically possible before with 4G LTE. 
These ideas and opportunities are also adapting to other economic sectors, regardless of industry like agriculture with smart farming. Thanks to digital use, data and insights regarding animal health, where weeds or pests are, or what the moisture in the soil is like are all possible. Such intelligent networks will multiply and mature in the future. With 5G IoT connectivity, smart farming creates something that conventional agriculture has not yet been able to do: It creates a greater degree of ecology while increasing efficiency in food production
Other opportunities for 5G IoT Connectivity:
The enhanced mobile broadband and ultra-reliable low latency communication that 5G offers mean service providers can offer services to almost anyone
The biggest area that could be the most rewarding would be smart cities
One of the key highlights of the Smart City is about using digital technologies, Information technologies, and communications services (including machine-to-machine communications) to improve a city's infrastructure and services. 
As more providers realize the opportunity available, Amdocs will eventually lock in new deals and contracts with new providers and other enterprises around the world.
Why Amdocs?
Much of what makes Amdocs the organization they are today is because they have good management and leadership.
Their ability to deliver on ideas that results in higher revenue generation means the company has a high implantation rate something that is critical for any company in the technology sector.
I'm confident that as a vendor, they will benefit the most from the upcoming 5G IoT connectivity era compared to the competition.
Amdocs has been in business for almost 30 years. They provide service to more than 250 organizations spread across 80 countries. They are one of the most experienced companies in the industry.
Amdocs is considered to be the leading provider of software and services to communications and media companies. The Company has several accolades which makes it a well-trusted brand compared to its peers, serving the biggest and most well-known telco companies in the world. they've already racked up almost a dozen awards this year alone.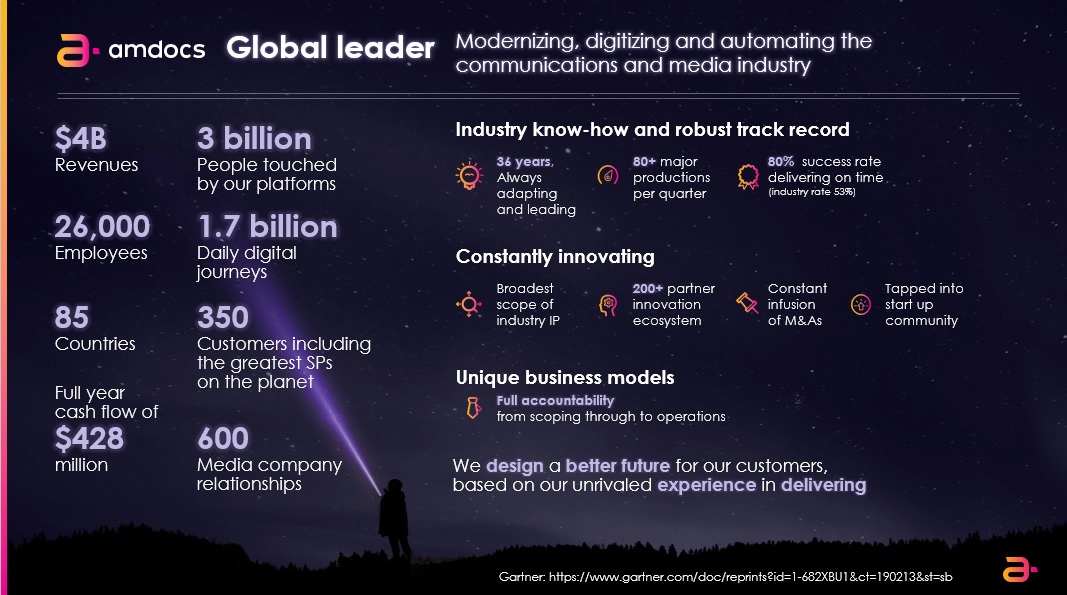 Source: Amdocs
The company has had many successful acquisitions, acquiring companies that are in their circle of competence, companies that further expand their foothold in not just the BSS/OSS industry but the IT sector at large, their deals are always made in correlation with what's the next big thing in the industry.
Their most recent deal is focused on accelerating growth around 5G. Amdocs completed the acquisition of Openet during the last quarter (The company also won a contract from AT&T (T) which selected Openet's 5G solution to quickly launch and monetize new 5G services on the cloud)
Obviously, there's tremendous value when a company is run by smart and competent people but compared with competitors how do the numbers look?
Management Strengths through the numbers
Amdocs has a decent ROE of 13.6% with a ROA of 8% which is the highest across the industry, they have also returned 6% to shareholders (Shareholder yield) this year alone through buybacks and dividends which from an investors perspective it's compelling considering the only other company to return more is Oracle (ORCL) with 12.6% a company that almost 20 times their size. (In USD Millions, Except for per share data)

Source: Author's excel model, Data Source: QuickFS.net and Seeking Alpha
The most impressive is the ROIC, To have a better perspective of how effective management is let's take a look at how they did historically, the company managed to average around 15% ROIC over the years which is almost twice the industry's average at 8%.

Source: Author's excel model, Data Source: QuickFS.net
But there's more to it, Using the average ROIC and current Cost of Capital, Amdocs has an excess return (ROIC – Cost Of Capital) of about  11%, this excess return is what separates Amdocs from its peers, the Average Industry ROIC is 8% resulting in a 4% excess return, with a 7% difference this shows Amdocs creates much more value for every project they invest in which can only be possible by having very efficient and effective management.
There are other interesting numbers about Amdocs and their competitors like revenue growth and research and development as a percentage of revenue
Revenue in the technology sector is impacted by their research and development to some extent, Companies in the industry have on average re-invested almost 17% of their revenue to R&D, Amdocs has invested less over the years averaging 7%

Source: Author's excel model, Data Source: QuickFS.net
But here's the interesting part, they have consistently grown revenues every year for the past decade and have a CAGR of 3% compared to its peers who have inconsistent growth (almost cyclical like) with a 5% CAGR

Source: Author's excel model, Data Source: QuickFS.net
Amdocs has invested less than the industry on average and has consistently grown revenues which means they might have some form of competitive advantage but regardless consistency is very important when it comes to risk. I would much rather invest in a company that has a much stable and growing revenue than an unstable one.
WHY NOW
5G and IoT are not new innovations in the industry but the reason why now is the best time to leverage 5G IoT connectivity is because of COVID-19.
The pandemic has changed the way we do things especially the way we do business, as we embrace the "new normal" so are companies worldwide. If at first digitalizing and automating workflow seemed like a choice now it's becoming more of a necessity especially for the manufacturing and healthcare industry
The 5G IoT Effect
In the next decade, Amdocs will have a very fruitful future when the 5G IoT starts to takes over and there will be an increase in revenues as different industries will look to adopt and implement IoT, With strong management behind the business will see rich margins which will result in a larger influx of cash flows
Breaking down the numbers:
Because of the pandemic, I don't expect significant growth in the industry for year 1 but rather a decent one, Apart from the healthcare industry and manufacturing industry, Other industries might defer the implementation of IoT which will mainly be due to the amount of Capex needed, most companies are going through a tough phase financially as they are left dry due to decline in sales but also at the same most might be unfamiliar with how IoT can benefit their business.
Vendors might be and Providers might be ready to start offering new services that are leveraging the 5G IoT connectivity but if the consumer can't afford new equipment, software, etc. then it does slow down growth
Thus Consumers will have to delay their spending which is why I don't expect any significant growth in the coming year, but Amdocs could still see revenues increase to 4.3 Billion USD at a YoY growth rate of around 4% as the healthcare and manufacturing (that will implement IoT out of necessity) will kick off the growth in the early stage.
The real growth will start much later as companies become more familiar with the benefits of IoT which intern either increases revenues for business by exploiting the new revenue streams that are possible with 5G IoT connectivity or increase business efficiency and reduce costs and expand margins.
Because there is proof of concept that IoT is beneficial, Amdocs will start partnering with different providers from various industries around the globe. This where I see the exponential growth to happen.
Amdocs should be able to increase their top line by at least 1.5 Billion USD for the next 2-5 years, by end of 2025 they could have almost 6 Billion USD.
But as the years go by eventually the growth will start to fade away slowly, as they now enter the last innings of their product life cycle in the remaining 5 years
Revenues will not grow as fast as usual but the decline will be slow enough for the company to benefit from the huge cash inflows, by end of 2030 I expect the growth rate to go back to its average rate of 3.4%(Stable growth) but will have revenue hit more than 8 Billion USD which is still low compared to the current big software tech companies like Oracle (ORCL) or their closest competitor Ericsson (ERIC)
The decline in growth may be due to two things the most obvious one will be competition, Amdocs is one of the first to market with the products and services that leverage 5G (like the CES20), but as companies continue to innovate competitors will eventually start to catch up with the new trend
The other reason which is least likely to happen is the emergence of 6G, the reason why this may be the least likely scenario is that 5G will still feel relatively new in the market. But as technology evolves maybe in the future it will take less time and infrastructure to adapt to the latest and most advanced tech.
For the terminal year, in my analysis, I gave Amdocs a terminal growth rate of 2.3% which makes sense as it is lower than it's CAGR for the past decade, the 2.3% is also the average yield of the 10-year treasury (risk-free rate) from 2010 to 2020, I've neglected to use the current rate which is 1%(0.92% to be exact) as it not realistic for the rate to remain the same in future
But the most important reason why the 2.3% growth rate can be justified is Amdoc's business model. The company gets into long term contracts with its customers for the services offered (which could explain the rarity of insufficient cash flow), These bindings make the business more valuable if a business has a revenue stream that is less influenced by booms and bust (to some extent), investors can be confident about the sustainability of the business in the long term. To be conservative I also choose a 25% marginal tax rate in the terminal year
Furthermore, over time I expect margins to increase due to mostly internal economies of scale by the company's management, Margins will expand significantly during the peak of their growth and then slowly gravitating towards the 25% mark.
Re-investment and Valuation
The company will have to re-invest in-order to grow but how much?. Initially, Amdocs will need to re-invest more than usual, with a sales to capital ratio of 1.30 in the first 5 to 6 years then gradually declining after peak growth as they go back to stable growth in the remaining 4 years sales to capital ratio of 0.90 which is the software industry average
Re-investing more while retaining efficiency is probably the one thing that makes management unique, With current market conditions the cost of capital will be around 4%, but to increase towards the software application industry average of approximately 7%
With a history of efficiency and high implementation rate (as explained earlier), management will no doubt create value when tackling the 5G IoT era thus Amdocs will not only have a high ROIC over the years but they will consistently exceed the cost of capital by a huge gap with an excess return of 13% on average over the years.
Beyond year 10/Terminal Year, I gave Amdocs a 12% ROIC a bit lower than their historical average but because the business is run by competent people in addition to having a strong business model, there will still be an excess return of 5%
Amdocs closing price on December 14 th, 2020, Amdocs closed at $67.7 with an enterprise value of 8.7 Billion USD.
After discounting the cash flows, I ended up with an intrinsic value of $179.82 and an enterprise value of 23.6 Billion USD which means Amdocs is trading below intrinsic value making it undervalued by 165%!
What about risk?
With any investment comes risk, the whole thesis is based on how efficient 5G IoT connectivity can get but in-order for consumers to get the best experience with the highest of quality service and products, CSP's will need to be ready for change while at the same time have a consumer proposition ready if need be.
A good example will be Smart cities, the Smart City ecosystem is complex with various stakeholders including real estate developers, utilities, municipalities, system integrators, and technology providers to name a few. So to tap into this promising opportunity CSPs will have to transform their current organizations, business models, networks, and IT systems to act as true value-added solutions integrators across this complex ecosystem.
A proper and mature IT ecosystem will also be crucial to fully utilize the 5 th generation Internet of things connectivity, this is might also prove to be a challenge because it will need all parties to come together in harmony to offer the quality service needed  e.g Application developers, IoT service providers, technology enablers, connectivity providers, content providers, OEMs, store owners, and local distributors and channels are only some of the key players involved in providing a consumer IoT service
Generous returns over the years and in the long run
To conclude, despite the challenges above they still don't pose a huge threat to Amdoc's growth because CSP's have been responding positively and realize the potential of 5G and IoT, Most companies are also open to work together and innovate, for example, Amdocs partnering with Amazon.com's (AMZN) AWS. AWS and Amdocs partnership enables service providers to generate new services, competitive opportunities, and customer experiences along their cloud journey. At the end of the day, it becomes a win-win situation for all parties involved especially for the consumers
Furthermore, judging from the magnitude of the risks involved and without including any potential dividend payment (or any increase to those dividends), I see no need to impose a margin of safety,
But another important thing investors should note is that I haven't including any potential dividend payment (or any increase to those dividends) with the valuation, Amdocs started paying out dividends in 2013 and have increased the amount every year, they went from paying 84 million USD to 164 million USD in 2020, currently, the payout ratio is about 33% of their net income and a dividend yield of around 2%
Thus, investors can expect generous returns over the years and in the long run with the 5G IoT connectivity era that is set to take charge and boost growth for Amdocs Limited.
 FULL MODEL: DOX_Valuation_Model.xlsx
Analyst's Disclosure: I/we have no positions in any stocks mentioned, but may initiate a long position in DOX over the next 72 hours.
Seeking Alpha's Disclosure: Past performance is no guarantee of future results. No recommendation or advice is being given as to whether any investment is suitable for a particular investor. Any views or opinions expressed above may not reflect those of Seeking Alpha as a whole. Seeking Alpha is not a licensed securities dealer, broker or US investment adviser or investment bank. Our analysts are third party authors that include both professional investors and individual investors who may not be licensed or certified by any institute or regulatory body.