Travel as an investment niche!
Image via Wikipedia
Travel, expecially cruise travel, is my second love. My wife, of course, is my first love.
I am a quintessental tourist who especially enjoys cruising and
cruise ships
in general.  I make no appologies for this.  I worked hard all my life and I am now enjoying the fruits of that labor, and my investments.
Speaking about investments.....
Carnival Cruise Corp
and
Royal Caribbean International
, are two stocks that should be on your radar screen in 2011, especially if their is a pull back in early Feb. I say this for a number of reasons, not the least of which is the total influx of the Baby Boom generation into their retirement years, and onto cruise ships. For example:
On Monday, I returned from a two week cruise to the southern
Caribbean Islands
on the Royal Caribbean ship the
explorer of the Seas
. It was a great trip, especially in January where winter snow has become the bane of the entire north east and winter is, well, winter!
Barbados, St Thomas, St Martin, Labadee, Dominica, and Antigua are beautiful places  to visit at any time, but visiting those ports in winter, on a beautiful cruise ship like those of Royal Caribbean, definately adds to the experience.
Three months ago I was in
Europe
, on a European river cruise along the Danube, Main, Rhine and Mosel Rivers from Prague to Paris. What a great experience. What a great ship! What a great trip!
Six months ago I cruised in Alaska (for the third time). Alaska is a wonderland of huge mountains, deep ocean, great fishing, wonderful villages and towns, and wildlife of every kind from killer whales to grizzley bears. It is one of the most amazing places on this small planet.
Twelve months ago, I cruised from Rome to the Greek Islands, Istanbul and Ephasis, Turkey, the Amalphi coast of Italy and Athens, Greece. Another wonderful part of the world to visit, expecially on a cruise ship.
We,ve cruised in Europe five times, The Caribbean six times and Alaska three times.  I love to visit countries and cities I have never been to, whether cruising or staying at great hotels and properties.  I love
Las Vegas
, and have travelled there six times to sample the great shows, great hotels and the excitement that is Las Vegas.
I mention these things on this blog for a reason.
Travel is a great investment niche
, especially as the Baby Boom generation ( of which I am one) the richest generation ever, enters its golden years with more money, more zeal for life, and more travel opportunities than any other generation in history.
Just imagine relaxing on a fabulous cruise ship, going to exotic destinations, with thousands of like minded people who are spending money on this luxury they have spent a life time accumulating.  Now imagine your smile as you realize, you own the company that is raking in all those dollars.
Cruise lines have grown in leaps and bounds since I first ventured onto my first ship in 1981. The industry has spread its wings in every direction where they smell money, and the baby boom generation is their bread and butter.
The two largest cruise corporations are
Carnival Corp
, and
Royal Caribbean International
. When seeking an investment vehicle, dont confuse these entities with the cruise lines of the same names. (Yes they own those cruise lines, but they also own many others and it is the parent company you want to invest in, not the individual cruise line).
My favorite, Royal Caribbean Cruises Ltd
. based in Miami, Florida. is the world's second-largest cruise line operator, after Carnival Corporation. Royal Caribbean Cruises Ltd. fully owns five cruise lines: Royal Caribbean International, Celebrity Cruises, Pullmantur Cruises, Azamara Club Cruises and CDF Croisières de France, plus has a 50% stake in TUI Cruises. Previously Royal Caribbean Cruises also owned 50% of Island Cruises, but this was sold to TUI Travel PLC in October 2008.
Over the past year, RCI has had a great run and is up over 75%  at $48.58 from $27.  (see chart)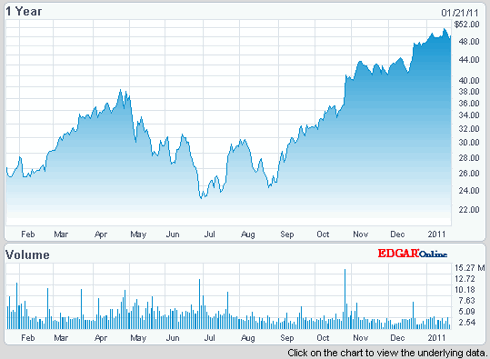 A pull back in early 2011 would be viewed as a buying opportunity in this writers opinion. 
Carnival Corp PLC owns Cunard, P&O, Princess,
Holland America
, Costa, Seabourn, Windstar, Ocean Village, AIDA, Arosa (Carnival is the largest cruise operator in the world)
Carnival is also up over 75% in the past year and the argument for RCL is the same for CCL. (see chart)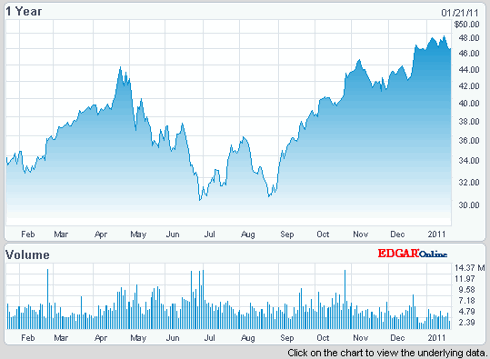 RCL and CCL are the largest cruise lines in the world and their stock prices reflect ivestor confidence in the industry as a whole. However, investors should be aware that what affects the whole industry, either positively or negatively (such as a ship floundering or sinking, sickness or a terrorist attack etc) would affect these two stocks the most. I would look to buy in the weeks "after" such an occurance.
Other cruise lines to consider include:
Star Cruises
(Malaysia) owns NCL & Orient Line
NYK
(Japan) owns Crystal
  MSC, Oceania, Silversea, Radisson Seven Seas, SeaDream, Star Clippers, Windjammer, Fred.Olsen, Saga, Peter Deilmann,
Hapag-Lloyd
, Phoenix-Reisen, Louis, Pullmantur are all still independant (for now). Any of these could be future takeover or consolidation targets.
As a side note: There is one European River Cruise company that I really like, however it is presently private but considering an IPO in the next year or so. Having seen their operations first hand, I will be watching it closely and will be acquiring shares when they are available.  More on this later.
If travel is your investment niche you should also consider the large hotel conglomerates. I like companies with properties in large centers like New York, London, Tokyo, etc  I especially like some of the companies operating in Las Vegas and Macau such as Las Vegas Sands, and
Wynn Resorts
Ltd.
Whatever your choice, do your homework and due dilligence and remember, buying into these companies is almost always a good idea in the weeks after bad news breaks. Buy low and sell high, and you will get to travel with these companies when ever you want to.
Heres to your Retirefund in 2011.
HP
Related articles
Disclosure:
I have no positions in any stocks mentioned, and no plans to initiate any positions within the next 72 hours.