Perimeter Medical Imaging AI Set To Be A Game Changer In Breast Cancer Surgery.
Please Note: Blog posts are not selected, edited or screened by Seeking Alpha editors.
Summary
PYNKF will be selling its OTIS system in Q1 of 2021.
OTIS reduces the re-excision rate of breast lumpectomy from current standard of care's 25% to 5%, thereby reducing the need of a second surgery by 87%.
This results in a cost saving of $16K per avoided second surgery. This is a strong incentive for hospitals to adopt OTIS.
Perimeter Medical Imaging AI, Inc
Perimeter Medical Imaging AI, Inc. (TSXV: PINK) (OTC:OTCPK:PYNKF) is a medical device company that develops, patents, and commercializes advanced medical imaging tools. The company is headquartered in Dallas, TX. The company started trading in the public markets on June 2020.
| | |
| --- | --- |
| Price (Feb 16, 2021) | $2.99 |
| Market Cap | $120.44m |
| Shares Outstanding | 39.1m |
| 52 week high | $3.26 |
| 52 week low | $0.36 |
| % held by insiders | 5% |
| % held by institutions | 40% |
| shares short | 237k |
Management
Anthony Holler is Chairman of the Board of Directors for Perimeter Medical Imaging AI, Inc. Mr. Holler also serves as the CEO and chairman of the Board of Directors for Sunniva Inc. Dr. Holler was one of the founders of ID Biomedica Corporation, where he held various executive positions, including CEO. Anthony Holler holds a Bachelor of Science Degree and a Medical Degree from the University of British Columbia.
Jeremy Sobotta is the CEO of Perimeter Medical Imaging AI, Inc. Mr. Sobotta brings a deep expertise in go-to market models and a diverse medical device commercialization experience, having deployed over $4 billion in capital for strategic M&A in medtech. Prior work experience includes senior positions at Smith & Nephew, and Stryker.
Tom Boon is the Chief Operational Officer, with over 30 years sales and senior management experience with public and private companies that manufacture and distribute equipment and services to the healthcare system. Mr. Boon was President of Summit Industries LLC.
Business
Perimeter aims to transform cancer surgery with advanced imaging tools, significantly reducing the cases where patients need to undergo a second surgery due to cancer left behind, providing significant value for both patients and the healthcare system.
Area of implementation: BCS surgery
The technology will be first implemented in Breast Conservation Surgery (BCS) aka lumpectomy, which may be used as part of a treatment plan for breast cancer. During BCS, only the cancer lump and some breast tissue around the lump are removed, compared to mastectomy, which consists of removing all breast tissue from a breast in a way to both treat and prevent breast cancer. BCS is usually a good option for some women with a lump that is small and in one area, and for women with early stage breast cancers. Some risks associated with BCS are: wound infection or bleeding, change in the size and shape of the breast, hardness due to scar tissue, and others. Approximately200,000 women receive BCS each year in the US and Canada. Even though BCS is a "middle ground" for women to retain some natural breast tissue, there is a chance that positive margin is still present, which refers to the presence of cancer cells at the edge of the resected tissue. Those cells could produce an aggressive recurrence; therefore, it is extremely important to remove all cancer cells. When positive margin is detected a re-excision is necessary, which is a second surgery to remove cancer cells until the patient is left with no cancerous tissue. Re-excision rates are estimated to be around 25% of all BCS, and could even reach 40% at some sites. Reducing the re-excision rate would revolutionize BCS and would provide value to the healthcare system and patients by both reducing the costs and risks of complication.
Industry Standard vs OTIS
In order to examine the margin following BCS, microscopic anatomy, or tissue histology, is the current standard for examination, with an average turnaround time of 5-7 days. The company's Optical Tissue Imaging System ("OTIS") provides clinicians with the ability to asses tissue microstructures during diagnostic, surgical, and pathology procedures in real time. OTIS would provide surgeons with the ability to examine margin in real time, allowing them to identify and remove positive margin on the spot, eliminating the need for re-excision and thus reducing the re-excision rate or significantly lowering it. Perimeter Medical Imaging's clinical data indicates that OTIS can reduce the re-excision rate from the current standard of care's 25% to 5%, thereby reducing the need for a second surgery by 87% with cost savings of $16k per second surgery. OTIS also reduces the complication rate inherent with a second procedure. Reducing complication rate is a strong incentive for surgeon adoption, as this is a key publicly available criterion when choosing a surgeon by patients.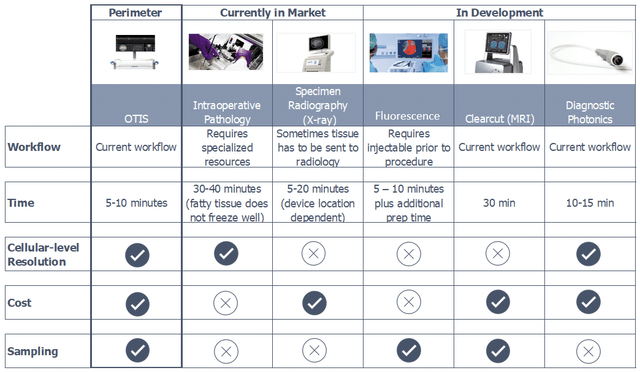 Source: Perimeter Medical Imaging AI, Inc, Investors Presentation
What is OTIS
The company received marketing clearance from the FDA in March 2019 for OTIS via the FDA's 510(K) pathway. OTIS is based on a mature technology, optical coherence tomography (OCT), which already has multiple commercial applications in ophthalmology and vascular imaging. The innovative aspect of the technology is its ability to image large and complex surfaces in real time, which allows the surgeon to determine whether additional intervention is required. OTIS also provides surgeons with the ability to measure margin width with high resolution images – up to 10 x 10 cm surface area and 2 mm depth - while not requiring patient dosing, which eliminates any side effects for the patient. The technology supports multiple clinical users, which enables image assessment by surgeons, radiologists, and pathologists.
OTIS includes a specimen handling consumable called the OTIS Tissue Immobilization System, which is designed to hold and maintain orientation of the specimen, an intraoperative device for automated scanning of the specimen, and an imaging atlas and training set. The OTIS platform is superior compared to all other imaging technologies that are currently available on the market, in addition to being cost effective. The company expects to commercially launch OTIS in the US in Q1 2021. Here is a video where a surgeon at Baylor College of Medicine is interviewed about using OTIS: Baylor College of Medicine doctors using Perimeter's (TSXV: PINK) AI to remove breast cancer tumors. .
OTIS Workflow
OTIS is designed to integrate into the surgeon's clinical workflow, as the surgeon will use OTIS during the surgical procedure, before the closure. OTIS will than scan the specimen in the consumable container and will display results in real time, allowing the surgeon to remove further tissue if it is necessary.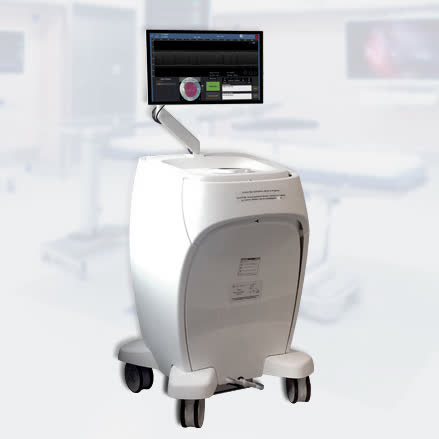 Otis Console 2.0 ( source: Technology / Products / Platform - Perimeter Medical Imaging AI )
ATLAS and OTIS
Perimeter Medical Imaging is currently running Part I of its ATLAS AI project, which is funded by a grant of $7.4 million USD from the Cancer Prevention and Research Institute of Texas (CPRIT). Part I of the project consists of collecting images of breast tumors for Perimeter's proprietary ATLAS image library of 1.4 million tissue images to train and test the ImgAssist AI technology which is currently under development. ImgAssist AI, which utilizes a machine learning model, is a major breakthrough in breast cancer surgery. The technology will provide recommendations for tissue examination and possible excision in real time. 400 patients are enrolled in a clinical study being run at MD Anderson Cancer Center, University of Texas at San Antonio, and Baylor College of Medicine. This study will conclude by the end of Q1 2021. Part II of the study is expected to start in June 2021 and will enroll 600 patients. The results from ImgAssist AI will be compared to standard of care. If a statistically significant difference is seen, Perimeter will apply for FDA clearance and reimbursement for ImgAssist AI. The company plans on looking at the interim results of Part II in September 2021 with completion set for the end of the year. ImgAssist has the potential to drive-down even further re-excision rates with OTIS and would also make imaging examination easier for surgeons. Imaging is one of the areas where Artificial Intelligence has already been thriving, as its capability depends to a great extent on the quality and quantity of the data inputs. It is important to note that FDA clearance to sell OTIS has already been obtained whereas FDA clearance for ImgAssist AI has not been obtained. The company will sell OTIS in Q1 2021 to the 20% of general surgeons who are skilled with BCS using current non-invasive imaging technologies. ImgAssist AI is designed so that the remaining 80% of surgeons will feel confident in using non-invasive imaging during BCS.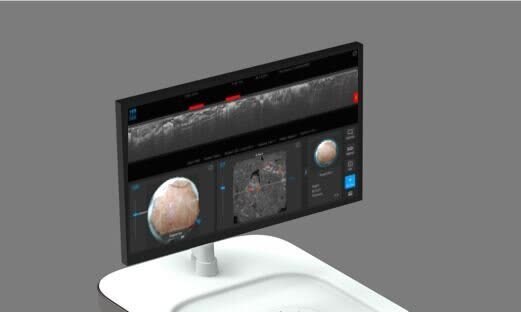 ImgAssist, Perimeter's AI Tissue Assessment Algorithms Concept Device ( source: Technology / Products / Platform - Perimeter Medical Imaging AI )
Competition
Even though OTIS will probably be the first commercial device capable of providing information on margin width below the surface of the tissue in real time, the "MarginProbe" device developed by Dune Medical, whose assets were acquired by Dilon Technologies, is the closest competitor. MarginProbe uses electromagnetic waves to identify cancerous tissue; it only provides a yes/no read-out with no images produced. The device received FDAapproval in 2013, on the basis that it would reduce re-excision rates by only 5%. Due to the simple yes/no unsupervised decision making of the device, and the weak clinical data, the device never really received wide adoption in the US. According to clinical study results, MarginProbe has a sensitivity (true positives) of 75% and a specificity (true negatives) of 46% (false positives of 54%), which was better than the standard of care, but significantly worse than OTIS, which has an average sensitivity of 80% and a specificity of 87%. The standard of care has 33% sensitivity and 83% specificity.
Intellectual Property
The company currently has 4 issued patents and patent applications filled, three of those issued will expire in 2033 and the remaining one in 2038. The OTIS platform has received clearance from the U.S Food and Drug Administration (FDA). Other notable intellectual property: advanced image processing/reconstruction algorithms, AI auto image assessment algorithms, Atlas 1.4 million breast cancer images.
Insurance Reimbursement
Presently, OTIS is eligible for reimbursement under two existing temporary Category III Current Procedural Terminology (CPT) codes from the American Medical Association. PYNKF's clinical and commercial strategy supports the conversion of these codes to permanent Category I codes (much smoother and higher reimbursement by Medicare and private insurance), which involves demonstrating that many physicians across the U.S. perform procedures using the device and that clinical efficacy of the device's use are documented in the published literature.
Perimeter plans to publish papers to support its effort to convert the Category III CPT codes into Category I.
OTIS: potential and opportunities
The OTIS platform has huge potential to grow, with applications beyond breast cancer, such as Interventional Radiology, Pathology Planning, Prostate, Lung, Colorectal, Dermatology and many others, all of which account for a $3.7 billion capped addressable market. If the revolutionary OTIS platform is capable of reducing re-excision rates, BCS will become a more popular option among patients that were initially avoiding BCS due to the higher re-excision rates. This could mean that number of BCS surgeries performed each year will increase, thus potentially increasing the demand for OTIS.
It should be noted that the company's outcome depends solely on its ability to commercially launch OTIS, as it is expected to be the only source of revenue in the near future.
Financials
As of September 30, 2020, Perimeter had $9,065,685 CAD in cash and cash equivalents, representing almost 67% of the company's total assets of $13.5 million CAD. With current liabilities of $2 million CAD and non-current liabilities of $630,000 CAD, the company has a strong balance sheet and will be able to sustain expected product developments in the near future. Management at the LD Microconference on 12/14/20 stated that the company has enough cash on hand, along with the grant from CPRIT that it can draw from, to give itself a runway of 3 years. That cash runway is very conservative as it assumes no revenue from sales. Most of the cash on hand was generated from private placement issuance of common shares. Insiders own 45% of the company – Roadmap Capital owns 40% (shares are locked up for 18 months from June 2020) and management owns 5%.
| | |
| --- | --- |
| Cash per share | 0.31 |
| Debt/Equity | 4.09 |
| Current Ratio | 6.65 |
| Book Value per share | 0.28 |
Revenue Model
The revenue models are based on capital equipment pricing of $150k USD and specimen-handling device aka OTIS Tissue Immobilization System (consumable) pricing of $750 USD. The gross margin of the consumable will be around 90%. This will be a recurring revenue stream, which is one of the strengths of the company's business model aka the classic "razor blade" model. Each BCS procedure done using OTIS will require the purchase of the $750 one time use consumable.
A) Revenue model for installed base
For this revenue model in USD, we started from the installed base and assumed 3 surgical interventions per week. With consumable gross margin set at 90%, and the consumable being a recurring revenue stream, most of the revenue will be coming from consumables (will be better illustrated in second revenue model).
| | | | | | |
| --- | --- | --- | --- | --- | --- |
| Hospitals ( Installed base) | 100 | 200 | 300 | 400 | 500 |
| BCS per year | 15,000 | 30,000 | 45,000 | 60,000 | 75,000 |
| total equipment revenue | $ 15,000,000 | $ 30,000,000 | $ 45,000,000 | $ 60,000,000 | $ 75,000,000 |
| consumable annualized revenue | $ 11,250,000 | $ 22,500,000 | $ 33,750,000 | $ 45,000,000 | $ 56,250,000 |
| consumable gross margin/ year | $ 10,125,000 | $ 20,250,000 | $ 30,375,000 | $ 40,500,000 | $ 50,625,000 |
| | | | | | |
| penetration % of all BCS | 7.5% | 14.3% | 20.9% | 27.3% | 30.0% |
B) Estimated revenue model
| | | | | | |
| --- | --- | --- | --- | --- | --- |
| | 2021E | 2022E | 2023E | 2024E | 2025E |
| penetration % of total BCS | 0.50% | 1.50% | 4.5% | 8% | 12% |
| BCS | 1,000 | 3,000 | 9,000 | 16,000 | 24,000 |
| consumable revenue | 750,000 | 2,250,000 | 6,750,000 | 12,000,000 | 18,000,000 |
| consumable gross margin | 675,000 | 2,025,000 | 6,075,000 | 10,800,000 | 16,200,000 |
We calculated the estimated consumable revenue until 2025. In order to avoid making assumptions regarding the number of times the equipment will be used in hospitals, which cannot be estimated with precision (some estimation in this sense was used for the first revenue model though) we basically ignored revenue generated from the sale of the equipment. This could approximately be in between $7 million/year and $15 million/year. In the long term however, most of the revenue will be generated by the consumable.
C) Market penetration table
The following table highlights the revenue generated in USD by the consumables depending on the market level penetration and the number of total BCS in US. In 2019 there were approximately 200,000 BCS surgeries in the US, but that number is expected to rise. We believe that Perimeter could be able to achieve a 20%market penetration in the first 5 years with more aggressive marketing strategies.
| | | | | | |
| --- | --- | --- | --- | --- | --- |
| penetration % of total BCS/ Number of BCS per year in US | 220,000 | 230,000 | 240,000 | 250,000 | 260,000 |
| 5% | $ 8,250,000 | $ 8,625,000 | $ 9,000,000 | $ 9,375,000 | $ 9,750,000 |
| 10% | $ 16,500,000 | $ 17,250,000 | $ 18,000,000 | $ 18,750,000 | $ 19,500,000 |
| 15% | $ 24,750,000 | $ 25,875,000 | $ 27,000,000 | $ 28,125,000 | $ 29,250,000 |
| 20% | $ 33,000,000 | $ 34,500,000 | $ 36,000,000 | $ 37,500,000 | $ 39,000,000 |
| 25% | $ 41,250,000 | $ 43,125,000 | $ 45,000,000 | $ 46,875,000 | $ 48,750,000 |
| 30% | $ 49,500,000 | $ 51,750,000 | $ 54,000,000 | $ 56,250,000 | $ 58,500,000 |
| 35% | $ 57,750,000 | $ 60,375,000 | $ 63,000,000 | $ 65,625,000 | $ 68,250,000 |
Discounted Cash Flows
For the Discounted Cash Flows, we used a discount rate of 10%, and we assumed a conservative market penetration of about 13% of all BCS in the first 5 years. At 39.19m shares, the DCF value per share would be $6.27 USD, meaning that as of Feb 10, 2021, Perimeter Medical Imaging is trading at a 35% discount.
CF first 5 years

yr0

yr1

yr2

yr3

yr4

$ 650,000.0

$ 2,025,000.0

$ 6,075,000.0

$ 10,800,000.0

$ 16,200,000.0

CF year 5 & beyond

yr5

residual value

total PV

$ 19,000,000.0

$329,333,333.3

$ 384,083,333.3

Discounted Cash Flows

yr0

yr1

yr2

yr3

yr4

yr5

residual value

$ 650,000.0

$ 1,840,909.1

$ 5,020,661.2

$ 10,800,000.0

$ 11,064,818.0

$ 11,797,505.1

$ 204,490,089.1
| | |
| --- | --- |
| DCF Value | DCF Value per share |
| $ 245,663,982.4 | $ 6.27 |
Summary
The success of Perimeter Medical Imaging depends on the company's ability to commercialize OTIS and develop Atlas AI. The technology is extremely valuable as it could save the healthcare system hundreds of millions of dollars of costs associated with a second BCS surgery. OTIS is superior to the current standard of care and superior to all other alternatives; it truly has no competition at the moment. Perimeter's management is extremely experienced and we believe they will be able to successfully commercialize OTIS. The company is relatively undervalued as of Feb 10, 2021; however, the revenue model and DCF analysis were based mostly on estimates. The company's ability to generate cash flows from operations depends greatly on its capability to control operational costs. With that being said, we would assign Perimeter Medical Imaging a BUY rating with a fair value based on DCF analysis of $6.27 USD.
Analyst's Disclosure: I am/we are long PYNKF.
I am not registered as an investment advisor in the United States or in any other jurisdiction. Information in this article is presented "as is," without warranty of any kind – whether express or implied. I make no representation, express or implied, as to the accuracy, timeliness, or completeness of any such information or with regard to the results to be obtained from its use. All expressions of opinion are subject to change without notice, and I do not undertake to update or supplement this article or any of the information contained herein. This is not an offer to sell or a solicitation of an offer to buy any security, nor shall any security be offered or sold to any person, in any jurisdiction in which such offer would be unlawful under the securities laws of such jurisdiction. I have not received any form of compensation from the companies that I have written about in this article, nor have I received any form of compensation from company affiliates or other company shareholders.
Seeking Alpha's Disclosure: Past performance is no guarantee of future results. No recommendation or advice is being given as to whether any investment is suitable for a particular investor. Any views or opinions expressed above may not reflect those of Seeking Alpha as a whole. Seeking Alpha is not a licensed securities dealer, broker or US investment adviser or investment bank. Our analysts are third party authors that include both professional investors and individual investors who may not be licensed or certified by any institute or regulatory body.