Is Baidu Another GameStop Of Wall Street?
Please Note: Blog posts are not selected, edited or screened by Seeking Alpha editors.
Long/Short Equity, Growth, Tech, Foreign Companies
Seeking Alpha Analyst Since 2020
Growth investor with a strong focus on financial services and technology sectors in the emerging markets. Prior experience at an international reinsurer's Principal Investments team covering financial services investments in APAC and the investments/M&A team of one of China's top 3 tech companies (BAT). You can also check out the stocks we cover that aren't listed in the US. (http://theeminvestors.com/).
Disclaimer: Any content on this site is NOT investment, trading, legal, or tax advice, and none of the information available through this website is intended to provide tax, legal, investment, or trading advice. Nothing provided through this content whether by the owner or posted by other writers constitutes a solicitation of the purchase or sale of securities/futures. The content on this site is intended for informational purposes only, and should never be used as investment advice. Please do your own research before making any investment decisions.

Summary
A more long-term view should be taken when it comes to assessing companies that are pioneers in innovation.
Baidu made significant progress in artificial intelligence and autonomous driving in 2020. Investors should take another look at it instead of simply dismissing it as a search company.
Baidu is becoming more and more like a deep tech company in the long run with future drivers in artificial intelligence and autonomous driving.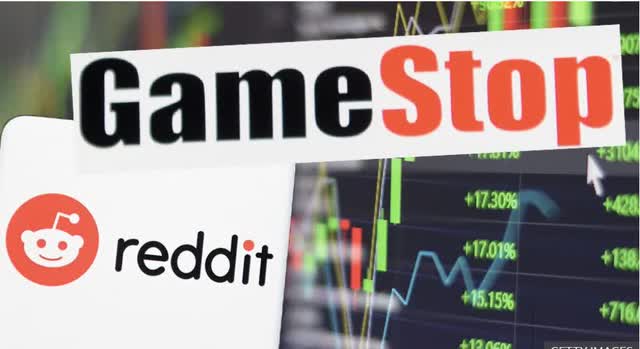 Photo credit: BBC
The recent saga of GameStop and the discussion of the Reddit subgroup WallStreetBets have prompted another heated debate on the role Wall Street plays in the equity market.
In a recent CNBC interview, the CEO of Social Capital and former Facebook executive, Chamath Palihapitiya, fretted about Wall Street that it has always been wrong when it comes to innovation and growth stocks, such as Tesla and Facebook. 
It is no secret that Wall Street investment firms and analysts value free cash flows and profitability in a company's quarterly earnings above everything else. But companies that are usually pioneers in innovation burn cash and do not generate much profit or even revenue. These companies, simply put, do not fit into the mold of the Wall Street darlings.
Rome wasn't built in a day
Some of the most highly valued and sought after stocks nowadays have long attracted Wall Street bears. For example, some street analysts had criticized Tesla's cash flow and sustainability issues for years before its share price skyrocketed last year.
The fundamental issue, as pointed out by Chamath Palihapitiya, is due to the short-term horizon and thinking of many street analysts who care too much about quarterly earnings and whether these companies are beating their quarterly expectations.
With more and more young companies getting listed in recent years, it will only become more difficult for analysts to form an unbiased assessment on the future and growth upside these young companies can offer, if every single company has to fit into a certain mold. It takes time, especially for a young company, to build the strategic infrastructure and ecosystem that it requires to see the revenue soar.
The world that we live in today is very much a world where, like Cathie Wood put it, "winner takes most". It also means it is going to take longer for the winner to emerge out of the intense competition and build a formidable position.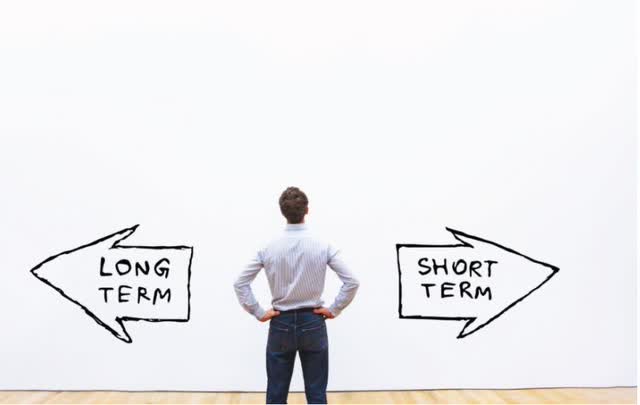 Photo credit: the B2B report
Baidu: from search to AI & AD
I wrote about how Baidu (BIDU) was not given enough credit by Wall Street for what it has been doing outside its core search business, as the market has continued to view and price it as an old, dying search engine (Baidu Is More Than A Search Engine And How Its Current Valuation Has Not Priced That In).
While search remains Baidu's core business, in terms of its current revenue mix, it has long diversified into future high growth areas, such as artificial intelligence (AI) and autonomous driving (AD). Although these businesses are not making any profit yet, similar to any other company that is involved in AI and AD, Baidu has made significant progress in these areas over the past few years. No doubt, these would be its future drivers as we move into the era of 5G.
As we can see, the market has finally been rewarding (rather handsomely) the early Tesla investors who see it as a technology company instead of an auto company. In my opinion, it is also fairer to view Baidu as a company that is more and more like a deep tech company. And it is only a matter of time that the market will start rewarding those investors who do, similar to Tesla.
To a certain extent, the market did slightly reward those who believed in the future drivers of Baidu (AI & AD) early on, thanks to its entry into the electric vehicle (EV) market. On the one hand, it is good to see that the market has finally been awakened to take another look at Baidu. On the other hand, it also implied that most investors were probably not aware of what Baidu was doing other than its search business, before the EV rumor and announcement.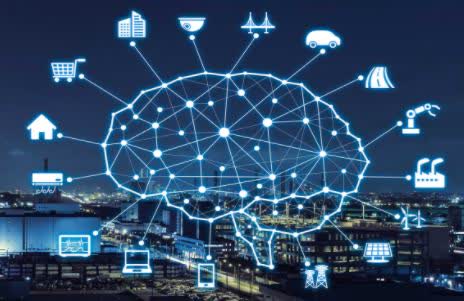 Photo credit: Baidu Research
Baidu's AI & AD prowess
The company made significant progress in 2020 in both developing and strengthening its technologies in AI and AD, in addition to its smart living and cloud initiatives.
In 2020, little did investors know, Baidu actually developed and released an AI algorithm that facilitated pharmaceutical companies to develop the Covid-19 vaccine. The AI algorithm helped pharmaceutical companies optimize the mRNA sequence, which is key to any Covid-19 vaccine that we have now.
Baidu's AI algorithm significantly shortened the time of vaccine development. Its AI technology also assisted authorities in China, to complete the genome sequencing of the coronavirus strain within 10 hours back in June during an outbreak in a market in Beijing.
In addition to its software development, it is also committed to hardware development by launching the AI chip, Kunlun 2, which is tailor-made for deep learning. It was reported that the computing capability of Kunlun 2 is three times more powerful than its first generation predecessor, Kunlun 1.
With regards to its autonomous driving, 2020 has definitely been one of its major milestone years. It became the only company in China to start testing the rollout of robotaxi services, using fully automated driving (i.e., without a human safety driver) in multiple Chinese cities, including the capital Beijing. After years of investments and efforts, Baidu is finally closer than ever to the commercialization of autonomous driving.
The rumors and later confirmation by Baidu to enter the EV market finally fueled the market to take a better look at Baidu after years of its sluggish share price performance. To me, it is a very natural move for a company like Baidu that is so invested in driving technologies to develop its own EV, since it has long been considered the "Android of the Auto Industry". (Baidu's EV Announcement Ploughs The Seed For Its Auto Vision, Although It Is Still Too Early To Gauge The Upside).
This has also prompted some to argue that Baidu is changing from the Google of China into the Tesla or NVIDIA of China (Bull of the Day: Baidu). While I do think there are many similarities between Baidu and Tesla / NVIDIA, given its focus and progress on AI, AD, and most recently EV, in my opinion, it might still be too early to fully benchmark Baidu to them for now.
But I do not think it is an exaggeration to say so either, if Baidu can continue to build on the momentum it has garnered and the infrastructure it has, especially given the push and support from the Chinese government on EVs.
Baidu vs. Tencent - Main Street vs. Wall Street?
One should never underestimate the importance of support from the government in China.
Just take a look at one of Baidu's competitors in China, Tencent. To a large extent, one can argue that Tencent's success is very much attributed to government support and regulations.
If Whatsapp, Facebook, and many other Western social media platforms could enter China, would WeChat be the same WeChat that we know today? Without the 1.2 billion MAUs that WeChat currently boasts, would Tencent be the same Tencent that we see today?
Tencent has a nearly perfect business model that looks to monetize from its 1.2 billion MAUs in every single way through online gaming, e-commerce, digital entertainment, etc. With one core product, thanks to government support, Tencent has turned itself into a gigantic money making machine that checks every single box of the Wall Street darling mold.
But, are they heavily investing in forward looking technologies and actively changing the way how people will live their lives in the future, like Baidu does?
Final words
We should always invest in what we know. But as an investor, it's impossible to know everything, especially the future. Hence, what separates a good investor from a mediocre one is knowing what you don't know and finding out what you don't know.
As such, I think it's only fair to give Baidu another hard look, and most importantly, a long-term one. Like Warren Buffett famously said – if you are not willing to own a stock for 10 years, do not even think about owning it for ten minutes.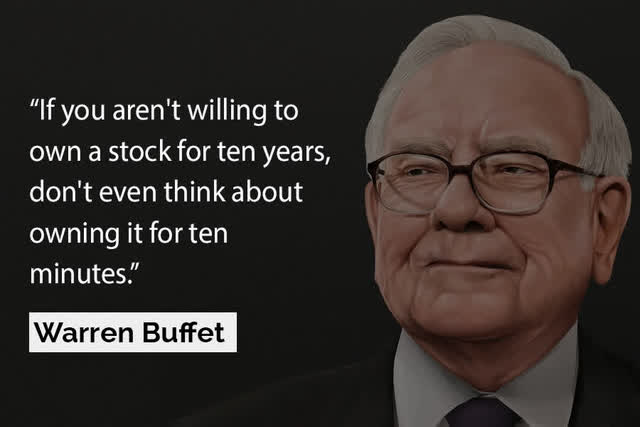 Photo credit: Scrolldroll
Analyst's Disclosure: I/we have no positions in any stocks mentioned, and no plans to initiate any positions within the next 72 hours.
Seeking Alpha's Disclosure: Past performance is no guarantee of future results. No recommendation or advice is being given as to whether any investment is suitable for a particular investor. Any views or opinions expressed above may not reflect those of Seeking Alpha as a whole. Seeking Alpha is not a licensed securities dealer, broker or US investment adviser or investment bank. Our analysts are third party authors that include both professional investors and individual investors who may not be licensed or certified by any institute or regulatory body.