Daily State of the Markets
Tuesday, November 27, 2012
Good Morning. As I've said a time or twenty, I believe the key to long term success in the stock market revolves around the idea of staying in tune with the primary trend of the market. No, I'm not talking about the latest 2% algo-induced move or the wiggles and giggles on the chart caused by the last headline to hit the tape. I'm referring to the big moves in the market that tend to occur a few times a year. The bottom line is if you can get most of these moves right, you will consistently perform.
To get a picture of what I'm talking about, click out of that 1-minute chart you've probably got up on your screen. And while you're at it, go ahead and take down that daily candlestick chart with all those indicators you've got on there. Now go ahead and put up a weekly chart of the S&P 500 - or just take a peek at the chart below.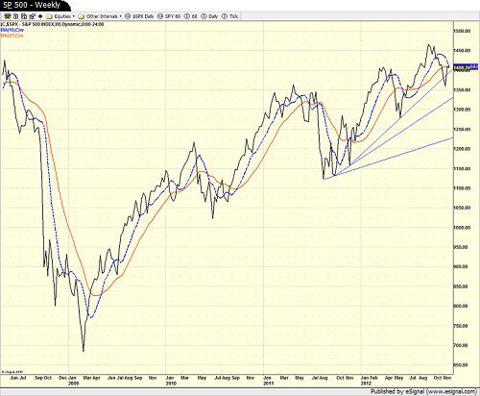 I know, I know... nobody on "Fast Money" ever mentions a weekly chart. And yes, I totally understand that all anybody ever talks about on T.V. is the "trade" they are going to put on in the next 15 minutes in reaction to some headline or analyst up/downgrade. However, I'm of the mind that you don't necessarily need to react to every shiny object in the market in order to succeed. You don't need to day trade or play with futures. Heck you don't even need any of those fancy options trades everybody is always yammering on about in order to succeed.
Maybe it's the fact that I'm getting older; but all of this mumbo-jumbo about condor spreads and pair trades on synthetic indices is exhausting to listen to (I guess this is why my T.V. is on mute all day). But the bottom line is you don't really need any of this complicated "stuff" to be a successful investor. No, you just need to get the majority of the "important" moves right each year. And if I had to give my "elevator pitch" to someone in 30-seconds or less about what I do for a living, I guess that would be it.
But, as usual, I've digressed, so let's get back to the point. Take a peek at the weekly chart of the S&P above. The chart shows the S&P from the middle of 2008 through yesterday.
The first thing I'd like to point out is that the S&P itself is just about where it was four and one-half years ago. And if we were to look back a bit further, you would see that the S&P is also about where it was at the end of 1999. As such, the index itself hasn't made any net progress in 13 years. But to be sure, there have been opportunities.
Take a close look at the left side of the chart... That's the bulk of the Credit Crisis Bear Market. If you were employing any kind of risk management system, you would have been able to avoid the vast majority of that massive decline (or perhaps even have made a bit of money if your system was utilizing a long/short/neutral approach).
Next, turn your attention to April 2009 through April 2010. I think we can all agree that this was a pretty darn big move. Thus, if one was trying to stay in tune with the overall market environment and had a system to help them manage the trends, you would have enjoyed quite a ride (with a few hiccups along the way, of course).
Next came the first Europe crisis in the spring of 2010, which caused a bit of a stir. However, as the QEII rumors began to swirl, the market took off on another very nice joyride to the upside. The rally from August 2010 through April 2011 was good for about 28%. As such, if you were managing the trends of the market, you certainly could have gotten a decent chunk of that.
From there, things got a bit tougher. The 2011 go-round with Europe and the U.S. Budget debacle was certainly worth trying to avoid. But after some rather intense volatility, the market embarked on yet another nice run - a run up that fooled just about everyone. But again, there was more than 20% available for the taking between December 2011 and April 2012.
In case the seasonal trend isn't obvious by now, this year's Europe-induced summer swoon was once again followed by a rally of nearly 15%. And given that the move took more than 3 months to complete, this too was a move that someone looking to capture the heart of the important trends could have benefited from.
My point this morning is that investing doesn't have to be as hard as the wizards on T.V. make it out to be. For me, this game is now all about following my systems that have been designed to get most of the big moves right. No system will get all the moves right and most systems will indeed make you look and feel foolish at times (guilty as charged here!). However, if you can get the big moves right, you don't need to worry about how a credit spread works, or why the VIX-oriented ETFs never seem to do what they are supposed to do, or if Greece is going to get that next tranche of cash. You can rest assured knowing that you should be able to get the next big move right.
In sum, this may not be complicated enough for some people, but its good enough for me. This is my plan and I'm sticking to it.
Turning to this morning... The big news overnight was the deal that was finally reached on Greece's debt and the next tranche of aid. While this has helped boost the European markets today, U.S. futures appear to be focused more on the status of the fiscal cliff negotiations. And with noted tax hawk Grover Norquist suggesting that the Republicans haven's backed off their vow of no new taxes, traders may have a hard time looking past this issue in the near term.
On the Economic front... We will get reports on Durable Goods, Case-Shiller Home Prices, Consumer Confidence, and the FHFA House Price Index this morning.
Thought for the day... When men speak of the future, the Gods laugh. -Chinese Proverbs
Pre-Game Indicators
Here are the Pre-Market indicators we review each morning before the opening bell...
Major Foreign Markets:

Shanghai: -1.31%
Hong Kong: -0.08%
Japan: +0.36%
France: +0.40%
Germany: +0.63%
Italy: +0.26%
Spain: +0.28%
London: +0.49%

Crude Oil Futures: +$0.25 to $87.99
Gold: -$2.30 to $1747.30
Dollar: lower against the yen and pound, higher vs. euro
10-Year Bond Yield: Currently trading at 1.669%
Stock Futures Ahead of Open in U.S. (relative to fair value):

S&P 500: +0.69
Dow Jones Industrial Average: -4
NASDAQ Composite: +2.03
Positions in stocks mentioned: none
Positions in stocks mentioned: none
Follow Me on Twitter: @StateDave
Download our Special Report on our New "Adaptive" Active Risk Management System for the Stock Market
---
The opinions and forecasts expressed herein are those of Mr. David Moenning and may not actually come to pass. Mr. Moenning's opinions and viewpoints regarding the future of the markets should not be construed as recommendations. The analysis and information in this report and on our website is for informational purposes only. No part of the material presented in this report or on our websites is intended as an investment recommendation or investment advice. Neither the information nor any opinion expressed nor any Portfolio constitutes a solicitation to purchase or sell securities or any investment program. The opinions and forecasts expressed are those of the editors of StateoftheMarkets.com and may not actually come to pass. The opinions and viewpoints regarding the future of the markets should not be construed as recommendations of any specific security nor specific investment advice. One should always consult an investment professional before making any investment.
Any investment decisions must in all cases be made by the reader or by his or her investment adviser. Do NOT ever purchase any security without doing sufficient research. There is no guarantee that the investment objectives outlined will actually come to pass. All opinions expressed herein are subject to change without notice. Neither the editor, employees, nor any of their affiliates shall have any liability for any loss sustained by anyone who has relied on the information provided.
The analysis provided is based on both technical and fundamental research and is provided "as is" without warranty of any kind, either expressed or implied. Although the information contained is derived from sources which are believed to be reliable, they cannot be guaranteed.
The information contained in this report is provided by Ridge Publishing Co. Inc. (Ridge). One of the principals of Ridge, Mr. David Moenning, is also President and majority shareholder of Heritage Capital Management, Inc. (NASDAQ:HCM) a Chicago-based money management firm. HCM is registered as an investment adviser. HCM also serves as a sub-advisor to other investment advisory firms. Ridge is a publisher and has not registered as an investment adviser. Neither HCM nor Ridge is registered as a broker-dealer.
Employees and affiliates of HCM and Ridge may at times have positions in the securities referred to and may make purchases or sales of these securities while publications are in circulation. Editors will indicate whether they or HCM has a position in stocks or other securities mentioned in any publication. The disclosures will be accurate as of the time of publication and may change thereafter without notice.
Investments in equities carry an inherent element of risk including the potential for significant loss of principal. Past performance is not an indication of future results.