Daily State of the Markets
Wednesday, January 23, 2013
Good morning. For those of us that try to keep this game relatively simple by attempting to stay on the right side of the market's trends, the action so far in 2013 has been enjoyable. My old technical analysis textbooks say that "the trend is your friend" and "the most bullish thing a market can do is go up." So, I guess we can make a couple checkmarks there. And then my market models tell me that the bulls should be given the benefit of the doubt right now. But, as someone who has seen a lot of trends come and go, I am frankly wondering when the current joyride to the upside will come to an end.
While I am not in the business of making predictions about what the stock market do next, we do need to recognize a few things about the current environment. Yes, we have a "sigh of relief" rally on our hands as it appears that the Republicans are not going to shut down the government. (Well, not until May 19th anyway.) Yes, the trend is indeed your friend. Yes, David Tepper is uber-positive on stocks again. Yes, it does look we've got a "good overbought" condition going right now. And yes, our market models are fairly positive at the present time.
However, consider the following...
The S&P is back to within spitting distance of its all-time highs (meaning that there is resistance overhead)
Our short- and intermediate-term overbought cycles are now perfectly aligned
The VIX is at its lowest level since 2007
The European version of the VIX is also at its lowest level in years
Our sentiment models have now moved up into the "high optimism" zone
The World Equity Index has breached the top end of its Bollinger Band
Our "cycle composite" is calling for a correction (which suggests the S&P will move down in earnest next month)
All of the above points argue that while moves in the stock market tend to last longer than most people can imagine, a pullback is to be expected in the near term. But here's the thing; I'm actually looking forward to the next decline because, in short, it might tell us a lot about what to look forward to next.
I've been of the opinion that the S&P 500 has been in a secular bear market since early 2000. And while the period since the turn of the century hasn't been a bowl of cherries, we do need to recognize that market environments DO change - and usually when no one is looking for things to change!
So, with the bear camp still bemoaning the unemployment rate, the overall state of the economy, and any number of other issues for which we should fret, the general consensus is that the current rally will eventually give way to yet another bout of mid-year market misery. And based on the fact that the "sell in May and go away" rule has worked like a charm for something like five years running, I don't see any reason why the bears won't try and get something started as the flowers begin to bloom again this year.
Our furry friends remind us that it has been more than 300 days since the S&P has experienced a correction of 10% or more (last summer's dance to the downside came close but never actually breached the 10% mark). And according to the history books, this is about twice as long as normal in a secular bear market environment. Therefore, the bears say we should start dusting off those risk management strategies and/or start putting on some hedges right about now.
However, there is one point that the glass-is-half-empty camp fails to recognize. You see, the midcap and smallcap indices (which can be considered the "troops" of the market) aren't exactly struggling with overhead resistance at the present time. Take a look at the chart below of the S&P Midcap 400 (monthly from mid-1996) and try to tell me that this isn't a healthy technical picture.
S&P Midcap 400 Index (Monthly)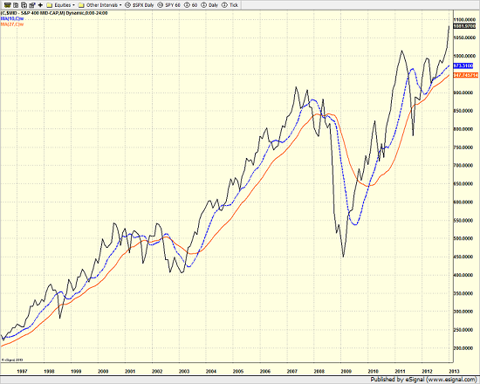 In fact, one could argue that the S&P Midcap isn't in a secular bear market at all as it appears that 2008 was merely a panic-induced bear market that has since been corrected. And the chart of the smallcaps is also currently sitting at fresh all-time highs right now. So, it would appear that the "troops" aren't necessarily following the generals in this environment.

My point this morning is that unless the next decline is a doozie, the odds could be growing that a new secular bull market might be underway. Remember, a garden-variety pullback that takes place in the midst of a strong advance is generally followed by a resumption of the uptrend. So... if the next pullback is short and shallow AND the bulls can proceed to resume their march higher - especially if this occurs during the "sell in May" period - then it would not be surprising to see the "generals" (the DJIA and S&P 500) break to new all-time highs. And should this occur, well, it might be time put away the pessimism for a while.

So again, I'll be watching the next decline and the action in the late spring with great interest. Because as a "market environmentalist" I like to stay in tune with the overall market environment. And if the "generals" can follow the "troops" to new highs and stay there for any length of time, we might just have brand new long-term bull market on our hands.

Turning to this morning... Overnight markets were mixed in front of a busy day in the U.S. Earnings will continue to be in focus here at home after tech bellwethers IBM and Google impressed the street after yesterday's close. This morning we will hear from McDonald's as well as General Dynamics and then after the close Apple will report. In addition, the House is expected to vote on (and pass) a measure to raise the debt ceiling until May 19.

Pre-Game Indicators

Here are the Pre-Market indicators we review each morning before the opening bell...

Major Foreign Markets:
- Shanghai: +0.25%
- Hong Kong: -0.10%
- Japan: -2.08%
- France: -0.32%
- Germany: +0.23%
- Italy: -0.71%
- Spain: -0.24%
- London: +0.11%

Crude Oil Futures: +$0.19 to $96.87

Gold: +$1.20 to $1694.40

Dollar: higher against the yen, lower vs. euro, and pound

10-Year Bond Yield: Currently trading at 1.839%

Stock Futures Ahead of Open in U.S. (relative to fair value):
- S&P 500: +1.29
- Dow Jones Industrial Average: +47
- NASDAQ Composite: +14.81

Thought For The Day...

He that takes medicine and neglects diet, wastes the skill of the physician. -Chinese Proverb

Positions in stocks mentioned: none

Follow Me on Twitter: @StateDave

In his latest video presentation, Dave M. walks you through the New "Adaptive" Active Risk Management System for the Stock Market
---
The opinions and forecasts expressed herein are those of Mr. David Moenning and may not actually come to pass. Mr. Moenning's opinions and viewpoints regarding the future of the markets should not be construed as recommendations. The analysis and information in this report and on our website is for informational purposes only. No part of the material presented in this report or on our websites is intended as an investment recommendation or investment advice. Neither the information nor any opinion expressed nor any Portfolio constitutes a solicitation to purchase or sell securities or any investment program. The opinions and forecasts expressed are those of the editors of StateoftheMarkets.com and may not actually come to pass. The opinions and viewpoints regarding the future of the markets should not be construed as recommendations of any specific security nor specific investment advice. One should always consult an investment professional before making any investment.
Any investment decisions must in all cases be made by the reader or by his or her investment adviser. Do NOT ever purchase any security without doing sufficient research. There is no guarantee that the investment objectives outlined will actually come to pass. All opinions expressed herein are subject to change without notice. Neither the editor, employees, nor any of their affiliates shall have any liability for any loss sustained by anyone who has relied on the information provided.
The analysis provided is based on both technical and fundamental research and is provided "as is" without warranty of any kind, either expressed or implied. Although the information contained is derived from sources which are believed to be reliable, they cannot be guaranteed.
The information contained in this report is provided by Ridge Publishing Co. Inc. (Ridge). One of the principals of Ridge, Mr. David Moenning, is also President and majority shareholder of Heritage Capital Management, Inc. (NASDAQ:HCM) a Chicago-based money management firm. HCM is registered as an investment adviser. HCM also serves as a sub-advisor to other investment advisory firms. Ridge is a publisher and has not registered as an investment adviser. Neither HCM nor Ridge is registered as a broker-dealer.
Employees and affiliates of HCM and Ridge may at times have positions in the securities referred to and may make purchases or sales of these securities while publications are in circulation. Editors will indicate whether they or HCM has a position in stocks or other securities mentioned in any publication. The disclosures will be accurate as of the time of publication and may change thereafter without notice.
Investments in equities carry an inherent element of risk including the potential for significant loss of principal. Past performance is not an indication of future results.