Daily State of the Markets
Thursday, May 29, 2014
One of the real keys to success in the stock market is to have a thorough understanding of the time frame one is attempting to operate in. For example, long-term investors needn't worry themselves too terribly much with every wiggle and giggle on the charts on a daily basis, as staying in tune with the major cycle is likely the goal. And conversely, traders looking to produce winning trades on a daily basis probably aren't too concerned with macro issues such as monetary policy or valuations.
However, even fast-money traders recognize that it can be beneficial to keep an eye on the big-picture environment. After all, knowing what type of market one is dealing with can be helpful in knowing what short-term strategy to employ, what sectors to try and exploit, etc.
A couple days ago, we began a review of the market's key indicators and/or models. The idea was to run through the ten models that make our market environment model in order to ensure that we weren't missing anything important.
But once again, we need to interrupt this exercise in order to address a fresh buy signal from one of our favorite short-term indicators. While a review of valuations, inflation and economic growth projections is certainly important in the long-run, they are not likely to have an impact on your portfolio in the near-term. So, today we will focus on more timely issues at hand.
Should You Trust the Breakout?
Although the market remains conflicted (was Tuesday's move a breakout if it was not confirmed by any of the other major indices and can the broad market really run higher without the former leaders?), it is safe to say that the environment has been improving over the past couple of weeks. And Wednesday's buy signal from one of our favorite indicators is yet another sign that the bulls MAY (key word) have the edge at this stage.
One of the best ways to judge whether or not a move is for real in the market is to check the "oomph" behind the move. In other words, a new leg to the upside should be accompanied by a fair amount of momentum if it is expected to continue.
The current market is a PERFECT example of this situation. Yes, the S&P 500 has clearly broken out to the upside. But the bears have a great many complaints about the current action.
S&P 500 Daily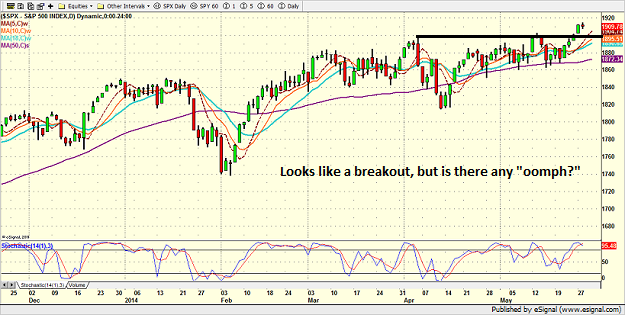 However, the key is that there are some positive signs developing in the "oomph" category. Don't take that the wrong way, this is NOT a runaway bull leg at the moment. People are NOT falling all over themselves to get into stocks here. But, there is one indicator with a very good long-term record that bears some attention.

Should You Trust the Thrust?

One of the best ways to judge the momentum in the market is via "thrust" indicators. In short, you look for price, breadth, and/or volume to surge over a short period of time. And cutting to the chase on Wednesday, we got a buy signal from a price-based "thrust" indicator.

The indicator involves the price movement of the Value Line Composite index, which is intended to measure the broad market. First, take a 3-day moving average of price. Next, you need to calculate the 30-day average of price. Then you plot the standard deviation of the 3-day relative to the 30-day.

When the standard deviation of the 3-day average from the 30-day average exceeds 0.5, a buy signal is given. Conversely, when the standard deviation of the 3-day to the 30-day is below -0.5, a sell signal is flashed. Anything in between is considered neutral.

As of the close on Tuesday, May 27, 2014, the standard deviation of the 3-day to the 30-day moved up over 1.0 - thus a buy signal occurred. In short, this tells us that there has been some "oomph" behind the latest move.

The Stats Behind the Indicator

The good thing about this particular indicator is that it goes back to 1964, or more than 50 years. Granted, this is not a perfect indicator (none are!). However, it has been a pretty good indication of momentum in the market for a very long time.

According to Ned Davis Research, when this indicator is on a buy signal, the Value Line Composite has advanced at a rate of 20.6 percent per year. And given that since 3/10/1964 the the average buy-and-hold return of the Value Line has been 7.7 percent, this isn't bad.

When the indicator has been on a sell signal - meaning that there is some "oomph" to the downside happening - the Value Line has lost ground at an annualized rate of -10.0 percent per year.

And when the indicator has been neutral, the Value Line has gained at a rate of 6.0 percent, which is obviously less than the 7.7 percent long-term average.

The key takeaway here is that there is a very large spread between the returns when the indicator is positive, negative and neutral. As such, this is an indicator that may be worth paying attention to when it is either positive or negative. And right now, it is positive.

Publishing Note: I am traveling (yes, again!) through Tuesday and will publish reports as time permits.

Looking For Investment Management Help?

If you are looking for help with money management, check out Heritage Capital Management's Active Risk Manager Service - or call Heritage for more information at (630) 250-4700.

ALL NEW: The Next Generation of the Daily Decision system is now available to clients of Heritage Capital. The upgraded system utilizes swing trading and mean reversion strategies during neutral market environments, multiple indices for long positions, incremental moves in and out of the market, multiple managers and multiple strategies - with the overall goal being reduced volatility, fewer and less impactful whipsaws, and a "smoother ride." To learn more about the "Next Generation" system, Read the Research Report

Turning to This Morning...

Things remain fairly quiet on this Thursday morning. Traders in Europe are waiting on the ECB meeting next week while here at home, the final reading for Q1 GDP is slated to be released at 8:30 am eastern. Note that many believe that GDP may have slipped to negative during the quarter. However, this can indeed be blamed on the weather and the pace of GDP growth in the current quarter is expected to be above 4%. U.S. futures are pointing to a slightly higher open a this time.

Pre-Game Indicators

Here are the Pre-Market indicators we review each morning before the opening bell...

Major Foreign Markets:
- Japan: +0.08%
- Hong Kong: -0.30%
- Shanghai: -0.45%
- London: +0.36%
- Germany: -0.03%
- France: -0.10%
- Italy: -0.32%
- Spain: -0.30%

Crude Oil Futures: -$0.03 to $102.75

Gold: -$6.50 at $1252.80

Dollar: higher against the yen, lower vs. euro and pound.

10-Year Bond Yield: Currently trading at 2.432%

Stock Futures Ahead of Open in U.S. (relative to fair value):
- S&P 500: +3.22
- Dow Jones Industrial Average: +30
- NASDAQ Composite: +8.99

Thought For The Day...

You can't get much done in life if you only work on the days when you feel good. -Jerry West

Positions in stocks mentioned: none

Follow Me on Twitter: @StateDave
---
The opinions and forecasts expressed herein are those of Mr. David Moenning and may not actually come to pass. Mr. Moenning's opinions and viewpoints regarding the future of the markets should not be construed as recommendations. The analysis and information in this report and on our website is for informational purposes only. No part of the material presented in this report or on our websites is intended as an investment recommendation or investment advice. Neither the information nor any opinion expressed nor any Portfolio constitutes a solicitation to purchase or sell securities or any investment program. The opinions and forecasts expressed are those of the editors of StateoftheMarkets.com and may not actually come to pass. The opinions and viewpoints regarding the future of the markets should not be construed as recommendations of any specific security nor specific investment advice. One should always consult an investment professional before making any investment.
Any investment decisions must in all cases be made by the reader or by his or her investment adviser. Do NOT ever purchase any security without doing sufficient research. There is no guarantee that the investment objectives outlined will actually come to pass. All opinions expressed herein are subject to change without notice. Neither the editor, employees, nor any of their affiliates shall have any liability for any loss sustained by anyone who has relied on the information provided.
The analysis provided is based on both technical and fundamental research and is provided "as is" without warranty of any kind, either expressed or implied. Although the information contained is derived from sources which are believed to be reliable, they cannot be guaranteed.
The information contained in this report is provided by Ridge Publishing Co. Inc. (Ridge). One of the principals of Ridge, Mr. David Moenning, is also President and majority shareholder of Heritage Capital Management, Inc. (NASDAQ:HCM) a Chicago-based money management firm. HCM is registered as an investment adviser. HCM also serves as a sub-advisor to other investment advisory firms. Ridge is a publisher and has not registered as an investment adviser. Neither HCM nor Ridge is registered as a broker-dealer.
Employees and affiliates of HCM and Ridge may at times have positions in the securities referred to and may make purchases or sales of these securities while publications are in circulation. Editors will indicate whether they or HCM has a position in stocks or other securities mentioned in any publication. The disclosures will be accurate as of the time of publication and may change thereafter without notice.
Investments in equities carry an inherent element of risk including the potential for significant loss of principal. Past performance is not an indication of future results.