Netgem - A Hidden Nano-Cap Gem Of The French Tech
Please Note: Blog posts are not selected, edited or screened by Seeking Alpha editors.
Summary
Leading provider of B2B Internet TV services in Europe.
Successful transformation from a hardware manufacturing business to an as-a-service business model with 90% of recurring revenues and multiple paths to continue double-digit % growth of gross margin.
Market under-appreciates the value of the transformation and even a conservative valuation suggests triple-digit % upside.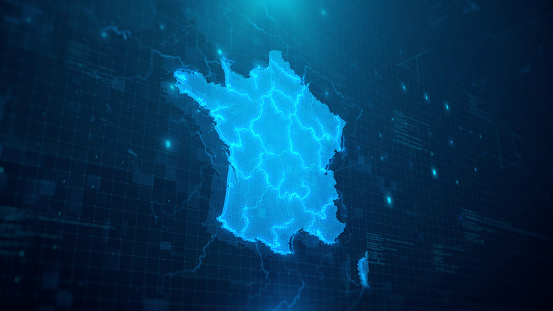 Note: for more research on Netgem, visit NetgemResearch website.
A. Business
A1. Overview
Netgem is a French technology company which provides internet connectivity and TV content services in Europe. It is a nano cap, listed on Euronext Growth, and has a market cap of ~€39m or €1.26 per share at the time of this article.
Netgem was founded in 1996 by Joseph Haddad, Olivier Guillaumin et Marc Bury, 3 alumni of École Polytechnique, one of the most prestigious and selective grandes écoles in France.
Mr. Haddad served as Netgem's chairman and CEO until 2019 before he passed the CEO role to Mathias Hautefort, another École Polytechnique - alumnus who joined Netgem about 10 years ago after a career in public administration. Mr. Haddad remains the chairman and the largest shareholder of Netgem.
Netgem was a hardware company and not a service company. It used to produce set-top boxes that allowed users to connect to the internet from a TV and use internet protocol TV ("IPTV"). Netgem sold its boxes to telecom operators and integrated internet access technology to TV manufacturers.
After nearly two decades of operating as hardware manufacturer, Netgem made a pivotal strategic move in 2015: it started the transformation from a hardware company to a service company in order to ride the waves of significant changes in the European telecom and TV markets which are characterized by:
Increasing adoption of high-speed fiber internet by customers.
High-speed internet opens the door to IPTV and innovative streaming (Over-the-Top or "OTT") services which attract more and more consumers to the detriment of traditional linear TV ("Cord Cutting").
Many operators give up their own investment in TV offerings in order to focus on telephone and fiber internet .
These trends results in two significant demands at end users and telecom operators :
End customers, who move towards fiber internet and streaming services, are no longer satisfied with traditional linear TV experiences. They expect modern TV services which include new features such as multi-screen, replay / recording, and integration of popular streaming services such as Netflix, YouTube, Amazon Prime and the like.
As customers usually prefer bundled deals (telephone, internet, TV), operators who can offer innovative and modern TV experiences are better positioned to attract more customers and keep them longer, hence creating a significant competitive advantage over operators who are not able to do that. This is particularly relevant for medium or small operators which usually do not have the resources to develop their own TV solutions and hence will need a third-party solution to keep up with the competition.
Netgem spotted those problems and worked to find solutions for them. In 2015, it started to provide TV as a Service solutions and has been expanding its solutions in Europe. After 5 years of transformation, Netgem is now no longer a hardware manufacturer but operates for the first full year as a software-based TV and video service company in 2021. It is operating mostly through Business-to-Business ("B2B") distribution channel, while optimizing the Business-to-Customer ("B2C") channel, in its home market France but also in the UK and the rest of Europe.
A2. B2B Distribution
Through its B2B distribution and its brand Netgem TV, Netgem offers a turn-key TV service which allows telecom operators and internet service providers ("TelCo/ISPs") in Europe to bundle internet access with a modern TV experience to end customers.
In a single unified user interface, end customers can watch popular TV channels live or in replay, and enjoy leading streaming services such as Netflix, Amazon Prime, YouTube, etc. The service is available on multi-screen including TV, tablet and smartphone; for multiple users at the same time; and has search and personalized recommendation features.
Regarding the economic model, Netgem TV generates revenues per end user of TelCo/ISPs. This model aligns the interest between Netgem and its partners in order to maximize customer satisfaction and allow Netgem to generate recurring revenues.
The Netgem TV service could be marketed under the Netgem TV brand or under the partner's brand name (white label). It could be also tailored to a partner's need to include a full turn-key solution or only part of the solution (e.g. software only).
The 2 main markets of B2B Netgem TV are (1) the United Kingdom ("UK") where it is having growing success with Alternative ISP ("AltNets"); (2) the rest of Europe, notably in Finland where Netgem partners with Elisa, the #1 telecom provider in the country.
The UK Market
In the UK, Netgem is achieving a growing success thanks to the telecom market structure and an overall low fiber adoption of the UK market.
The UK internet access service market is currently dominated by the five biggest incumbent operators (BT, Sky, Virgin, TalkTalk and Vodafone) with ~87.5% market share in 2021. The rest of the market is shared among more than two hundred of small ISPs.
The UK's internet speed is among the lowest in Europe due to a very low adoption of fiber compared to other European countries. However, the Covid-19 has been the catalyst for a big change. When people stay more at home and work more from home, they realize the need of high speed internet and start to massively adopt ultra-fast broadband.
Many AltNets are going into this direction and investing in ultra-fast broad coverage to gain market share from the incumbents. AltNets have been successful so far: their market share has more than doubled over the last decade and is expected to further increase it in near future.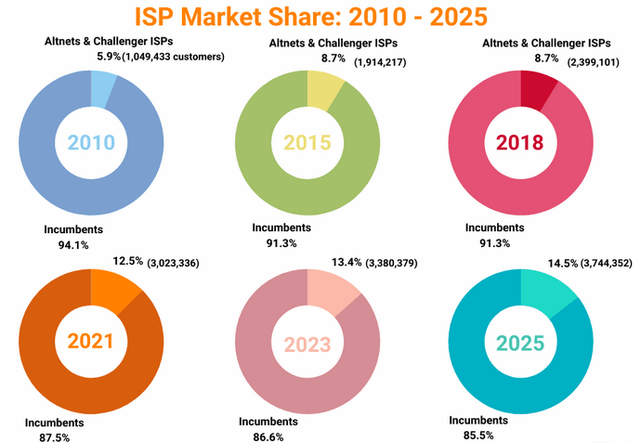 Source: study of PointTopic
The impressive growth of AltNets in the past has been achieved despite a major shortcoming: unlike incumbents, AltNets do not have the resources to develop their own TV solution in order to bundle it with their internet service offering.
At the same time, customers usually prefer bundled offers with 80% of households taking more than one service from the same provider. Netgem brilliantly spotted the gap and launched Netgem TV service in the UK in 2019.
Good strategy, good execution, good results. Until now, Netgem has signed up with a dozen of partners and is expecting new partnerships with leading players by the end of 2021.
One example of Netgem TV's success story in the UK is its partnership with Community Fibre with a launch in January 2021. Community Fibre positions itself as the "London's fastest 100% full fibre broadband". Community Fibre's coverage is growing very quickly, reaching 300,000 homes around mid 2021 and is targeted to reach 1,000,000 homes by end of 2023. It has an laser focus on customer service quality and achieves a Trustpilot score of 4.9/5, ranked #1 among UK ISPs. In 2020, it grew its customer base by 130%.
The main strategy of Netgem TV is to offer a high quality TV experience at lower price points vs. incumbents. The key features of Netgem TV include:
Seamless aggregation of Freeview with digital TV, viewers have everything in one place (quite rare in the UK market)
200 TV channels and keep adding more
Easy set-up, unified user interface integrating traditional TV, internet TV and streaming services, and TV app
Search and personalized recommendation
Multi-screen and multi-users
Replay / recording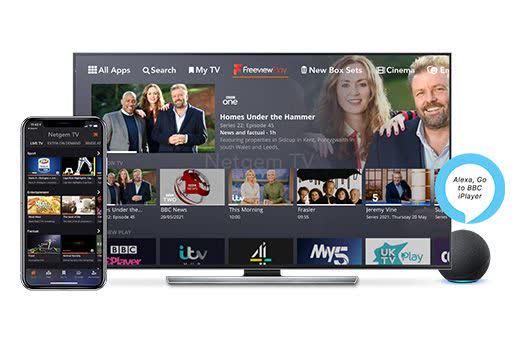 Netgem TV interface. Source: Netgem
The quality of Netgem TV services has been recognized by a number of awards, including "The most advanced TV service 2019" as well as the "Most innovative interactive TV service in 2020" in the UK. Some customers moving from Sky (because of the high cost) to Netgem TV have reported great experiences.
Netgem TV's strategy to provide high quality service at affordable price is perfectly aligned with that of its AltNet partners, which places Netgem in a unique position in the UK market to help AltNets grow even faster thanks to more compelling bundled deals. A part from Netgem, there is no other independent third-party TV service provider in the UK which can provide the same services to AltNets. And as AltNets are growing, Netgem is also growing with them.
Rest of Europe
In the Rest of Europe, the prominent telecom partner of Netgem is Elisa, the #1 telecom provider in Finland, #2 in Estonia. Elisa selected Netgem as their core TV solution, set-top box and software partner in the late 2000s, on a white label basis, to develop their TV service and improve the brand to become the leading entertainment brand in Finland, known as "Elisa Viihde".
This key partnership continues to develop positively. In 2020, Elisa and Netgem have deployed "Viihde Premium", an 4K TV offering. The move was a big success. 12 months after deployment, one third of Elisa's TV subscribers switched to the new service and Elisa achieved a client satisfaction score of NPS+31 which is unusually high for a TV service.
With this new offering, Netgem has also succeeded in transforming the economic model with Elisa, from selling the hardware to renting the hardware integrated with a software solution, and hence generate recurring revenues per end user.
In addition to Finland and Estonia, Netgem TV service is also used by operators in other countries such as Post in Luxembourg, Netplus in Switzerland, Puretel in Germany. In particular, partners in countries with a large portion of French-speaking are also offered a large catalog of French video on demand contents.
Other B2B Services
In addition to TV solutions, Netgem also works with content publishers to bring video streaming services to end customers. For example, Netgem partners with France Channel to launch a subscription-based video on demand ("SVOD") service for French original programming to the global market, starting with the United States ("US"). France Channel targets to achieve 200,000 to 400,000 within the first 3 years. The service was launched in August 2021.
A3. B2C Distribution
Netgem's B2C distribution is mainly in France. Via the Videofutur brand of its 53%-owned subsidiary Vitis, Netgem offers full-fiber internet service ("ISP") to retail customers, especially in French rural areas which are under-served by big players. The package systematically includes a Netgem TV offer. This B2C business is relatively small, representing less than 20% of Netgem's revenues.
Videofutur also operates VIVA, a multi-screen streaming video on demand ("VOD") platform that offers to customers, without requiring any subscription, to buy or rent movies. The platform was launched in July 2021. Its catalog includes 15,000 movies and is frequently updated to include new releases, 3 to 4 months after theater release.
A4. Complementary Services
Finally, Netgem also provides a complementary service called SuperStream which enhances WiFi signals around the home, and hence improves the quality of experiences for end users. SuperStream is available directly or indirectly via Netgem's Telecom partners.
A5. Recap
The table below recaps Netgem business in various services and geographies.
| | | | |
| --- | --- | --- | --- |
| | France | UK | Rest of Europe |
| B2B TV as a service | - Other French TelCo/ISPs | - To AltNets | - To TelCo/ISP, notably Elisa in Finland / Estonia |
| B2B / B2C VOD | - VIVA platform (B2C) | - Not yet | - B2B VOD as a service (e.g. Netplus) |
| B2B Content publisher | - Partnership with France Channel | - Not yet | - Not yet |
| SuperStream | - Yes | - Yes | - Yes |
| B2C Internet | - Videofutur, notably for customers in rural areas, systematically includes a TV offer | - No | - No |
These services are carried out by various entities as shown in the simplified chart below: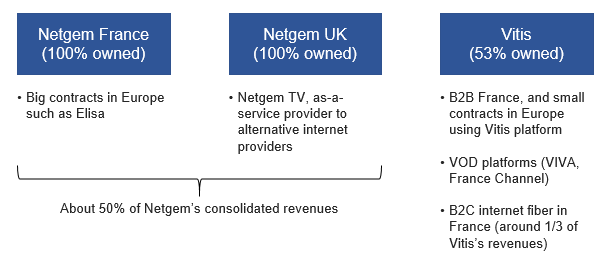 Although the business of Netgem looks very diversified, its principle is extremely simple: Netgem is now focusing on the software development of TV and video solutions which are then distributed mostly through B2B channel, and to a lesser extent, B2C channel, through a mostly recurring as-a-service, per end user revenue model. This distribution strategy is very smart as:
The revenues are recurring, are hence more predictable.
Netgem does not need to spend big money on marketing to acquire end users, or invest in infrastructure in order to reach clients in different locations.
Netgem avoids direct competition with other hardware manufacturers in the B2C market.
However, this strategy does not seems to be fully appreciated by the market.
B. Financial Metrics and Under-appreciated Transformation
In 2020, Netgem generated €30M of revenues of which 90% is recurring and, €16M of gross margin. As of year end 2020, it has 78 employees.
On July 30, Netgem announced 16% of 6-month growth of subscribers, 20% YoY growth of gross margin, raised its annual gross margin growth guidance from 10% to 15% and guided to at least €4m of EBITDA in 2021. The company is trading at €39m market cap. Including €4m net cash, it is trading at around 9xEV/EBITDA.
This is extremely cheap for a growing software-based technology company with 90% of recurring revenues. I believe this opportunity exists because Netgem, being a nano cap stock, is under-covered and the financial metrics reflecting the transformation from hardware to a service company have not been fully appreciated.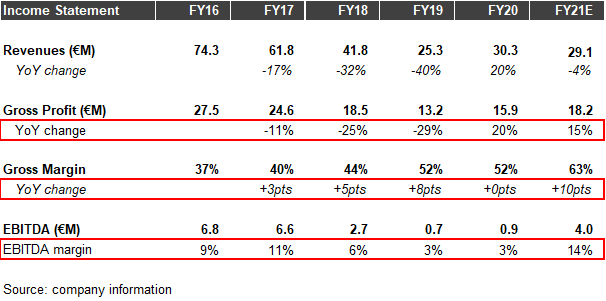 Concretely, if we look at the revenues trend over the last 5 years, it is generally decreasing, dropping more than 60% between 2016 and 2021. However, the gross margin has increased steadily from 37% to 63%, representing 26pts improvement. This exceptional improvement is profitability in line with the shift from one-off hardware sales to recurring revenue model.
EBITDA is following the same improving trend of gross margin, increasing from €0.7M low point in 2019 to at least €4.0M in 2021 as guided by the company. This level of EBITDA is 50% higher than that of 2018 despite lower revenues and gross profit.
However, this encouraging fundamental improvement has not been reflected in the current share price which is merely above its last 5 years low point.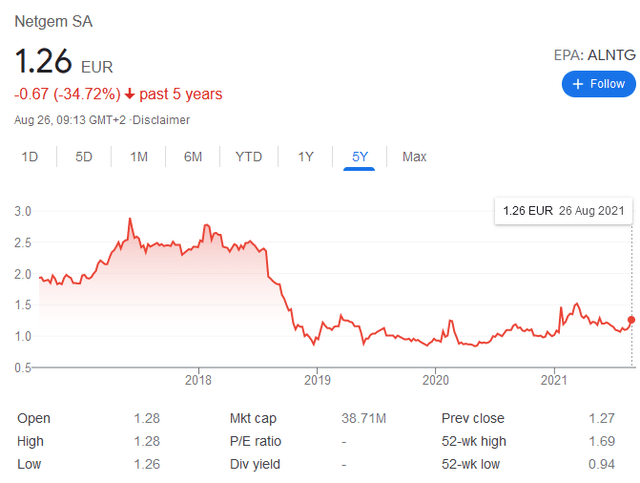 After having spent years of effort to transform its business, 2021 is the first full year that Netgem operates as a service company. I believe that Netgem is now at its inflection point, and the misalignment between the fundamental improvement of Netgem's business and its share price represents an extremely compelling risk reward opportunity as highlighted below.
C. Investment Highlights
C1. Excellent quality of revenues
Netgem now has recurring revenues representing 90% of its activities. These recurring revenues are ultimately driven by internet and TV subscribers which typical have a contract with a firm commitment period and automatically renewals.
With its mainly B2B distribution model, through its partnership with multiple TelCo/ISPs Netgem also avoids the burden of retail customer acquisition and the capital risk associated with it. Therefore, with its brilliant B2B distribution, Netgem is generating recurring revenues with a low cost, low risk approach.
C2. Multiple sources of growth for a long runaway
The well-designed business model will also give Netgem several sources of future growth including:
B2B:

Adding new TV partners in the UK and continental Europe.
Existing partners, notably AltNets in the UK, growing their customer base.
Higher adoption rate of Netgem TV and additional services such as SuperStream.

B2C:

Increasing the number of customers of VOD platforms which have just been launched (e.g. VIVA)
Taking a step back, despite achieving 20% growth in gross margin in the first half of 2021, Netgem has just began its growth journey:
In the UK, Netgem TV services started just two years ago with many deployments only in the recent period.
In France, Viva platform was launched only in July 2021 and France Channels was launched at the end of August 2021.
SuperStream was deployed in April 2021.
In the rest of Europe, the launch of Elisa Viihde 4K Premium offer coupled with the new recurring revenues model for Netgem just started about 1 year ago.
Therefore, I believe Netgem has just scratched the surface of the full potential which might take many years to fully materialize. Exciting growth ahead.
C3. Unique market position thanks to a unique set of expertise
The most important growth driver of Netgem in the near future is through the partnership with TelCo/ISPs to market bundled internet and TV offerings to end customers.
A success in this business requires a number of expertises including: experiences on set-top box, software development under various platforms / operating systems, partnership with content providers, deployment ability with TelCo/ISPs, and customer relationship.
Netgem has the right set of expertise to meet this requirement. It was born as a hardware company. It is itself an internet provider in France, so it should have an excellent understanding about how TelCo/ISPs work, how to deploy a technical solution with them, and how to manage retail customer relationships. It is not at all easy for other set top box manufacturers to follow the same route as Netgem.
As a result, I expect the competition will remain between Netgem + AltNets vs. incumbents. Given its small size, a small part of the cake will be sufficient for Netgem to grow multiple times.
C4. High insider ownership, recent share purchase by insiders
As of year end 2020, the shareholder ownership structure of Netgem shows a significant portion of 45% of insiders' ownership, of which more than half from the co-founder chairman Haddad and his family. Haddad family also purchased more than 200 thousands shares in 2020 (p.19).
Shareholder
Number of shares
% of total outstanding shares

Haddad

(co-founder & chairman) family

7

,

591

,

504

24.7%

Guillaumin

(co-founder) & family

2

,

614

,

200

8.5%

Management & employees

1

,

701

,

453

5.5%
Treasury shares

1

,

900

,

404

6.2%
Total insiders
13,807,561
44.9%
Total
30,721,059
100%
Source: Netgem's 2020 Annual Report, p. 41
C5. Conservative valuation suggests significant upside
To value Netgem which is in essence a growing technology business, we can reasonably use the EV/EBITDA approach based on a conservative projection.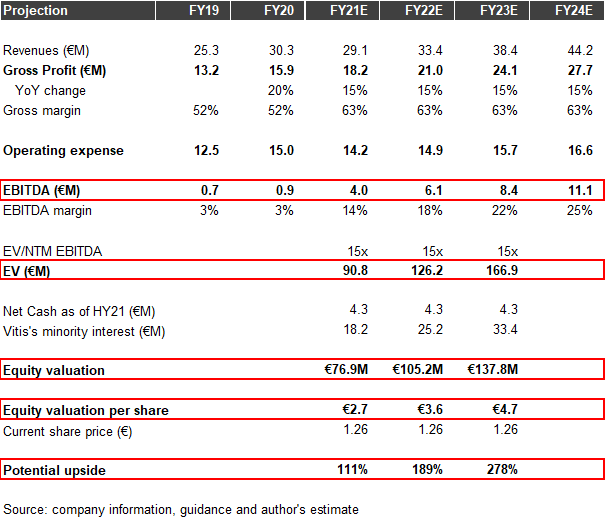 Gross profit. Given the multiple drivers of growth I believe that Netgem can maintain at least a 15% growth guidance in 2021 over the next few years. This 15% guidance incorporates the impact of the global shortage of certain electronic components. Let's assume 15% growth for future year for the sake of conservatism.
Operating expense. Despite gross profit growth, Netgem is able to reduce cost in 2021 thanks to the restructuring and cost savings at Vitis. These activities are still ongoing so we should be able to see further benefits. Putting this upside aside, after the cost of goods sold, Netgem is a basically a fixed-cost business thanks to its focus on software development and B2B distribution. For conservatism, I assume the increase in expense corresponds to 25% of gross profit increase or an implied marginal EBITDA / Gross Profit of 75%.
EV. To estimate EV, I conservatively use a multiple of EV/EBITDA of 15x, which could be considered to be low for a growing technology business. We observe much higher multiples in similar businesses below.

Net Cash. Net cash of €4.3M at the end of June 2021 is adjusted in the calculation.
Minority Interest. 47% of Vitis is owned by other shareholders (Groupe Caisse de Dépôts and Océinde). I conservatively assume this minority part represents 20% of Netgem value despite the fact that the Europe ex. France, notably in the UK, have a much better profitability and growth prospect.
On a conservative basis, the net equity valuation per share is estimated at €2.7 at FY21, €3.6 at FY22 and €4.7 at FY23, representing massive triple-digit upsides from where we are today.
D. Risks
As for any equity investment, there are risks for Netgem but none of them seems to be a showstopper in the Netgem long term investment thesis. Netgem also provides a list of risks in its 2020 annual report (in French) but they are quite generic in nature.
Some of the risks that I see could be of interest for an investor to consider:
The

global shortage of certain electronic components

could continue or worsen and hence delay the manufacturing of set-top boxes and delivery to clients. However, the 15% growth guidance for gross margin growth in 2021 has factored in such a potential adverse impact.
Certain clients such as Elisa represent a big portion of Netgem's revenues, hence there could be a perceived risk of concentration. However, I believe this risk is quite limited given it would be not easily to replace Netgem's hardware and software solutions used by a large number of retail customers. In addition, there is no other pan-European player like Netgem right now.
The stock could be considered illiquid by some investors.
E. Concluding Remarks - From a Caterpillar to a Butterfly
Netgem has completed its business transformation from a hardware company and is living its first wonderful full year 2021 as a service company, growing its gross margin at double digit %, adding partners and clients, launching new products and services, and consolidating its unique market position as B2B software-based TV and video service provider to telecom operators and internet providers in Europe.
With its well-designed business and distribution models, Netgem now possesses multiple sources of future growth. In addition, many of its partnerships and products have just started generating revenues. Hence, Netgem has just only scratched the surface of its potential under the new and high-quality recurring revenue model.
Interestingly, the market appears to under-appreciate this wonderful transformation and is currently valuing the company at an extremely low level. This unjustifiably low valuation, coupled with an excellent profitable growth prospect could make Netgem a multi-bagger in the next few years from where we are today.
The butterfly has taken off but the field of flowers is yet to come.
***
Analyst's Disclosure: I/we have a beneficial long position in the shares of NETGEM either through stock ownership, options, or other derivatives.
Seeking Alpha's Disclosure: Past performance is no guarantee of future results. No recommendation or advice is being given as to whether any investment is suitable for a particular investor. Any views or opinions expressed above may not reflect those of Seeking Alpha as a whole. Seeking Alpha is not a licensed securities dealer, broker or US investment adviser or investment bank. Our analysts are third party authors that include both professional investors and individual investors who may not be licensed or certified by any institute or regulatory body.