Saks Inc. (SKS)
Price (10/18/2012): $10.66
Target: $7.24
Thesis
SKS is overvalued by 32% or $3.42 a share. Primary issues are related to...
Low Operating Margins
Executive Overcompensation
Shareholder Value Dilution
Despite these issues, Saks' core business remains highly competitive within the luxury retail space. Thus, if Saks traded down to its fair market value, it may make an attractive acquisition and turnaround candidate.
Low Operating Margins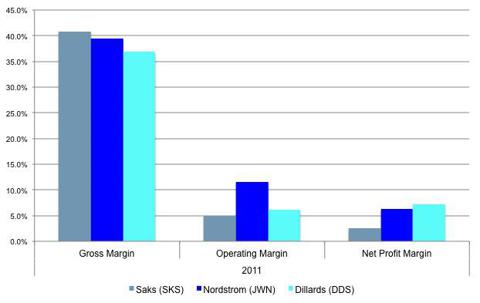 Despite having the largest Gross Margins of its peers, Saks significantly lags its peers both in regards to Operating Margins and Net Profit Margins. These trends have persisted over the past decade.


SG&A as a % of Net Sales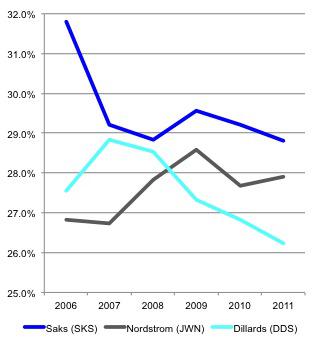 Days Inventory & Cash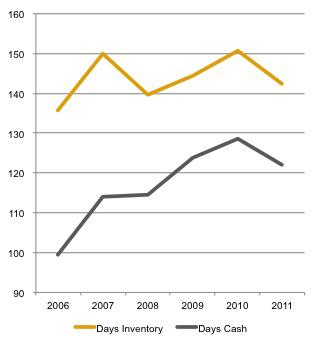 These low operating and profit margins are primarily due to unusually high SG&A costs and poor inventory management. As a result, not only is Saks spending more money to run their business relative to peers, but their cash is also tied up for unusually long periods of time.
Executive Overcompensation
Compensation as a % of Net Sales
Saks executives are vastly overcompensated relative to their peers in almost all recent years.
Shareholder Value Dilution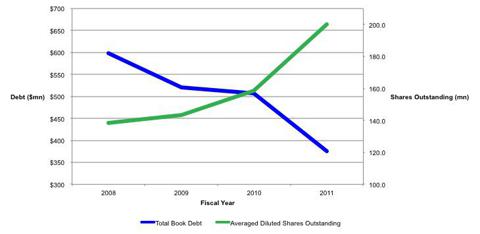 Saks has remarkably been paying off debt since 2008, and at an accelerated rate during 2010. It seems likely they are able to pay off their debt by diluting shareholder value, as the company is generating little cash from their compressed margins and the majority of that cash is tied up in inventory.
Conclusion
Saks Inc. (NYSE:SKS) is overvalued by 32%. Still, as an individual shareholder I would avoid getting involved with the company even if it traded down to its fair market value. There are numerous companies whose executives have shareholder interest in mind - it is apparent that Saks does not.
Saks makes an interesting target as an acquisition candidate if it traded down to fair market value. All three primary issues are tied to poor executive management. An acquirer who replaces the executive team would be left with a company that has strong brand equity and a solid core business. That said, due to the heavy debt burden, an acquisition would need to be cash-and-equity based, which necessarily limits the field of acquirers.
Disclosure: I have no positions in any stocks mentioned, and no plans to initiate any positions within the next 72 hours.