Bottom Line: Crude and Heating Oil have reached their Elliott Wave targets while their COT profiles remain bullish. While we expect at the very least some choppy action, we believe another push higher is highly likely.


Crude oil reached our 1st Elliott Wave target at 79.10 and the COT profile remains moderately bullish with Commercial buying below the bearish threshold of 50. We would expect some choppy action or a small wave b decline, but overall we believe Crude will reach our 84.50 target.
Last week we mentioned that Heating Oil, while seasonal factors and moderately high Commercial selling (bearish) could weigh on a major rally, we thought our 2.1226 Elliott Wave target should be reached.
This weekend we see that the 2.1226 EW target was hit and the COT profile has improved with Commercial buying (bearish) declining slightly but Commercial selling and Commercial selling as a percentage of Open Interest remaining strong (bullish). We will continue to look for Heating Oil to follow Crude Oil in working it's way higher to our next upside EW target of 2.2348.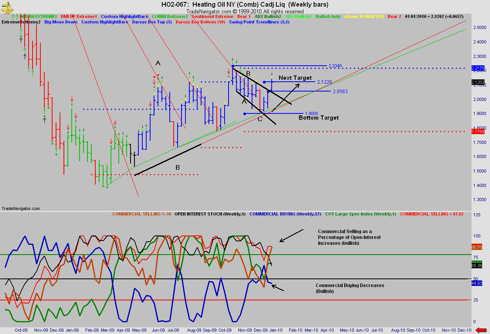 While looking at Natural Gas (NYSEMKT:
NG
) we noticed that the COT profile continues to signal a sharp move is about to happen. As we mentioned previously, when all of the COT indicators converge into the same area, it tends to precede a rather large price move and since the COT profile for Nat Gas is bearish, we believe it would be a down move.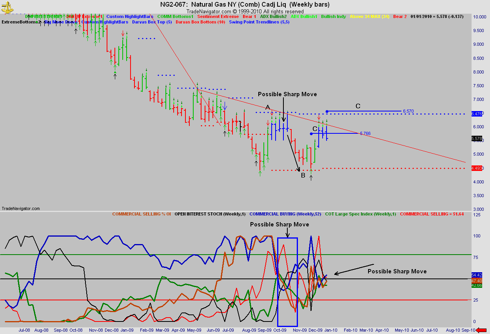 Disclosure:
We maintain positions in Stocks and Commodities we recommend