Bottom Line: While we believe June Copper fell to it's June 20th low in 5 waves, we see the current action as an ABC or 3 wave pattern with a 1st target of 329.10


Our COT analysis continues to show a bearish trend with Commercial buying rising while Commercial selling and Large Spec buying continues lower.

So, with Commercial buying rising with Open Interest falling, we see that the smart money is buying the decline while Large and Small Speculators are stepping away from Copper for now which is a longer term bullish signal.

Our Risk O Meter Series remains bearish as does is Stochastic Risk O Meter but with one possible exception. We see a possible hook forming in the Stochastic Risk O Meter which signals the current rally off the bottom should continue higher.

Our Elliott Wave analysis suggests the current rally is a wave C of an ABC rally with targets of 329.10 and 335.70.

This coincides with what we believe was a 5 wave decline from our 371.60 upside target and so, unless June Copper is in a zig-zag pattern, we would expect the current rally, once completed, to give way to another decline that should reach the 268 level.

With the JJC or Copper ETF also in an ABC or 3 wave pattern rally, the current rally should hit our 43.81 and 44.63 targets.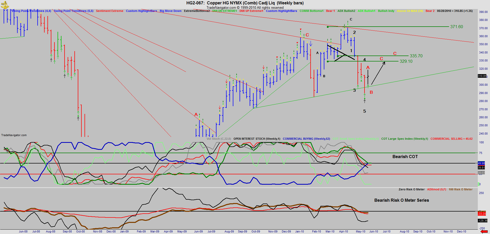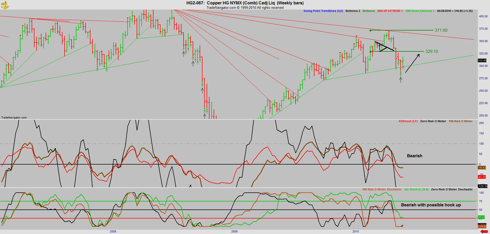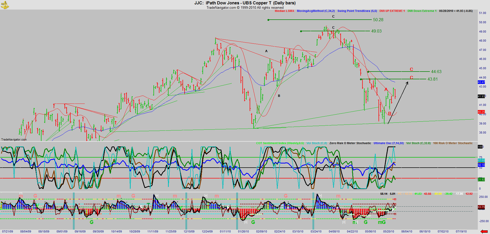 Disclosure: T3BM takes positions in the Futures, ETF's and Stocks it recommends