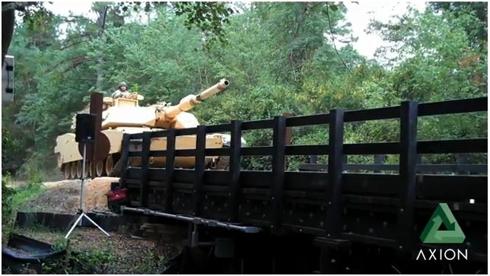 Greentech Media recently wrote an article (published on Seeking Alpha and on GreentechMedia.com) on Axion International's (AXIH) landmark bridge at Fort Eustis made with nearly 100% recycled plastic and able to support an M1 Abrams tank. The article's subhead, "The Great Satan of Materials is the New Green," gets right to the heart of what Axion CEO recently said on a recent CNNMoney.com interview.

According to the Greentech Media article, "Plastic – that ubiquitous, impervious, tough petroleum-based material – is becoming the green material of choice for a number of entrepreneurs, largely because it's impervious, tough and ubiquitous… Right now, countries have generally two options: Burn it for fuel or send it off to an emerging nation to be put in a landfill. Retrofitting it for a new use cuts landfill, of course, but it can also be more energy efficient than milling wood or steel."

To read the Seeking Alpha version of the article click here. 
To read the Greentechmedia.com version of the article click here.

Greentech Media also mentioned Axion's patented technology in the Top Ten Emerging Trends of 2009.