The first chart from Bank Of America (BAC) shows that the net percentage of investors expecting a stronger economy in the next 12 months fell to 84% in May from 90% last month: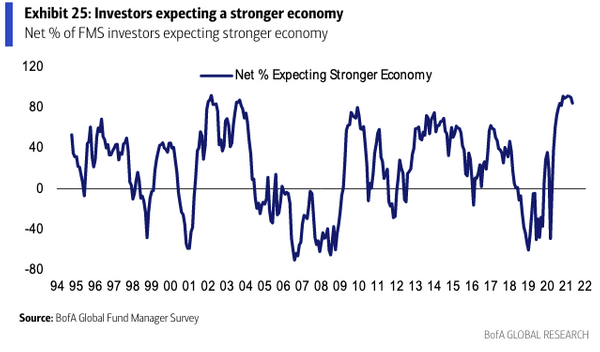 Although this measure is still clearly elevated by historical standards, this data indicates that there is a trend change here.
The second chart from BAC shows that investors are pulling back from taking abnormally high levels of risk in their portfolios after risk appetite hit a record high in February 2021: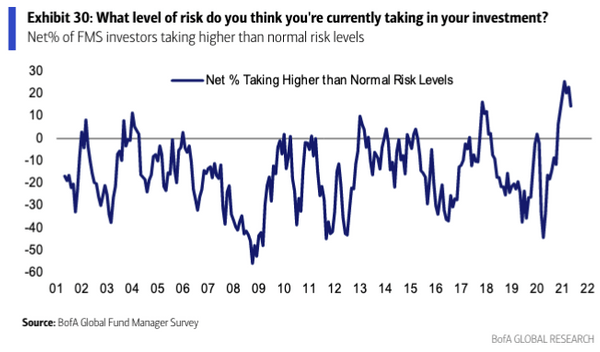 In other words, the market is shifting.
Are you ready to make money in this new market?
Make Money In The New Market With Our "One-Stop Shop" Research
Amid changing market conditions, investors can make big profits while taking low risk by building a well-diversified, actively-managed portfolio with select long & short ideas from different sectors. Specifically:
1) Select long ideas from different sectors: Investing only in one sector (i.e. REITs, financials, shipping, gold & silver etc.) is the definition of poor capital allocation, very high concentration and very high portfolio risk. Given also that the market will remain volatile and market rotation is a sure thing, investing only in one sector will result in very low or negative returns in 2021-2022. Therefore, our long ideas are from different sectors.
Moreover, our long ideas are value stocks for large capital gains and high-yield dividend stocks for your income portfolio.
Furthermore, our long ideas are undiscovered or overlooked names with few (if any) Seeking Alpha articles about them over the last 5 years.
On top of this, our long ideas meet a combination of strict investment criteria including the pristine balance sheet, low key metrics and growth potential. And I assure you that many undiscovered or overlooked "value stocks" have significant growth potential. "Value stock" does not mean lack of growth opportunities. Actually, many "value stocks" have tremendous growth potential.
As a result, the vast majority of our select long ideas have outperformed returning up to 500% since our BUY recommendation such as InMode Ltd. (INMD), DAVIDsTEA Inc. (DTEA), Quest Resource Holding (QRHC), Flexible Solutions Intl. (FSI), TransGlobe Energy (TGA), Smith Micro Software (SMSI), Trio-Tech Intl. (TRT), TAT Technologies (TATT), Comstock Holding Companies (CHCI), GoGold Resources (OTCQX:GLGDF), Tofutti Brands (OTCQB:TOFB), SCI Engineered Materials (OTCQB:SCIA), Caldwell Partners Intl. (OTC:CWLPF), Armanino Foods of Distinction (OTCPK:AMNF), The Monarch Cement Company (OTCPK:MCEM), Cipher Pharmaceuticals (OTCPK:CPHRF), iShares Global Energy ETF (IXC), Coda Octopus Group (CODA), Crown Crafts (CRWS), Northern Technologies Intl. (NTIC), The LGL Group (LGL), Rocky Mountain Chocolate Factory (RMCF), Ecology & Environment (EEI), Flanigan's Enterprises (BDL), Electro-Sensors (ELSE), Chicago Rivet & Machine (CVR), Taitron Components Incorporated (TAIT), Evolution Petroleum (EPM), NVE Corporation (NVEC), FutureFuel Corp. (FF), Deswell Industries Incorporated (DSWL), United-Guardian (UG), Heritage-Crystal Clean (HCCI) and The Hackett Group (HCKT) to name some.
2) Select short ideas from different sectors: Specifically, my team and I short overhyped, speculative companies that are grossly overvalued and/or heavily indebted and/or unprofitable cash incinerators. That said, my team and I short them by buying specific Puts, so we take very low risk. We never short companies by selling their stock.
One of our most recent successful short ideas is Luckin Coffee (LK) that has returned 1,000% since our SELL recommendation.
The Special Discount Is A Limited Time Offer
Thanks to our proven recipe for success and proven powerful strategy, our subscribers made extremely well in 2020 for the 5th year in a row.
In other words, 2020 was another monster year for our subscribers.
And in 2021, so far so good.
That said, now is the time to get it.
I'm offering a special Memorial Day discount of 15% to all those who subscribe for "Value Investor's Stock Club" from today until May 31, 2021.
Therefore, the annual package will cost you just $254.
You can subscribe monthly, but the annual package is much cheaper.
Additionally, you have a free 14-day trial, so you can see our high returns with your own eyes with no obligation.
Join one of Seeking Alpha's largest communities of value investors for just $254 per year and build a well-diversified portfolio for high returns with low risk at a low price.
Since 2016, I have locked in profits from more than 120 picks (long & short ideas) and I have made 60% per pick (average return), as shown in detail in the quarterly performance reviews.
This is why our research has many 5-star ratings and outstanding reviews here.
Disclaimer: The opinions expressed here are solely my opinion and should not be construed in any way, shape, or form as a formal investment recommendation. Value Digger does not accept any liability for any loss or damage whatsoever caused in reliance upon such information. Investors are advised that the material contained herein should be used solely for informational purposes. Investors are reminded that before making any securities and/or derivatives transaction, you should perform your own due diligence. Investors should also consider consulting with their broker and/or a financial adviser before making any investment decisions.