AVXT is not on the Mentor Capital Immunotherapy Index. This post won't hyperlink or recognize that AVXT.pk is a valid stock.

Avax Technologies (AVXT.pk) is currently developing a Phase III cancer vaccine (MVax®) for Stage IV melanoma, along with Phase I/II trials for NSCLC and Ovarian cancer. In March 2009, the enrollment for these trials was suspended due to lack of funding. However, the trials are still ongoing. However, on 12/16/09, Avax received $1,400,000 from the sale of warrants, allowing it to seek new funding and work on starting up the trials again. They hope to complete a interim assessment of the MVax® trial, which, if successful, can lead to accelerated approval.

Other companies with phase III melanoma vaccines include Antigenics (NASDAQ:AGEN) and Vical (NASDAQ:VICL). The company fact sheet states that a combination of MVax® and low dose IL-2 obtained a response rate of 35% (13%CR - 22%PR), which is respectable if indeed true. In contrast, Vical's Allovectin-7 had an 11.8% (3.15%CR - 8.66%PR) response rate. VICL trades at 2.85, AVXT trades at .135. Whether the results are directly comparable is debatable, but I think AVXT will make a nice speculative buy. For the short term, after the financing news on December 16, the stock appears to be rallying.

For more about the history of AVXT, see here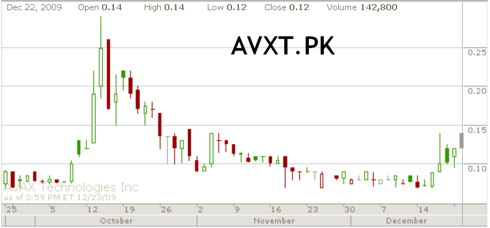 Disclosure: Long: AVXT, No position: VICL, AGEN.