NIO Holds Strong Buy Rating With Long-Term Goals
Please Note: Blog posts are not selected, edited or screened by Seeking Alpha editors.
Summary
NIO is currently the 7th most valuable automaker in the world, by market cap.
Stock price gained 36% in the last month alone.
"NIO Day" will take place in January, potential unveiling for new sedan.
Authors: Saffi Waliyar, Jeremy Taylor, & Michael Martinez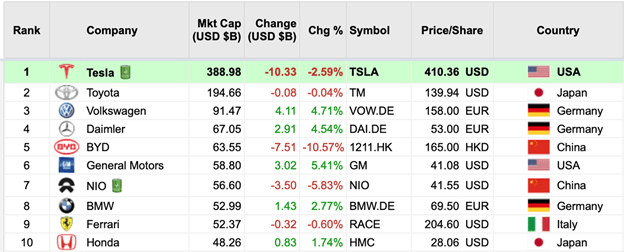 (Source: YahooFinance.com)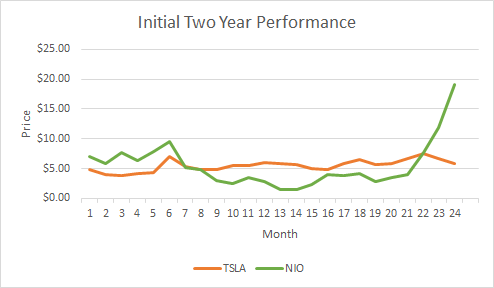 Comparison of NIO's and Tesla's share price from their first two years.
Introduction
NIO, "the next generation car company", has seen high upside in recent months with it's stock price and rallied into new highs in the month of November (52W H $45.29, 52W L $1.66). When the pandemic first hit, the future of NIO looked bleak, mainly due to the fact the company dealt with a cash flow problem. However, the company began to post strong sales numbers and received a $1 billion dollar investment bailout that proved beneficial for the company. Capitalizing off that momentum, NIO reported strong numbers again in vehicle deliveries for the months of July and August. The company began to erase the cash flow issue, increased cash on hand, and began to reinvest into the company effectively. What was once a company that was barely clinging onto life, and potentially heading towards a dead end with a pandemic taking over the world, suddenly began to gain momentum.
Challenges for NIO
One of the biggest challenges for the Chinese manufacturer, NIO, is the current success and demand for Tesla that is expanding into other countries, such as China. Tesla has set an ambitious goal to take over the largest auto market in the world, that is China, and is in the advanced stages to accomplish such goal. The intense preparation that Tesla has committed for success in China, has led to the Gigafactory plans to accommodate for both the productions of the Model 3 & Y, as well as new superchargers to go along China highways.
This could prove to be a great challenge for NIO, but it hasn't slowed them down. They've consistently posted record highs in deliveries each month since April and have their own plans for expansion. Rumors of NIO wanting to expand into Europe has gained steam, and could catapult the company and it's stock price to new levels. The long-term growth plan for the company has only gotten clearer over time; to become a leader in the EV sector with it's high-performance vehicles, technology, and deliver with efficiency.
Competition
Tesla, NIO, and Li Auto are all competing amongst the electric vehicle industry, displaying their own strengths. Li Auto currently provides electric vehicles with small gasoline engines and capable of providing more power for its battery. This is responsible for their success in China, ranking the Li Xiang One SUV as the top seller in the new energy vehicle category. With over 20,000 deliveries since January 2020, Li Auto has outperformed all other local energy vehicle startups. By having a competitive advantage of an electric and gas battery pack, their Li One SUV is capable of driving 497 miles, with an acceleration of 0 to 62 mph in just 6.5 seconds. Li Auto is on track to expand their vehicles and perform amongst the top firms in the electric vehicle industry. This will possibly be NIO's biggest competitor, as they both develop themselves as new companies in this booming industry.
So why should you choose NIO? NIO shares have increased by 1899% since last December of 2019. At a price of $2.4 last year, each of those shares are now worth $45.77, at the time of writing. A performance of this scale is something to not take lightly, considering the company's issues early on. Their sales, which will be mentioned, have also increased and allowed NIO to boost their production. CEO William Bin Li, recently confirmed NIO's action plan to produce 7,500 vehicles each month next year. Currently, NIO is producing 5,000 vehicles per month and their fast growing sales are providing huge growth for the company at such an early stage. As we've mentioned, NIO has only been around since 2014 and they have already outperformed Tesla's early years.
More importantly, especially in this industry, NIO is fully committed to its R&D and innovations with their vehicles technology. Elevating electric vehicles in China, the company continues to improve their battery performance, which gives a better experience when driving their vehicles. Their battery servicing does not compare to any other company, as they offer upgradable and swappable batteries. This is essential for the company, as they are setting a bar with innovations in technology and business models, and being a determining factor for many consumers to opt for NIO.
(NIO.com)
Company Financials
Looking into the NIO financials, there's a bit of information that needs to be looked at: Cash increase from the 1st Quarter to the 2nd Quarter of 2020 was over $8 Million. From the 2nd Quarter of 2018 to the 3rd Quarter of 2019, cash fluctuated over time. Mainly looking at the 3rd Quarter of 2018, cash went from $6,743,487 down to $980,991. NIO was actually burning through their cash and the company was also hit with recalls on their vehicles with faulty batteries. Interestingly, when the COVID-19 pandemic hit, NIO increased their cash by $8,517,249. The reason behind this, as previously mentioned, was the $1 Billion bailout from a local government and investment group, Hefei. It is no secret that China wants to become a leader in the EV industry, and NIO was granted a bailout in an opportune time when the company was on its last legs. NIO's vehicle sales took a big increase during the 2nd Quarter of 2020 with 2,230,492 vehicles sold and before that, the highest number of vehicles that were sold was 1,733,469 in the 3rd Quarter of 2019.
As for the current assets of the company, it was 12,304,395 in the 3rd Quarter of 2018 but dropped all the way to 6,369,068 by the 1st Quarter of 2020. In the 2nd Quarter of 2020, it jumped all the way back up to 15,088,886. With working capital for NIO, it was as low as -5,745,160 in the 1st Quarter of 2020, but the 2nd Quarter of 2020, working capital jumped up to
2,039,813 and then 15,460,235 for the 3rd Quarter. This simply tells us that in 2020, NIO has gained ground in the EV industry and is sitting in a great position for the future. They displayed an incredible amount of growth and have been able to compliment that with high sales and demand for their vehicles.
(finance.yahoo.com/quote/NIO/financials)
Closing
In the past four months, NIO has steadily increased monthly deliveries with it's vehicles, and the growth evidently correlates with the stock price. If rumors are true and the company does expand into Europe, then a move like that could propel the stock price into new all-time highs again. Now, if we can expand our outlook and begin to look into the company's future, considering that growth continues, then an expansion into the United States becomes more likely as well.
Our long-term stock price estimate for NIO, with or without an expansion, is in the three digit range. NIO holds a strong buy rating for good reason, long-term growth and company plans for the future should be highly attractive to the investor.
Analyst's Disclosure: I/we have no positions in any stocks mentioned, and no plans to initiate any positions within the next 72 hours.
Seeking Alpha's Disclosure: Past performance is no guarantee of future results. No recommendation or advice is being given as to whether any investment is suitable for a particular investor. Any views or opinions expressed above may not reflect those of Seeking Alpha as a whole. Seeking Alpha is not a licensed securities dealer, broker or US investment adviser or investment bank. Our analysts are third party authors that include both professional investors and individual investors who may not be licensed or certified by any institute or regulatory body.