Concerns about the housing crisis have mainly been aimed at the low end of the mortgage market. We think it's time to spare some sympathy for the high end -- those buyers who want to purchase a pricey home with a jumbo mortgage (a mortgage over $417,000). Since the housing market was at the leading edge of the economic collapse, the U.S. government initiated many programs to attempt to forestall further declines in low-end home prices. These market distortions, such as foreclosure moratoriums, the Home Affordable Modification Program and government mortgage-backed securities purchases, have probably only delayed the day of reckoning for many of these homeowners. The problem, as we pointed out two weeks ago, is that mortgage rates are likely headed higher. As they rise, high-end home prices and "jumbo" borrowers should also receive more than their fair share of the pain.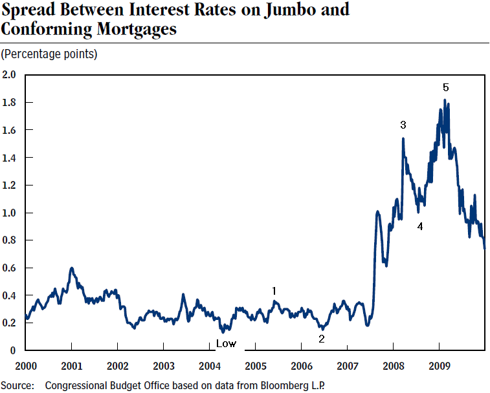 The impulsive-looking rise from 2004 to 2009 in the spread of jumbo mortgage rates compared to conforming mortgages (Fannie Mae and Freddie Mac) suggests that the larger trend for the spread is up (see chart). We view the spread's decline since early 2009 as corrective, and we anticipate a turn higher from near current levels. Mortgage funding that isn't propped up by the government, such as that for jumbo loans, should run dry as the next wave of economic contraction takes hold, and housing resumes its downtrend. As this funding dries up, rates will skyrocket, and high-end house prices will fall further, exacerbating the pressure on jumbo borrowers. According to Fitch, delinquencies for prime jumbo borrowers have already risen for 32 consecutive months with 9.6% of them now 60 days or more behind on their mortgage payments.
As bad as the mortgage situation is for jumbos, it would be even worse without the government's props, which is to say, the reality of the situation is much worse. In the 4th quarter of 2009, the government was responsible for a whopping 95% of the mortgage market, courtesy of the following interventions:
1.       Conservatorship -
By essentially nationalizing Fannie Mae and Freddie Mac, the federal government has helped reduce mortgage rates to below that of Treasury bonds. Current 30-year Treasury bonds yield 4.63% while 30-year conforming mortgages yield less at 4.61% according to Bankrate.com. There's little incentive to buy a 30-year mortgage bond today versus a 30-year Treasury bond.
2.       Mortgage-Backed Securities Buying Programs -
The Treasury's ($220 B) and Federal Reserve's ($1.25 T) purchases of Mortgage-Backed Securities have only added artificial bids into the conforming market.
3.       Higher Limits -
Fannie and Freddie had their limits raised in high-end markets up to $729,750 in 2009. This higher limit means that Fannie and Freddie's largesse can be spread further.
4.       FHA -
The FHA only requires a 3.5% down payment. The $8,000 first-time homebuyer tax credit virtually ensures all FHA first-time buyers end up with more cash than they laid out in the down payment.


Because Fannie and Freddie can borrow money near the Treasury rate, they are able to make loans cheaper than the non-government lenders in the jumbo category. High-end homeowners and their lenders are now on their own, since there is not much populist approval to give aid to million-dollar homeowners.

Jason S. Farkas, CMT


ssteam@elliottwave.com
Disclosure:
No positions