Hims & Hers | A Ravishing Healthcare Opportunity
Please Note: Blog posts are not selected, edited or screened by Seeking Alpha editors.
Seeking Alpha Analyst Since 2020
I'm a writer, digital marketing manager, and current student of finance. My portfolio is focused on stocks with significant future tailwinds. I focus on psychological and consumer trends that lay beneath short-term profits.
Summary
The US healthcare system is ineffective from a cost and convenience standpoint.
HIMS provides a valuable opportunity to invest in a niche market pushing towards the digitization of healthcare.
The strong fundamentals and large cash position will allow HIMS to expand into different market segments.
The recent pullback, customer adoption, and forward-looking guidance make HIMS an actionable investment opportunity.
The United States healthcare system is fundamentally damaged and due for disruption. In fact, 28.9 million Americans were uninsured during 2019—making an essential service an optional luxury. The process of scheduling an appointment, seeing a primary care provider, and picking up expensive medication from CVS is far too complicated in the age of instant gratification.
The average cost of insulin in 2017 was 8x higher in the US than in Australia, Canada, and the UK. Even worse is the stigma that follows healthcare from stale hospital waiting rooms, traffic-cone colored pill bottles, and telling the pharmacist you're there to pick up erectile dysfunction medication.
It's slow, expensive, complicated, and the standard of care varies depending on your geography.
What's Hims & Hers Health?
Hims & Hers Health (HIMS) is a multi-condition telehealth platform providing vertically integrated health solutions. In layman's terms—they provide medication and an in-house network of telehealth physicians.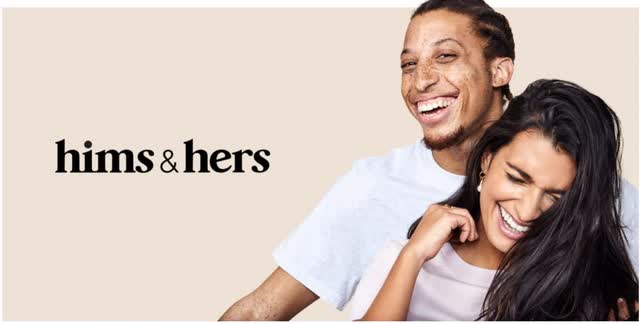 What Do They Offer?
Hims & Hers currently offers solutions in the following categories:
Hair Loss
Erectile Disfunction
Anxiety & Depression
Dermatology
Primary Care
…And they plan on launching
Sleep
Fertility
Diabetes
Cholesterol
How They Make Money
Hims & Hers offers a high margin (more on this later) subscription service with several custom cadence options. They also provide a range of over-the-counter medications available for purchase online and recently in Target without a subscription. 
Hims & Hers also has a network of 240 experienced physicians—each going through a rigorous screening process. These providers offer hair, skincare, psychiatric, primary care, and other telehealth visits directly from their website and app.
The cost for one of these visits is $45 for the initial consultation and $5 per follow-up visit (which occurs on a person-by-person basis). HIMS doesn't take insurance like one of its biggest competitors, Teladoc. This can result in Teladoc customers getting $0 consultations—however—without insurance, Teladoc charges $75 per visit.
Source: I called HIMS and asked what their fees were.
The providers involved with HIMS must maintain high-quality scores and patient ratings to stay on the platform.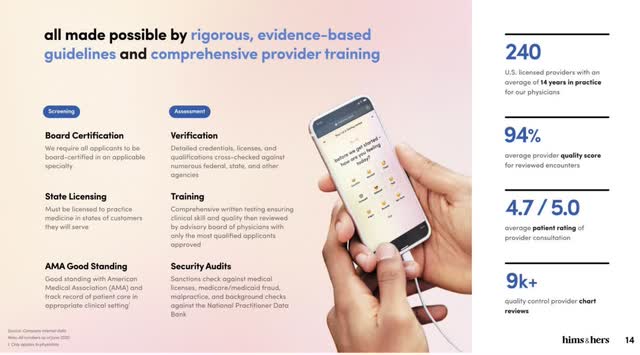 The Management Team
Andrew Dudum is the CEO and visionary behind Hims & Hers. He's been a co-founder and advisor for over ten tech-savvy startups in the San Francisco area and received his BA in management and economics from the University of Pennsylvania. He's assembled a team of experts across the medical, eCommerce, telehealth, and retail sectors.
Notably, Patrick Carroll was the Chief Medical Officer at Walgreens for over five years, and Julian Cohen was the President of Behavioral Health at Teladoc.

Important Numbers
There are many numbers to dissect in Hims & Hers FY2020 results; here's what's impactful:
Revenue
Hims & Hers, in their most recent earnings report, saw a staggering 80% revenue growth YOY from $82.6 million in 2019 to $148.8 million in 2020. They provided forward guidance of $195-205 million—an increase of approximately 34% YOY.
Gross Margin
The gross margin also expanded in 2020, settling in at 74% compared to 54% in 2019. They can make a large margin based on their generic brands, direct-to-consumer model, and subscription-based service.
Adjusted EBITDA
FY 2020 generated $(8.1) million in comparison to 2019's $(66.1) million. An 88% reduction YOY.
Marketing Costs
Marketing was one of the highest costs of business in 2019 and 2020. Growth during this period was robust, and even so, the marketing costs declined YOY from 6.3 million in 2019 to 5.83 million in 2020. Durdum also cited higher than average marketing costs in their recent Q4 earnings call.
Cash & Debt
As of 01/31/2021, Hims & Hers has 340 million cash, cash equivalents, and investments with no debt.
Subscriptions
Hims & Hers telehealth platform saw three million medical visits and 312k reoccurring subscriptions (as of 3/18/2021). This represents an increase of 54% subscriber gain YOY. For a reference point, Teladoc reported 10.6 million virtual visits in 2020.
Why Invest in Hims & Hers?
Here are four different investment-oriented categories worth highlighting:
1. Proprietary Technology & Product
Hims & Hers provides under-insured Americans with access to highly stigmatized health care solutions using their digital platform. The platform allows them to visit with one of their 240 physicians and order their medication for delivery or pickup. 
Their product, software, and branding are all vertically integrated, providing a unique user experience inside a difficult-to-penetrate industry.
2. The Numbers Look Good
While Hims & Hers has yet to turn a profit, the growth story is compelling with larger subscriber numbers, higher revenue, and lower customer acquisition costs. Their customers are also spending $62 per order, which increased 88% YOY. During their Q42020 earnings call, management disclosed that the average order volume (AOV) would grow sequentially in 2021, with their multi-month orders increasing and now representing over 20% of their total orders.
They also enjoy a good revenue mix, using a subscription-based business model. I believe this generates a sticky fan base that can scale with age into their different product offerings.
e.g., Tom uses Hims for skincare, but as he gets older, he decides to try their hair loss products. 
In total, their balance sheet reflects $340 million in cash and $0 in debt. They have a high spend for marketing, but it's trending down.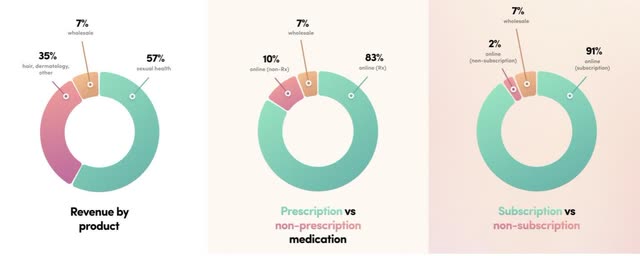 3. People Like Them
Aside from the 54% growing subscriptions YOY, Hims & Hers enjoys a +65 Net Promoter Score compared to the +9 healthcare industry average. They have a wide variety of reviews online, most of them above 4-stars.
Innerbody recently gave HIMS rave reviews stating, 
Overall, Hims is a great solution for many men who want to take charge of their healthcare. While some may want to stay with a traditional in-person visit, many men will find it to be a convenient and low-fuss way to get the treatment and medication they want or need. From our testing, we had prescribed medicine arrive within days of our free online doctor's visit.

--Tim Barclay, PhD
4. Favorable Tailwinds
Telehealth has accelerated at an unprecedented rate, with 50-175x more telehealth visits before COVID-19. A recent study indicates a 40.4% increase in telemedicine through 2023. The influx of telemedicine will attribute a large TAM for Hims & Hers, employing a sticky business model that grows with the user.
There's also a need to fill. Our current healthcare system is outdated, slow, and expensive. Hims & Hers offers primary care visits for $45 and prescriptions cheaper than some insurance providers. The largely underserviced Millennial and Generation X marketplace will flock to quick, affordable, and cost-conscious healthcare solutions lead by fabulous marketing.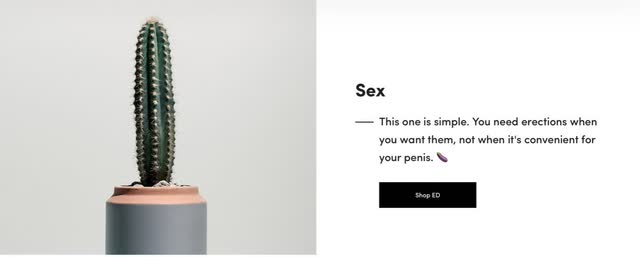 The Bottom Line
While there are always risks involved from losing market share to prominent players like Amazon in the digital health care arena, Hims & Hers is a first mover, providing care and experience to an underserved and untapped market. The company has plenty of cash and ambitious growth plans in the future—beating their recent earnings projections and upping their 2021 guidance.
HIMS is currently trading at $14.45 and has an average price target of $19 on the street, implying a 31.49% upside in the next 12-months.
I believe after the recent pullback, HIMS is a ravishing healthcare opportunity with a large runway for future growth.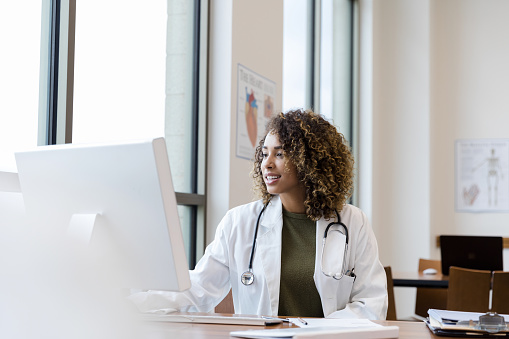 Analyst's Disclosure: I am/we are long HIMS.
I wrote this article myself, and it expresses my own opinions. I am not receiving compensation for it (other than from Seeking Alpha). I have no business relationship with any company whose stock is mentioned in this article.
Seeking Alpha's Disclosure: Past performance is no guarantee of future results. No recommendation or advice is being given as to whether any investment is suitable for a particular investor. Any views or opinions expressed above may not reflect those of Seeking Alpha as a whole. Seeking Alpha is not a licensed securities dealer, broker or US investment adviser or investment bank. Our analysts are third party authors that include both professional investors and individual investors who may not be licensed or certified by any institute or regulatory body.