In the last week's sharp selloff, Shoretel (NASDAQ:SHOR), a leading SMB IP telephony provider has declined almost 8%. I think this is a great buying opportunity for both short-term as well as long-term investors. As can be seen in the chart below, the stock's downtrend ended in November and since then, the stock has been on an upswing. If the stock further goes down to under $5.5 levels, it should be seen as a stronger buying opportunity in my opinion.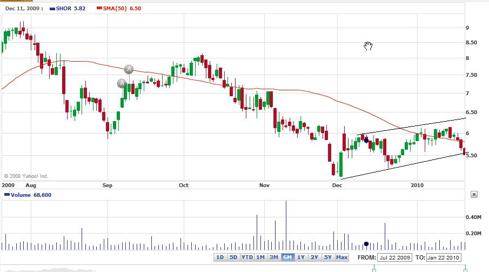 Although SHOR competes with giants such as Cisco, Avaya, Nortel and Mitel, it's a long term play for various reasons:
-          Superior distributed architecture:  To do research on SHOR, I visited various VOIP forums, where IT administrators discuss their PBX issues. I didn't come across a single forum, where IT admins were pissed off with SHOR, whereas there were complaints about other competitors. Every single forum agreed on the superiority of SHOR solution over other established firms. Finally, the firm has been gaining market share consistently and is already the #1 SMB IP provider.
-          Extremely strong balance sheet: Cash per share of $2.5 and no long-term debt.
-          Nortel bankruptcy: The industry recently saw the bankruptcy filed by Nortel Networks. SHOR stands to gain from this development as it's a great opportunity to attract Nortel's re-sellers and customers.
-          Stock Ownership: As per the proxy filed in October 2009, the insiders own around 8.4% of the stock and roughly 53.5% of the stock is owned by VC firms including Crosspoint and Foundation. Although, VC ownership can cause some trouble but I don't see that happening till the stock price is less than the IPO price of $9.5.
-          Cheap Valuation: With EV/Rev ratio of 1.0x, the stock is extremely cheap compared to its peers.


The company is scheduled to announce its Q2 results this week on Wednesday, and while the short-term response is hard to predict (as can be seen with other technology names such as INTC, GOOG, SKWS all of which have been sold despite solid quarter results), I remain bullish on the long term prospects of SHOR.
Disclosure:
Long SHOR