12 Month Returns:
FundKing  +13.4%
SPY            + 8.4%
Total return since 12/1/2008 +64.35%; Annualized +28.26%. Another excellent year, despite a lack of trend for nearly a year.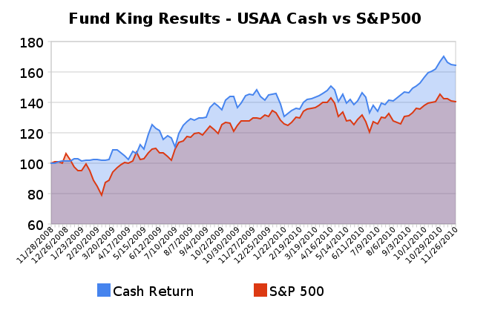 Asset markets livened up at the end of summer, resulting in a total of 5 signals.
September 24th, 2010 - SELL USGNX Ginnie Maes USAGX Metals; BUY USEMX Emerging Markets USAIX Income

Risk markets started to pick up, with lower quality fixed income moving ahead of US Government GSEs, and Emerging Markets showing signs of life.
October 1rst, 2010 - SELL USAIX  Income; BUY USIFX International Equity

The US dollar came under increasing pressure, as fears that QE2 would flood the world with US Pesos sent all other currencies flying.
October 22nd, 2010 - SELL USIFX International Equity; BUY USAGX Metals

Inflation fears finally began to stoke gold again, and FundKing was able to buy before the November rally which sent gold to $1400.
October 1rst, 2010 - SELL USEMX Emerging Mkts; BUY USNQX NASDAQ100
Emerging markets finally run out of steam, as concerns in China over inflation take the wind out of the sails of Asia. Tech has been a slow steady climber, although there is concentrated risk in the NASDAQ100, as Apple AAPL is 20% of the index.
Disclosure:
Long USAGX; USNQX