FundKing  -4.1%
System Modeled Return -3.8%
Benchmark  +1.0%
SPY +1.6%

Total return since 12/1/2008 +43%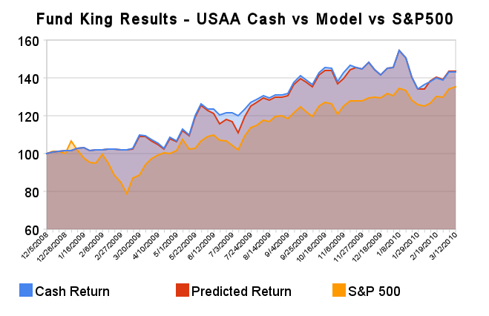 Markets moved sideways, and indicators have compressed to single digits. Bonds now compete with equity, whereas 6 months ago, equity signals were all green lights. The result is that the system is on a hair trigger to sell, although half the allocation remains in cash.
Jan 22, 2010 - Sell USEMX Emerging Markets, Buy USNQX Nasdaq 100. Tech has been on a roll, and the iPad press conference had occurred this week. Numbers coming out of China indicated things were not under control, and a healthy amount of skepticism pervaded any pronouncements.  50% of the portfolio was moved into tech. Gains from USEMX totaled +50%.
Feb 5, 2010 - The hair-trigger of the system indicated a sell on USNQX Nasdaq, and Buy USHYX High Yield. High yield has performed as well as any equity sector. Greece had worked out a rough plan to emerge from the mess it has found itself in. 50% traded. Gain on USNQX was 0.4%.
After the end of the quarter, USAGX Precious Metals signaled a sell, and USCAX Small Caps a Buy. With slight renewed optimism in the US (despite near 20% under/unemployment, food insecurity, falling home prices, rising defaults, and torches and pitchforks surrounding Wall Street), small caps (with their limited access to funding) would benefit the most.
Equity is on top, still. Our system has us in, so if there is a bounce, we will catch it. If things begin to cave in, we will get a sell signal very quickly.
Looking back on tested results from the previous decade (and into the 90s), we see that this is the normal state of affairs - a "Wall of Worry" facing equity, uncertainty over policy outcomes, and a system that issues false starts 10-15% of the time. A small price to pay for outperformance, in our minds.
Disclosure:
Long USCAX, USHYX