FundKing  -1.22%
System Modeled Return +0.30%
Benchmark (Total USAA Fund Universe)  -2.61%
SPY -7.16%

Total return since 12/1/2008 +42%; Annualized +23.6%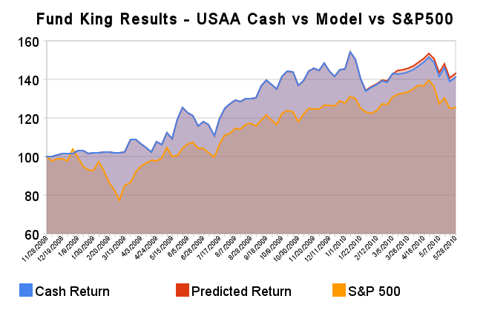 System underperformance (-1.2% vs +0.3%) due to Monday dealing vs Friday close for 2 switches.
Markets are jittery, but most of these signals were ignored by the system
- Greece Implosion
- Flash Crash
- Gulf Oil Spill
March 5, 2010 - SELL USAGX Precious Metals, BUY USCAX Small Caps
Metals volatility continues to make the sector very unappealing relative to other sectors. Wide swings of 10-20% weekly means that overall average returns are weak comapred to humdrum smallcaps.
May 7, 2010 - SELL USHYX High Yield, BUY USGNX Nasdaq 100
Flight to quality finally catches up w/ the high yield sector. Euroland implosion and a general "sucking sound" of demand for dollars in higher TED spreads and LIBOR rates means risk appetites in this end of the market are sated for now. Tech is a safe haven. Apple does well, Google is thought to be "cheap", and growth is reasonable.
Previous holds such as USEMX Emerging Markets, which returned 50% in 2009, have lost as much as 12% since selling in January. Weakness in China and elsewhere, and tepid price action, indicate this will not be a sector that falls back into favor anytime soon.
Market anxiety is extremely high, and all indicators are weak versus "cash". So one good downdraft will send the portfolio out of the market. The converse is true as well - the wall of worry is steep, volumes are low, and if there is any move by "them" to get back in, the move to the upside will be signifcant, and the FundKing portfolio will participate.
Good Luck!
Disclosure:
USAGX; USCAX
Disclosure:
USAGX, USCAX
Disclosure:
USCAX; USAGX