FundKing  +4.29%
System Modeled Return +4.29%
Benchmark (Total USAA Fund Universe)  +1.83%
SPY -0.94%
Total return since 12/1/2008 +47.25%; Annualized +24.09%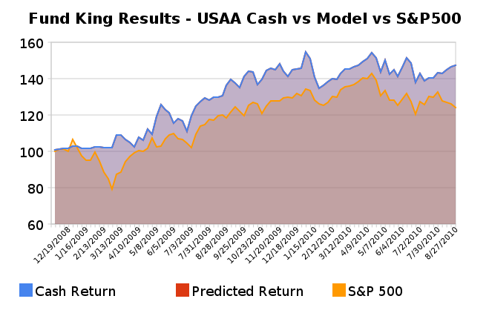 Summer doldrums and increasing worry in US. Most risk assets declined.
July 9th, 2010 - SELL USACX Small-Caps, BUY USGNX Ginnie Maes
The last gasp for economic growth expired in early July, and a sell signal came up. Ginnie Maes are yielding a decent return over Treasuries, so look good compared to the rest of the bond market.
Gold and precious metals are waking up, as investors fear the decline of currencies. This while The World Gold Council issued its Q2 report, showing increased retail demand in China, and growing institutional demand across the globe.
The risk trade is off, and all indicators point to increased downside volatility.
Disclosure:
Long USAGX, USGNX