Bullish
+ Factory Orders came in well above expectations and Durable Goods Orders were revised upward from last week.  This shows that business investment and manufacturing continue to be bright spots in the economic recovery.  Additionally the American Association of Railroads continues to report stronger rail data.  This rebound in manufacturing should lead to additional job creation and result in improved demand. http://online.wsj.com/article/SB10001424052748703866704575224073987376644.html?mod=WSJ_hpp_LEFTWhatsNewsCollection

+ The job market is starting to show signs of life.  According to the Gallup Poll, underemployment is decreasing.  ADP private jobs report comes in positive.  The Challenger Job-Cut repot shows that layoffs are practically nil.  American Staffing Association has been trending up for multiple months now.  Finally, the BLS jobs report shows strong job gains for April and revisions up in the prior months.

+ ISM manufacturing continues to show strength.  New orders came in very strong at 65.7 and points to continued strength in this sector in the months ahead.  Jobs indicator continues to gain (in at 58.5; strongest reading in 6 yrs) and points to a positive monthly jobs report.  Additionally, customer inventories are near record low territory, meaning that customers' inventories are seen as too low.  Looking at both the increase in activity along with low customer inventory levels, we have a situation where demand may be larger than current production.  This should point to additional inventory replenishment in Q2. 

+ Discover Spending Monitor shows that consumers are continuing to come out of their shell.  They see improvement in the economy, which is supported by the Gallup poll.  Overall there is definite improvement in the economy which should lead to more spending. 

+ ISM non-manufacturing survey shows expansion for the service sector (far and away the bigger portion of the economy vs. manufacturing) and points to the recovery continuing in this main sector of the economy in April.

+ ECRI economists don't believe we are headed for a double dip.
http://theguruinvestor.com/2010/05/04/ecri-chief-double-dippers-will-be-wrong-again/

+ Pending Home Sales and mortgage applications, both leading indicators of demand, came in positive and show that demand is increasing for housing.  This should work towards stabilizing the market and boost job creation.  Job growth will create additional demand for housing.
Bearish 
- The economy's quintessential leading indicator, private residential investment, continues to show weakness showing a 1.1% fall on top of a 3.4% dip the prior month. Despite numerous tax credits and unprecedented gov't intrusion into the housing market, this sector continues to struggle.  RI is a very important in that it has been responsible for job creation in recoveries past.

- Bank lending continues to be tight.  Small businesses are not able to get access to credit, which would lead to restricted job growth.  Demand for loans also is weak as the consumer is still in the mindset of deleveraging. 

- Greece bailout fails to assuage the market and Euro continues to deteriorate.  Greek State workers refuse to accept additional austerity measures, which may lead to a collapse of the gov't.  The Germans approved the release of the bailout funds, however, Merkel's party now risks losing the upcoming election.  The problem with Greece is not a liquidity issue anymore, it's a solvency one.  If these austerity measures are implemented, the economy will go into a sharp recession and gov't tax receipts will decline.  This will make previous forecasts on repayment of the loan harder to achieve.   In the end, no bailout is going to help the Greeks simply because they under too deep a hole to crawl out of already.  They've unloaded a big bucket full of water from the boat, but the leak continues.  CDS spreads for Spain and Portugal continue to worsen.  ECB is now accepting junk rated sovereign debt as collateral, thus infecting the balance sheet of the central bank.

- The first signs of a real estate slow down are now surfacing in China.  Is this the first sign of a bubble getting pricked?  Additionally Chinese authorities continue to present new tightening measures in an attempt to stem inflation.  Meanwhile Australia introduces a new mining tax designed to restrict growth as they sense their economy overheating as well.  Economies at the forefront of the global recovery are introducing measures to restrict growth. 

- Details of the ISM-Non Manufacturing were weaker than the headline suggests.  Employment continues to shrink (28 consecutive months), Backlogs are shrinking again, and Inventories are seen as "too high" by end customers.  This seems to point to the beginning of the end for the inventory restocking phase in this sector.  End demand (Consistent and Strong Private Job gains) need to take over at this point.  This larger portion of the economy has lagged its Manufacturing counterpart, which only comprises about 10% of the US economy. 

- WTF happened in the financial markets this week?  China was down 4.1% the night before, so we saw a pretty broad sell off this whole week. --(Charts Courtesy of freestockcharts.com)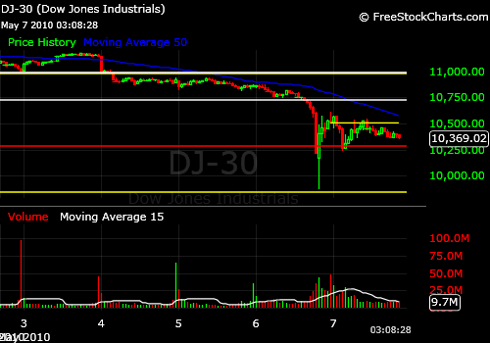 - Unit labor costs decreased by 1.6%, meaning that wage growth is minimal to contracting.  High structural unemployment will keep wages from growing strongly and thus keep spending power muted.
Observations/Thoughts  

What happens in Europe matters a great deal.  According to WTO statistics, they account for 70+% of Global trade excluding the US.  On the bright side, a weakened Euro would help wonders for this export-oriented bloc no?  (February '10 Stats)
http://www.wto.org/english/res_e/statis_e/quarterly_world_exp_e.htm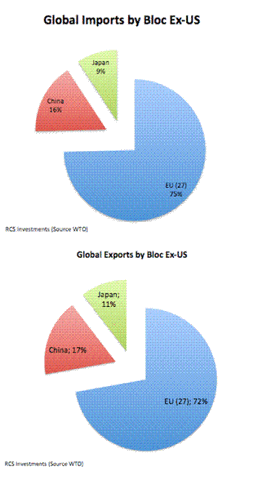 Here is fantastic summary of the roadblocks that lie ahead towards the ECB "going nuclear".  One thing that I've learned since following the markets back in 2008: never underestimate political will.   If QE does indeed happen I'm not very sure on what the ramifications would be, but my first though would be that it may serve as a pretty big negative for US exporters as the ECB would be playing the devaluation game. Given that revenues from EU bound exports comprise roughly 25% of total S&P500 revenues, QE going on in the EU would result in further pressure on already weak revenue growth as dollar denominated US products will become more expensive in the Eurozone.  This is already been seen as the Nasdaq (Global Tech) has been bearing the brunt of the recent sell off. (Link Courtesy of TPC)

There are definite signs that the job market is improving.  Will it be enough to boost consumption substantially and kick-start the virtuous cycle?  That's the key question.  I believe that May/June will continue to show improving reports, however, I don't believe that job creation will be sustainable enough for consumer spending to make a substantial rebound.  Reasons?  Two of them.  First: there is very little credit available and we no longer have the "Home ATM" to significantly boost consumption at the first signs of job market improvement. Companies will not have the need to hire as much as in recoveries past.  Americans are still heavily in debt and need to deleverage.  Second: the employment report served notice as to the amount of labor slack we have.  High supply vs. lower demand = lower wages.  A sign of this was this weeks Productivity and Labor cost report, which showed that companies have pricing power when it comes to paying their employees.  This dynamic can be seen in the chart below, which compares the job losses and gains of this recession/recovery vs. prior recessions/recoveries.  While we have growth now, it's a long road back to normality (courtesy of Chart of the Day.com).  Consumption growth will begin to weaken and while it may stay positive due to an ever-expanding population, I don't believe it will be strong enough to justify returning to peak earnings by 2011.  I still believe that growth will disappoint due to strong job gains not being sustainable over the course of the year and pressures .  We will find out come Q3 and Q4 when the stimulus is fading.  Nonetheless the news from the job market is indeed good news and I need to be open about the possibilities of a stronger than expected rebound in jobs, if that is the case, then financial markets may rally well past the highs thus far.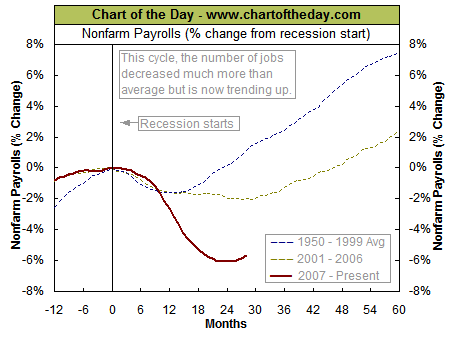 The Chinese are in a big bind.  If they allow the Yuan to appreciate, exporters will suffer.  China is still an exporting country and so there is a high probability that this may end up being a policy error, however, they are under international pressure to revalue their currency.  The most likely step in my view will be a gradual appreciation, but one that is not enough to appease US Senators battling for their political lives as mid-term elections loom in November.  They are looking for ways to win political points and China, just like the financial industry, seems like an easy punching bag for politicians to "act tough".
http://www.bloomberg.com/apps/news?pid=20601087&sid=aCp77GBxrV3o&pos=4

The Shanghai is now in a bear market.  This doesn't bode well for commodity markets or the US since the index has acted as a leading indicator in the past.  Also, it is cited as the country to pull the world out of recession. 


Mortgage applications have been rising as the end of the home-buyers credit comes.  However the run up to the deadline has not been nearly as strong as the last deadline.  Home sales may disappoint in the next couple of months.  64K question is "What happens when the credit expires?"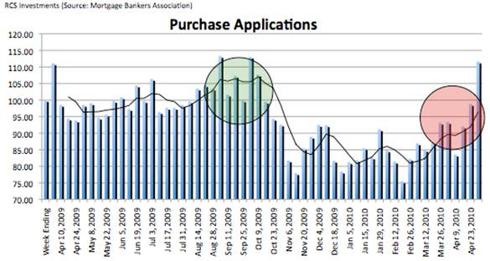 Don't take your eye of this…  Haven't heard a peep from it in the news, but things haven't improved. 
What I'll be pondering over this weekend
: Overall a lot of headwinds remain.  Recently though, due to the large sell off, a lot of easily scared longs have been flushed out and bullish sentiment has decreased.  Will this be enough to create a "wall of worry" once again for the market to climb?  It has every time since March '09 so that is indeed on the bull's side.    
Have a Great weekend!
Disclosure:
No Positions Mentioned