Bullish
US Retail sales come in better than expected and the last two months were revised higher.  It seems that many investors may be underestimating the strength of the consumer yet again.  The average for both March and April showed an increase of 1.6%.

Industrial production rose in April by the most in 3 months.  Manufacturing continues to run strong as inventories continue to get replenished and business spending continues.  Increases in consumer spending should signal continued gains in production as factories keep up with demand.  With very low I/S ratios, any strong and sustainable increase in demand will surely translate directly to increase production and more jobs.   The virtuous cycle may be on the verge of starting.   

US Trade numbers show increasing exports, which bodes well for the S&P500 as 45%+ of earnings come from abroad.  Meanwhile the latest increase in imports had a lot to do with increased demand for actual goods and services instead of just oil, meaning that consumer demand is improving in the US, partly because of a stronger dollar.  If global trade continues to rebound, this will be a strong help for an advancing stock market.  
Wholesales inventory report shows that inventory replenishment continues.  Sales trends are also increasing and points to increases in production as the Inventory-to-Sales ratio has hit an all-time low.  

Business inventories show an increase as manufacturing continues to produce, up 5/6 months.  Sales meanwhile rose 2.3% meaning that the I/S ratio (an indicator of inventory levels relative to demand) is now at a record low.  The stage is set for a monumental inventory bounce.  Stay tuned. 

Small Business may be beginning to see the recovery as the "NFIB Small Business Survey" and "Discover Small Business Watch" show improved sentiment.
Bearish 
Inflation is heating up in China and makes the case for continued tightening of policy, currency or interest rate.  Meanwhile Europe, their largest trading partner, is conducting QE operations, which has led to a falling Euro.  This will restrain Europe's ability to import Chinese goods as a falling currency makes foreign goods more expensive.  The Shanghai stock market is in a bear market in anticipation of tightening on a recovery that may not be sustainable. 

Even after the $1 Trillion package, the Euro continues to take it on the chin.  Another red flag is that 3-Mth Libor continues to move higher and credit markets overall don't seem as enthused as stock markets.  It seems the euphoria has faded and chaos is back.  Is the Greece/Contagion crisis totally behind us or is the end game here?  From a global trade perspective, a falling Euro will be an increasing headwind for US and Chinese exporters.  In the S&P500, 45%+ of companies earnings come from abroad, while China is still an exporting country and will undoubtedly feel a negative effect.  Future prospects for global trade are starting to look very stormy.   
UCLA Ceridian shows a dip in it's reading for April.  This metric has now been flat for roughly 4 months and points to a potential stall for growth in manufacturing activity in the months ahead.  Business executives need to be convinced that end demand growth is sustainable or manufacturers will see little incentive to grow production.  The ECRI leading indicator also shows slowing over the next few months.

National Federation of Independent Business Survey continues to point to weakness.  While sentiment improved from the previous month, it is not consistent with a recovery in the sector responsible for 60%+ of job creation.  If small businesses don't see improving sales trends, recent job gains will not be sustainable.

Consumer Sentiment continues to be flat as consumers are too poor to expand their cable package and watch bubblevision all day long.  Main Street has not seen a strong recovery and these sentiment numbers are proof.  Even worse is that inflation expectations moved higher and out of a range that has latest throughout the recession.  Many point to seasonally higher gas prices.    

Mortgage applications (for purchase) plunged 9.5% as the tax credit expired and reports of falling housing prices are already surfacing.  We are seeing the first signs of the inevitable double dip in housing. 

Observations/Thoughts  
As expected, Treasuries have been steadily keeping up with equity returns this year.  The wall of worry remains high and deflation remains as the primary risk in my view.  I believe we will see positive returns from this asset class in 2010.
http://www.bloomberg.com/apps/news?pid=20601087&sid=aIVhXyRrxlII&pos=7

No need for extensive commentary here.  Just read these two stories and identify what's wrong with this picture.   This isn't the land of opportunity anymore. 
What magnitude will the effects will the oil spill have on the economy?  Tourism and fishing industries will be hurt.  How much will this shave off economic activity?

An assumption in my thesis, are the high levels of debt leading towards higher taxes and or reduced spending on the part of gov't (see here and here).  This dynamic is not lost on Pimco's Mohamed El-Erian….
 …However, for the time being, we are clearly experiencing a cyclical recovery (albeit very weak) and the prospect of higher earnings will keep the market from drastically selling off solely due to domestic factors.  What is increasing as a headwind are sovereign concerns as despite the bailout agreed on in the past week, the Euro keeps getting pounded.  Additionally the British Pound is beginning to become a concern.  China is overheating as well.  We are in a situation where the high probability of an external shock is beginning to get the market's attention. 
On the technical front    
 Is that a head and shoulders pattern I see? Notice the 2 large distribution days.  This is bearish.


(AUD/USD: Daily)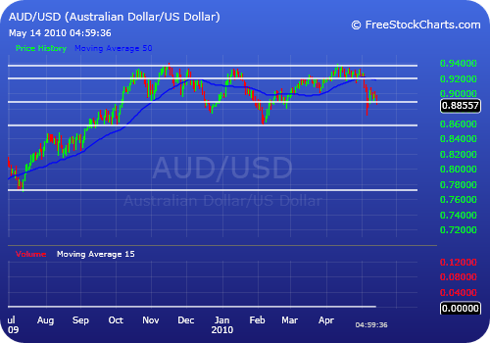 Commodity based Australia shows a triple top with their currency thus far.  What this means is that investors are discounting a lessening probability of a rate hike.  Why?  Maybe because they are beginning to see a slow down in China as that country has been desperately trying to put the brakes on their economy.
(EUR/USD: Daily)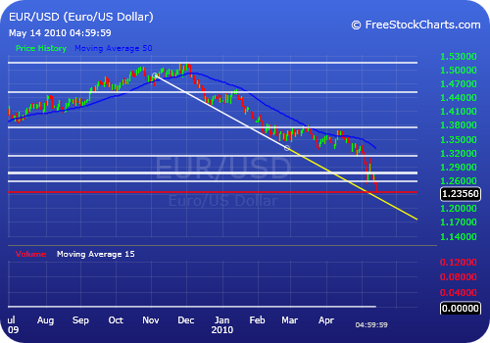 Even after the $1 Trillion bailout package the currency has now hit new lows not on liquidity issues, but structural ones.  If most Eurozone countries implement austerity packages, a sure double dip would occur in my view.  Something to ponder…in today's globalized world, would decreased spending in Europe count as the same mistake the US made in the 40s, which caused the next recession?  Bernanke and Co. have stressed that decreasing spending would send us back into a recession and that was a major policy error the government made back then.  At this point, are we so interconnected that a paring back of spending in Europe would be like us paring back spending?
I have yet to see a Bloomberg article on the front page regarding the UK issues.  The currency has quietly broken through important support and has a clear shot at the lows from 2009.  A UK fiscal crisis would be the icing on the cake for the Keynesian funeral.  Mr. Hayek must be nodding his head saying "told ya so".  I'm speculating here:  the UK can't default because they can just print their way out of the problem, but eventually this will end up being a hyperinflationary event as confidence in the fiat currency falls. 
(DXY: Weekly)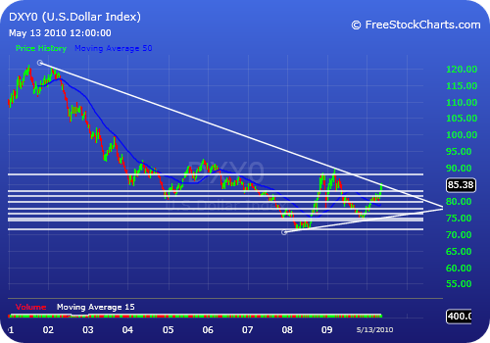 I'm putting my contrarian hat on here: I hear about gold and silver being the place to be and the demise of the dollar from all fronts it seems.  The trade might be starting to get crowded.  I believe that over the longer term, we'll see a weaker dollar as the US is up to the gills with debt, however, from a technical perspective, the above chart looks very bullish.  It's about to break a downward trend in place for almost a decade.  Bob Farrell's Rule 9 comes to mind.     


Have a great weekend.
Disclosure:
Long DXY and Treasuries;