Bullish
+ ISM Manufacturing Index came in better than expected and shows that the sector continues to have strong positive momentum.  The report's leading indicator continues to point to gains ahead as "New Orders" hold steady at 65.7%.  Meanwhile, employment continues to expand, coming in at 59.8%.  Overall it is a strong report considering the recent turbulence from the Eurozone.

+ Construction activity showed a surprise gain as the tax credit has produced enough demand for homebuilders to feel confident in expanding their production.  This sector is extremely important in order to have a sustainable recovery, as it is an important impetus of economic activity.

+ The ISM Non Manufacturing report continues growing and comes in a little above expectations.  The jobs sub index shows growth for the first time in 29 months and bodes well for the labor market in May.  New Orders maintain steady growth and points to expansion in the months ahead.   

+ Gallup Poll of Job Creation points to a better labor market as the index hits its best level in 19 months.

+ Pending Home Sales show an increase of 6% as buyers rush to purchase a home before the tax credit runs out.  Together with an increase in construction activity, these signs point to a bottoming in residential real estate and further job creation.

+ Auto Sales showed resiliency this month as many incentives had ended but we still saw an increase of 3.9% from April and a strong YoY +18.1% rate.  This shows that demand continues to increase.  Along with an improving jobs picture, the recovery may get a shot in the arm from increased demand. (Courtesy of CalculatedRisk).
Bearish 
- ECRI Leading indicator plunged again this week and its growth rate is now barely above zero.  At this rate the risk of a double dip recession is rising substantially.  Economic activity is set to fall dramatically in the next few months according to this indicator.   

- The Jobs report was very disheartening and supports the idea that we are not undergoing a V-shaped recovery, which the market has priced in.  Consumption growth will be tepid at best, not the growth rates expected by investors.  The unemployment rate dropped, but not due to positive factors as it was a drop off in the labor force instead of increased hiring.   

- Mortgage applications for purchase continue to fall and are at a new 14 yr low.  A double dip in housing seems like a given with the way this metric has forecasted demand in the coming months.   

- Goldman and Redbook Retail metrics have pointed towards weakening consumption in May and may show that expected consumption growth rates may be too optimistic in the latter half of the year.  This is evident in a number of other consumption barometers such as...

-…the Discover Spending Monitor shows weakness for the month of May and points to the consumer rebound having stalled for the month as consumer intentions decline.  Consumers are looking to deleverage and coupled with tepid private sector hiring, will not result in strong spending growth...

- … this is also confirmed by Mastercard's Spending Pulse report, which shows that a variety of industry sectors showed some sluggishness and YoY rates are coming in negative.  Contrary to most expectations, the consumer is still under heavy stress.    

- ABC Consumer Confidence still shows widespread pessimism among "Main Street" as the recovery is not being felt in a meaningful way.  The Job market continues to be quite weak. 

- China, the engine of the global recovery, is beginning to show weakness as PMIs gauging the strength of its manufacturing show slowing growth.  A slowing China is quite unexpected by the consensus and would cause severe damage to the global bullish thesis.  It would also dampen the rosy outlook for US exporters, which accounted for over 45% of S&P500 Revenues in 2008 (and probably not far off in 2009 on the back of a declining dollar and global stimulus packages).  Commodities are confirming this weakness as they have undergone a "death cross".
Observations/Thoughts  

> I had mentioned in my "Observations and Thoughts" a few weeks back about the oil spill having a negative effect on the economy.  Surely enough we are starting to see the economic impacts setting in.  A part of me is slowly dying as the oil creeps closer to Florida's shores.  I remember many a time going to the sandy beaches in Miami and the Keys to enjoy the sun and fish for Mahi Mahi.  It has come to the point that every time I hear about the oil spill on the radio, I just turn it off.  It hurts to listen. 

>  The EuroTarp is on its way to being operational and from what I've read, a rate of 5% will be offered to Greece for the funds.  However, there are a couple of little "secret nuggets" (particularly the last two) in the package as per "Bild" (a well known German newspaper).   
Now that you've read those two, here is a story that may pick up steam in the next couple of months.  If confidence falls and Spain's refinancing doesn't go well, we may be in a situation where they'll ask someone else to pick up the tab for Greece's bailout.  I wonder how that would sit with the other Eurozone countries?  

Now for the second piece of news here; given that most Germans are against bailing out 50 yr old retirees in Greece, not to mention that it is illegal, it will be very interesting and a shock to the financial markets if Germany's court declares this unconstitutional.  The point is that while we are in a period of non-chaos, it could all change very quickly for the worse.  Trend very carefully.       
 
> We may see a strengthening of tailwinds in the US as gas prices and Treasury yields have both decreased in recent weeks. These effects will help the consumer in the form of lower borrowing costs & gas prices.  Manufacturers would enjoy improved profit margins due to reduced gas prices and may undertake expansionary plans as the cost of money comes down.  Will these effects be enough of a tailwind to make economic growth sustainable?  I will keep an eye out for this positive dynamic in the months ahead.    
> Are we entering a slope of hope, or is this a healthy correction in an ongoing Bull Market for the US markets?  IMHO, there are way too many unanswered questions: stimulus withdrawal, a potential double dip in housing prices, and of course the debt problem which hasn't been solved.  The market has been responding in kind, correcting approximately 10%.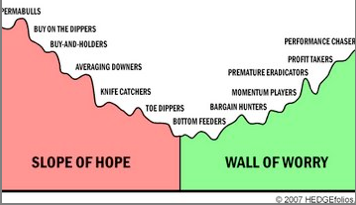 > With regards to inflation, what we are seeing in China is the exact opposite of what's going on here.  Wages there are rising at a quickening pace and will further exacerbate inflationary pressures. Increases are running at an annual rate of under 3% in the US, while we are seeing 30%+ increases in China.  They have a serious inflation problem, not us.  They will need to further apply the brakes on their economy through rate increases or an adjustment in their exchange rate.   Whichever it is, expect some form or action as inflation cannot be ignored, especially there.    

> More "Green Shoots" for the next Secular Bull Market, led by alternative energy.  This oil spill has indeed been a game-changer for the industry and the future in my view.
 
Have a great and safe weekend.

Disclosure:
No Positions Mentioned, see my web log for details on my Thesis