Bullish
+ JOLT (Job Openings and Labor Turnover) survey showed a pop in April job openings.  This makes a bullish case for a strong June/July report in Job creation, confirming that the recovery continues. 

+ May US Employment Trend Index rises in May for the ninth consecutive month and forecasts that last weeks weak employment report was a blip.  Job growth continues.

+ German Factory orders come in stronger than expected (thanks to a still weakening Euro) and points to continued expansion in Europe's largest economy.  Orders in April rose 2.8% after a 5.1% pop in March (a 20%+ annualized rate!). Strong economic numbers may alleviate recent concern regarding the Eurozone contagion.  Meanwhile initial reports show that China exports advanced more than expected.  The Eurozone problems have had a limited impact on trade flows.  Global trade continues to chug along. 

+ Missed this last week.  Discover Small Business Watch shows improvement in small business conditions.  Given that this cohort of employers represents a large portion of the employment pie, this news bodes well for increasing private industry participation in job growth.

+ ABC Consumer Confidence and University of Michigan Consumer Sentiment show positive trends despite the problems in the Eurozone. There is fundamental improvement on Main Street, strong enough that Americans are ignoring the problems across the Atlantic.  This is due to lower prices at the gas pump and lower borrowing rates, reports of an improving job market are also a factor.

+ Goldman and Redbook retail sales reports rebounded last week to make up for the decline in YoY rates experienced in the last couple of weeks.  The consumer is not out, an improving jobs picture will ensure that consumption continues to rise.   
Bearish 
- Fiscal stimulus has lost support as countries find themselves in too much debt.  This is bearish for risk markets as gov'ts will not be readily available in providing help should the economy begin contacting again.

- Growth in consumer credit continues stagnate or contract.  Clearly the consumer is not in the mood to increase their own debt load, which makes perfect sense.  The US consumer in general has too much debt, that's why consumption growth expected by investors is not likely to come to fruition.  An economy built on savings and investment is a strong economy, not one built on debt accumulation.    

- Signs of subdued job growth continue to trickle in, this time by Manpower and NFIB Small Business Report.  Manpower's survey points towards muted job gains.  While they remain tentative on calling a jobless recovery, consider that we've been in recovery for close to 10 months now and job growth remains weak.  Furthermore, the NFIB Small Business Economic Trends report shows that hiring remains very weak as small businesses are cautious on the recovery. 

- Mortgage applications for purchase fell once again.  Since the expiration of the tax credit, applications have plunged 40%+.  Creating growth using stimulus is a losing strategy and in fact makes the hangover all the worse.   Reports are also surfacing that banks are once again ramping up foreclosure proceedings after holding them back for the first half of the year.  This will increase "shadow inventory" and create more of an unbalanced supply/demand situation.  This will result in another leg down in property prices. 

- Credit markets are flashing red lights and point to recent turbulence not being over with.  Investment Grade credit are now showing an "Inverted Death Cross" and is a strong bearish signal.  Financial markets are deteriorating in expectation that the ride to recovery is not going to be as smooth as once thought.  (Courtesy TPC)

- Jobless Claims continue to stagnate in the 450-460 area and shows that the job market continues to be fragile, contrary to hopes that we are at the beginning of a V-Shaped recovery.  This will undoubtedly translate to showing growth in consumption trends as evidenced by May's Retail Sales report.
Observations/Thoughts  

>  Two thoughts here on the Pic below: 

Judging from the headline, Investors continue to write off recent market weakness as simply a correction in an ongoing bull market.  They see no recession on the horizon.  We are seeing improved consumption and hiring trends, that I agree with.  However, they remain very fragile.  It wouldn't take much to upend them. The Eurozone sovereign debt problems, China's need to raise rates to control their inflation problem thus contraining global growth, and our stimulus running out in the 2nd half of the year are formidable headwinds that I believe investors are underestimating.

Meanwhile, is the "Wall of Worry" that everyone talks about against stocks or bonds?  Given that most investors expect rate increases, I would point to bonds experiencing this "Wall of Worry".  Deflation is the primary trend in my view, which favors fixed income instruments.  Such a bold statement on the front page of Marketwatch is what I like to see if I'm a Treasury bond bull.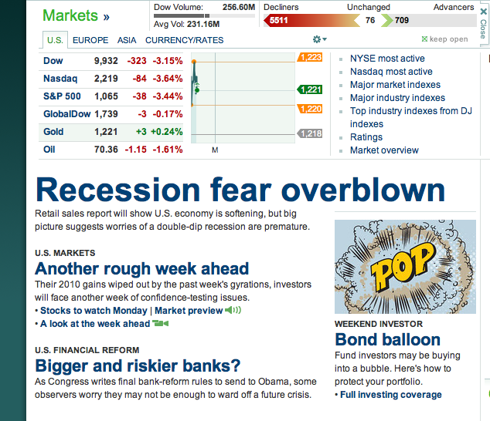 > It seems that world leaders are starting to realize that they must develop their domestic economies.  The world economy must go through a global restructuring.  I wrote about this a while back.  These are the true green shoots for a fundamentally and sustainable growth trajectory… though it will take a while. 

…on the other hand, you still see European leaders pursue "beggar they neighbor" policies to battle deflation and improve exports by tolerating a declining Euro.  As I mentioned before, while this may show improved results over the short-term, the structural issues remain.  Thought it may take time, continuing these policies will lead to protectionism as a declining Euro will improve Eurozone exports and their economy, but at the expense of exporters/economies in China and the US.  In the interim though, we may see a large pop in the Euro as improved exports (fundamentals) and massive short positions cause a large snap back rally, similar to the US stock market in 2009. 

> One week after I cited a weaker Euro as a bearish point in my Bull/Bear Recap and the effects are starting to become felt.  This ties to my point right above.  The markets are starting to become affected by an ever-weakening Euro.  If the market keeps dropping, look for some protectionist remarks to begin coming from the US and China.         
> Couldn't have a said it better myself.  The US will need to go through this adjustment process eventually.  Hence, why I don't think we've hit the equity market bottom.  The most important concept though is we need to go through this process sooner rather than later.  We could end up in a position where we finally attempt to get our fiscal house in order, and when we cut spending (which would produce a subsequent recession), we would plunge us into a debt trap (we don't have enough growth to pay the debt load anyways).    

> I mentioned in my "2010 New Year's Resolutions" how I learned first hand why one "doesn't fight the Fed".  However, I mentioned how this may change due to the Fed's battle with deflation and how it is a game of stamina and that it was running low on time and resources.  I was also perplexed at why the market would rally due to us taking on more debt.  This article makes me thing that we are indeed headed in that direction.

> Real Green Shoot Watch

Have a great weekend!!! 



Disclosure:
No Positions Mentioned