Bullish
+ Various signs emerged and point to a strengthening global economy: European PMI showed a strong start to 2H, European Industrial Orders rose much more than forecast, marvelous earnings reports from several multinationals hit the tape,  the industrial metals complex has been surging,   UK GDP grew double the analyst forecast, German business confidence rose substantially, and Thailand reported strong growth.  All in all, no signs of a weakening global recovery.  
+ Reports of increasing tax-withholding collections further prove that hiring is indeed on the upswing.  This will lead to increased confidence and consumption, essential ingredients for the economic recovery. (Link Courtesy of Matt Trivisonno's Blog) 

+ Extension of Unemployment benefits has been approved.  This will ensure that the unemployed continue to receive some help from Uncle Sam.  This will end up increasing consumption, which represents 70% of the economy.

+ Mortgage applications for purchase showed an uptick and may signal that we are finally seeing stabilizing demand.  This will help keep home prices and consumer confidence stable; and when coupled with rising building permits, point to stabilization on the housing front.  Meanwhile refinance applications rose to the highest since May 2009 and will help consumers free up some extra discretionary income for increased consumption.

+ The drops in the Chinese stock market have not been due to deteriorating economic fundamentals, but rather tightening policy as Beijing attempts to balance economic growth.  As soon as Beijing lets off the brake even a little, the economy will once again roar back.  Recent stock market action has been reflecting this dynamic. 


Bearish 
- Yet  more  signs of a housing double-dip already taking place.  Given that congress is having such a hard time passing an extended unemployment benefits bill, we can be sure that another housing tax credit isn't on the horizon and the double-dip will be allowed to occur.  The government is out of political bullets to justify continued fiscal support. 
- Negative reports are surfacing regarding the jobs picture.  State and Local governments are really feeling the squeeze and will need to resort to laying off workers and/or raising taxes.  The jobs recovery is rapidly losing steam.  Excess supply of workers will help ensure that wage growth remains very low.  This, coupled with a new psychology of frugality (paying down debt), are two strong headwinds that will limit consumption growth in the quarters ahead.   

- Ben Bernanke characterizes the current economic outlook as "unusually uncertain".  Sure provides that extra oomph of confidence in the economic recovery doesn't it?  Perhaps looking at 10-yr yields will provide the answer as to whether we are headed for a double dip or not (see "Observations" below).

- Jobless Claims soared, contrary to bullish expectations that the jobs market is substantially improving.  This shows that the recent downtrend in jobless claims was not due to actual improving fundamentals, but instead to external factors (auto plant closings) affecting the data.  The job market continues to suffer.

- Leading indicators as per the Conference Board came in negative territory with a reading of -0.2% in June following a revised reading of +0.5%.  This points to slower growth in the months ahead.  Even the positive factors of the report are quite suspect.  The "Interest Rate" spread , which has been among the largest positive factors in the metric, has been consistently manipulated by the Fed's ZIRP.  This is further confirmed by the ECRI's leading indicator, which fell to -10.5% from -9.8%.   


Observations/Thoughts 

> A spectre is haunting global trade – the spectre of protectionism.  As severe structural unemployment grips America, the case for global trade is becoming much more scrutinized.  Furthermore, US officials are fighting for their political lives giving China a de facto 3 month ultimatum and launching strong accusations that the Yuan may be undervalued by as much as 30%.  China thus far has let its currency appreciate a paltry 0.68% since they unpegged it from the dollar in mid June.  I find it very difficult to believe that they will bend to US demands.  Consider all the factors facing the communist nation right now: rising labor unrest (squeezing razor thin profit margins for a majority of exporters), Europe austerity, a general slowing in global trade.  These are strengthening headwinds for their largest economic contributor, exporters.  Also, let's not forget an increasingly unstable property market.  I am starting to see a very toxic brew for protectionism and the risks are increasing that we see a negative global trade announcements in the months ahead.

> Consumer spending metrics sure are rather confusing these days.  ICSC readings have clearly been improving after dropping off somewhat in May and June.  However, Redbook, Consumer Metrics Institute and Gallup Polls are showing slowing growth rates.  The negatives are further reinforced by the ABC and U of M Consumer Sentiment surveys.  Overall a lot of noise at this time and I really can't gauge what consumption is looking like…  Perhaps word that Europe didn't implode as a result of the stress test will provide the impetus for the market to break above the EuroTarp Gap.

> While I didn't officially have an opinion, I could see the improvement in the Eurozone coming.  Pundits see this development as a huge surprise.  I didn't as per my "Observations/Thoughts" in a recent Bull/Bear Recap (see 2nd observation).  We are seeing improved growth prospects; however, they are mostly a result of beggar-thy-neighbor policies, not real organic increases in end demand.  The Euro began tumbling in late December and we are finally seeing the effects 6 months later as export orders are increasing strongly.  Now the Euro is rising as a result, which should temper the gains in Q4/Q1 of 2011.    

> The latest bout of "Global Recovery" optimism has produced a concerning divergence as 10-yr Treasury yields remain have not followed stocks recently.  In fact they remain below the 3.0% level and actually challenged the 2.9% level.  The bond market seems to be more convinced that we are in for a deflationary period.  This is in direct contrast to stocks which have rallied impressively.  What I'm getting at here?  One of these asset classes is wrong and will need to correct.  I believe it is stocks that have it wrong.  The bond market has been a better leading indicator in the past.  For the bull's sake we need to see yields rise a good bit in the days ahead.  
(10-Yr Yields vs Stocks since recent rally starting July)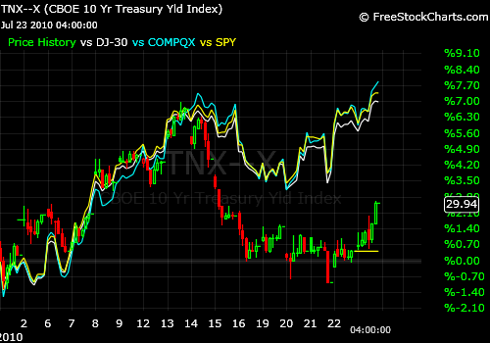 > This is a very important upcoming event that will have profound implications on our economy and the markets in the quarters and even years to come.  I am including it as an "Event" in my next "Market Radar".  Obviously there will be a large push for the cuts to be extended. 

> Let's pray that the storm doesn't freakishly get larger once it's over the Gulf.  I remember that happening many a times.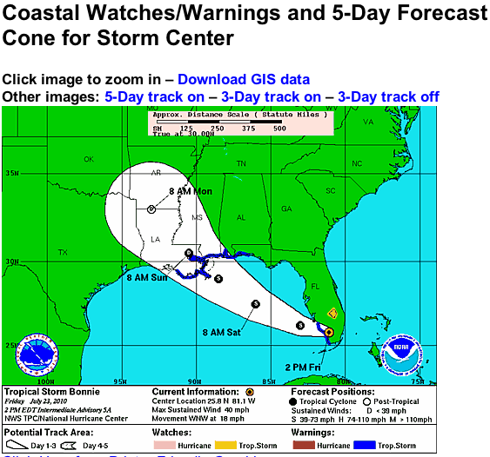 > More signs that the Fed is may be running out of bullets as I postulated a while back (See Don't Fight the Fed (Could this change?). 
 
--------------------------------
---> Please visit RCS Investments for my expanded and detailed Outlooks (thesis), and my "Market Radar", what I believe are the main factors affecting the economy and the financial markets.
Disclosure:
No holdings in stocks mentioned