This is an update to our model portfolio report, 28 Stocks for December 2016.
The tables below show price targets and return data for the latest theoretical model portfolios.
As indicated, stock in the theoretical short model portfolios has already hit a stop loss and was assumed closed at the end of trading today - Pandora Media (NYSE:P).
Facebook, Inc. (NASDAQ:FB) is our favorite long stock idea for December 2016. As we illustrate in our model portfolio report, the company seems poised to generate a surge of earnings and ROIC for 2017.
On average, stocks in our models tend to work well as long-term ideas. We track one-year returns of each year-end model portfolio, and one-month of each newly model portfolio that is rebalanced monthly.
December is already off to a good start, with high-quality stocks moving up on average and low-quality stocks moving down on average, generating positive returns for associated long/short strategies.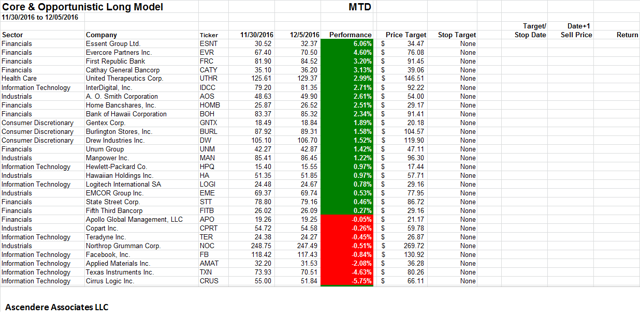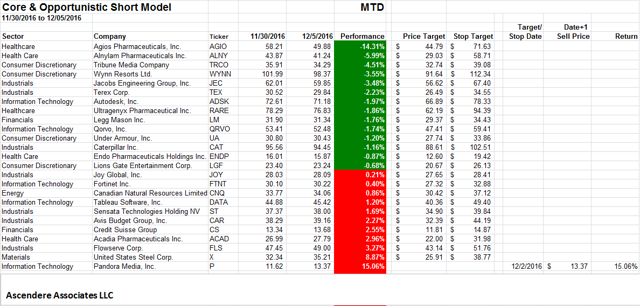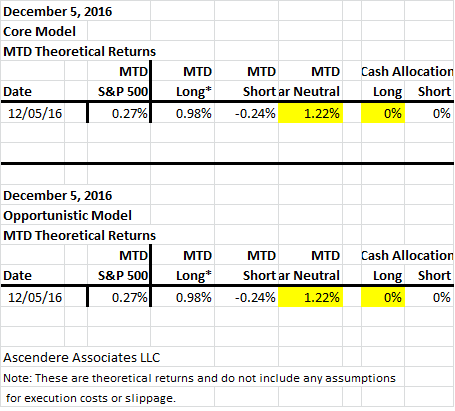 Disclosure: I/we have no positions in any stocks mentioned, but may initiate a long position in OR SHORT over the next 72 hours.
Additional disclosure: There are limitations inherent in our theoretical model results, particularly with the fact that such results do not represent actual trading and they may not reflect the impact material economic and market factors might have had on our decision making if we were actually managing client money.