A reader asked about E*TRADE Financial Corporation: "They acquired some smaller competitor couple of days ago - is that why you went long here?"
A quick and simple review indicates the answer is "yes," the E*TRADE's (NASDAQ:ETFC) September 12 acquisition of OptionHouse was a good one and is the basis for why our theoretical model portfolio strategy assumed a long position in the stock.
In the abbreviated model below, we can see that E*TRADE has been able to increase ROA year-over-year despite the increase in goodwill related to the acquisition.
ROA a measure of how efficient management is to at using assets to generate profits. It shows the company is increasing earnings at a higher rate than it is adding assets. That is exactly what you want to see managers do. Shareholders benefit by investing in efficiently-run companies as efficient companies continue to use excess cash to invest in further growth.
(ROIC, or return on invested capital, is similar to ROA but includes adjustments such as capitalizing R&D expenses operating leases).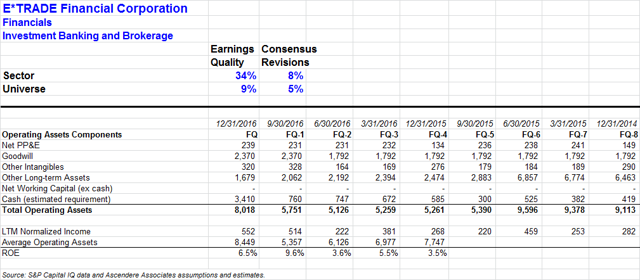 The reader had another question: "AMD semi is not among the longs here - why is that - it has had a decent rally?"
Advanced Micro Devices, Inc. (NASDAQ:AMD) is showing a decline in profitability even while the level of operating assets is declining. It is concerning that net PP&E seems to be rapidly depreciating and is not being replaced by additional capital spending or acquisitions. It indicates the company may not be setting itself up for sustained future growth.
On the other hand, AMD is benefiting from positive consensus estimate revisions. Perhaps this indicates the company will find ways to generate earnings and invest in additional cash-generating projects. Even so, I would not focus my energies on AMD. There are easier potential investment targets to focus on.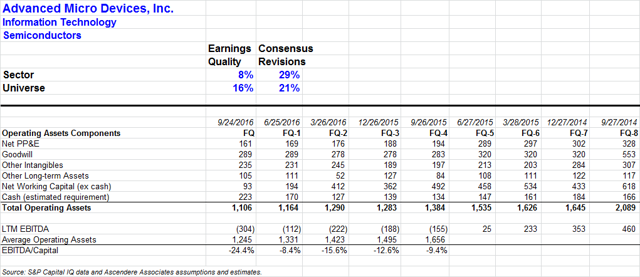 For example, would you rather invest in AMD, or NVIDIA Corporation (NASDAQ:NVDA), assuming they shared the same relative value (which they don't)?
NVIDIA first appeared in our long model portfolio back in August 2015. Clearly, NVIDIA's ROA and profitability is expanding, positive, and significant. Relative to AMD, companies like NVDA, especially when offering good value, are relatively better choices for investments. While NVDA could still be a great investment, it is clearly no longer offering the opportunity to participate in "growth at a reasonable price."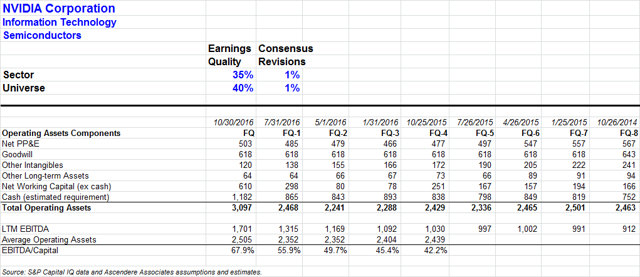 Or would you rather consider investing in Maxim Integrated Products, Inc. (NASDAQ:MXIM)? MXIM shares the same basic quantitative profile that NVDA did two years ago -- highly ranked for relative value, operating momentum, consensus estimate revisions, and fundamental quality. MXIM is our favorite stock idea for February 2017.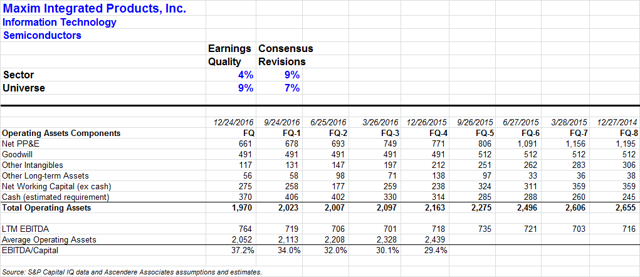 Our ranking model, which we used to find the "Best 33 Stocks for Feburary 2017", only selects companies that rank highly on proxies for high ROIC (such as ROA and ROE), show improving consensus estimate revisions, good earnings quality, and good relative value.
A key flaw of this model is it tends to emphasize backward looking ratios (such as ROA). By including rankings for consensus estimate revisions in the model, we try to overcome this backward looking bias. There are always exceptions to the model. Perhaps AMD is one of them. But we would rather focus our efforts elsewhere.
Uncovering exceptions is certainly rewarding, but also more difficult and time consuming. However, by focusing on stock ideas in the "sweet spot" of ROIC, relative value, earnings quality, and consensus estimate revisions, investors may be able to increase their chances of uncovering some solid prospects, as well as the occasional outlier such as NVIDIA.
Disclosure: I/we have no positions in any stocks mentioned, but may initiate a long position in OR SHORT POSITION IN ANY STOCK MENTIONED over the next 72 hours.