This is an update to last month's model portfolio report, 33 Stocks for February 2017.
For the model portfolios that rebalance every month, we are providing below the latest portfolio actions. A full report will follow shortly
There are a number of intriguing semiconductor stocks on our list. Cirrus Logic, Inc. (NASDAQ:CRUS) is our favorite new semiconductor stock this month.
Long Rebalancing Actions
Just prior to the close as of February 28, 2017, 13 stocks have left the long-only model, 16 have been added, and 20 have been rebalanced. This 36-stock theoretical long model assumes a 2.78% weight for each stock. The long model portfolios are composed of high-quality stocks.
It is unusual to have more than 30 stocks in the long-model theoretical portfolio; this month's total of 36 is up from last month's 33.
Close Long Positions:
Ulta Beauty, Inc. (NASDAQ:ULTA)
Unum Group (NYSE:UNM)
Bank of America Corporation (NYSE:BAC)
E*TRADE Financial Corporation (NASDAQ:ETFC)
MarketAxess Holdings Inc. (NASDAQ:MKTX)
Raymond James Financial, Inc. (NYSE:RJF)
Washington Federal, Inc. (NASDAQ:WAFD)
Cullen/Frost Bankers, Inc. (NYSE:CFR)
First Republic Bank (NYSE:FRC)
United Therapeutics Corporation (NASDAQ:UTHR)
Abbott Laboratories (NYSE:ABT)
Hawaiian Holdings, Inc. (NASDAQ:HA)
InterDigital, Inc. (NASDAQ:IDCC)
Hold/Rebalance Long Positions:
LCI Industries (NYSE:LCII)
D.R. Horton, Inc. (NYSE:DHI)
Burlington Stores, Inc. (NYSE:BURL)
Apollo Global Management, LLC (NYSE:APO)
Essent Group Ltd. (NYSE:ESNT)
The Blackstone Group L.P. (NYSE:BX)
Discover Financial Services (NYSE:DFS)
Home Bancshares, Inc. (Conway, AR) (NASDAQ:HOMB)
Banco Santander, S.A. (NYSE:SAN)
Cathay General Bancorp (NASDAQ:CATY)
East West Bancorp, Inc. (NASDAQ:EWBC)
TD Ameritrade Holding Corporation (NASDAQ:AMTD)
Copart, Inc. (NASDAQ:CPRT)
HP Inc. (NYSE:HPQ)
Applied Materials, Inc. (NASDAQ:AMAT)
Teradyne, Inc. (NYSE:TER)
Maxim Integrated Products, Inc. (NASDAQ:MXIM)
Corning Incorporated (NYSE:GLW)
Facebook, Inc. (NASDAQ:FB)
Steel Dynamics, Inc. (NASDAQ:STLD)
Open New Long Positions:
Bank of Hawaii Corporation (NYSE:BOH)
Huntington Ingalls Industries, Inc. (NYSE:HII)
Delta Air Lines, Inc. (NYSE:DAL)
MasTec, Inc. (NYSE:MTZ)
ManpowerGroup Inc. (NYSE:MAN)
Cirrus Logic, Inc.
Intuit Inc. (NASDAQ:INTU)
NCR Corporation (NYSE:NCR)
Cliffs Natural Resources Inc. (NYSE:CLF)
Trinseo S.A. (NYSE:TSE)
Eagle Materials Inc. (NYSE:EXP)
Nucor Corporation (NYSE:NUE)
Host Hotels & Resorts, Inc. (NYSE:HST)
CoreCivic, Inc. (NYSE:CXW)
RLJ Lodging Trust (NYSE:RLJ)
LaSalle Hotel Properties (NYSE:LHO)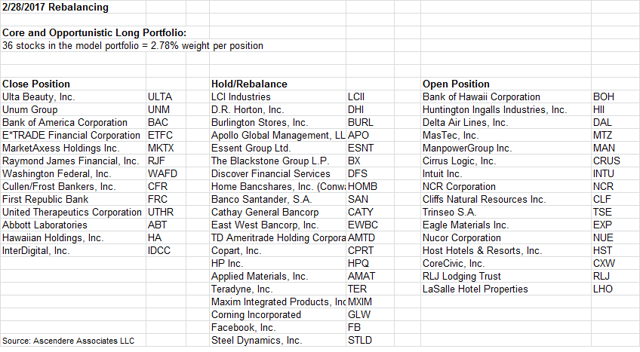 Short Sale Rebalancing Actions
Just prior to the February 28, 2017 close, 10 stocks have left the theoretical short-sale model portfolios, 18 have been added, and 13 have been rebalanced. This 31-stock theoretical model portfolio assumes an equal 3.23% weight for each stock.
This short sale model is composed of low-quality stocks, and only tends to work well during periods of high uncertainty or volatility in the market. Low-quality stocks do tend to outperform high-quality stocks during market rallies as the market prices in expectations for a sharp recovery in fundamentals.
Close Short Sale Positions:
Honda Motor Co., Ltd. (NYSE:HMC)
Superior Energy Services, Inc. (NYSE:SPN)
Legg Mason, Inc. (NYSE:LM)
ACADIA Pharmaceuticals Inc. (NASDAQ:ACAD)
Joy Global Inc. (NYSE:JOY)
IAC/InterActiveCorp (NASDAQ:IAC)
Autodesk, Inc. (NASDAQ:ADSK)
Tableau Software, Inc. (NYSE:DATA)
CF Industries Holdings, Inc. (NYSE:CF)
United States Steel Corporation (NYSE:X)
Hold/Rebalance Short Sale Positions:
CarMax Inc. (NYSE:KMX)
Under Armour, Inc. (NYSE:UA)
Hess Corporation (NYSE:HES)
Golar LNG Limited (NASDAQ:GLNG)
CIT Group Inc. (NYSE:CIT)
Ultragenyx Pharmaceutical Inc. (NASDAQ:RARE)
Tesaro, Inc. (NASDAQ:TSRO)
Jacobs Engineering Group Inc. (NYSE:JEC)
Stericycle, Inc. (NASDAQ:SRCL)
Terex Corporation (NYSE:TEX)
Qorvo, Inc. (NASDAQ:QRVO)
Workday, Inc. (NYSE:WDAY)
Potash Corporation of Saskatchewan Inc. (POT)
Open New Short Sale Positions:
Helen of Troy Limited (NASDAQ:HELE)
Wolverine World Wide, Inc. (NYSE:WWW)
Mattel, Inc. (NASDAQ:MAT)
Tribune Media Company (NYSE:TRCO)
PBF Energy Inc. (NYSE:PBF)
SM Energy Company (NYSE:SM)
Hilltop Holdings Inc. (NYSE:HTH)
Willis Towers Watson Public Limited Company (NASDAQ:WLTW)
American International Group, Inc. (NYSE:AIG)
GW Pharmaceuticals plc (NASDAQ:GWPH)
bluebird bio, Inc. (NASDAQ:BLUE)
Neurocrine Biosciences, Inc. (NASDAQ:NBIX)
Flowserve Corporation (NYSE:FLS)
Caterpillar Inc. (NYSE:CAT)
Integrated Device Technology, Inc. (NASDAQ:IDTI)
Alliance Data Systems Corporation (NYSE:ADS)
Summit Materials, Inc. (NYSE:SUM)
Weyerhaeuser Co. (NYSE:WY)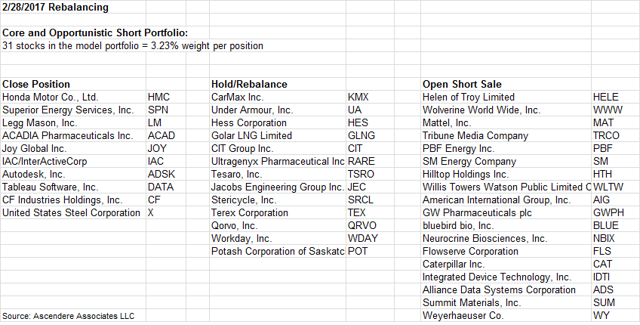 Disclosure: I/we have no positions in any stocks mentioned, but may initiate a long position in OR SHORT POSITION IN ANY STOCK MENTIONED over the next 72 hours.
Additional disclosure: There are limitations inherent in our theoretical model results, particularly with the fact that such results do not represent actual trading and they may not reflect the impact material economic and market factors might have had on our decision making if we were actually managing client money.