This is an update to last month's model portfolio report, 33 Stocks for June 2017. 
In addition, this "Abbreviated Report Part 2" note adds some additional detail to Part 1 of our abbreviated update report that was published prior to the market close on July 5. A full report will follow shortly.
Below are the latest rebalancing portfolio actions for the theoretical long and short model portfolios. 
Best ideas for July 2017
Our two favorite stock ideas this month include Donaldson Company, Inc. (DCI) and Costco Wholesale Corporation (COST). 
Under Armour, Inc. (UAA) is the most compelling short idea on the list.
Long Rebalancing Actions
Just prior to the close as of July 5, 2017, we assume 15 stocks have left the long-only model, 8 have been added, and 18 positions have been rebalanced. This 26-stock theoretical long model assumes a 3.85% weight for each stock. The long model portfolios are composed of high-quality stocks.
Close Long Positions:
H&R Block, Inc. (HRB)
Burlington Stores, Inc. (BURL)
The Blackstone Group L.P. (BX)
Morgan Stanley (MS)
Bank of America Corporation (BAC)
JPMorgan Chase & Co. (JPM)
Masco Corporation (MAS)
EnerSys (ENS)
Amkor Technology, Inc. (AMKR)
Teck Resources Limited (TECK)
ArcelorMittal (MT)
Steel Dynamics, Inc. (STLD)
Nucor Corporation (NUE)
RLJ Lodging Trust (RLJ)
Telecom Italia S.p.A. (TI)
Hold/Rebalance Long Positions:
Vipshop Holdings Limited (VIPS)
Apollo Global Management, LLC (APO)
East West Bancorp, Inc. (EWBC)
Bristol-Myers Squibb Company (BMY)
Anthem, Inc. (ANTM)
Agilent Technologies, Inc. (A)
MasTec, Inc. (MTZ)
The Brink's Company (BCO)
InterDigital, Inc. (IDCC)
Intuit Inc. (INTU)
Advanced Energy Industries, Inc. (AEIS)
Teradyne, Inc. (TER)
CDW Corporation (CDW)
Norbord Inc. (OSB)
Trinseo S.A. (TSE)
Louisiana-Pacific Corporation (LPX)
Cabot Corporation (CBT)
Worthington Industries, Inc. (WOR)

Open New Long Positions:
Dollar General Corporation (DG)
Yum! Brands, Inc. (YUM)
Costco Wholesale Corporation (COST)
Masimo Corporation (MASI)
ManpowerGroup Inc. (MAN)
Graco Inc. (GGG)
Donaldson Company, Inc. (DCI)
Ansys, Inc. (ANSS)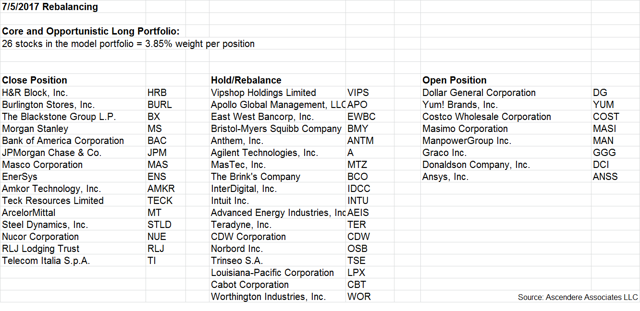 Short Sale Rebalancing Actions
Just prior to the July 5, 2017 close, we assume that 9 stocks have left the theoretical short-sale model portfolios, 6 have been added, and 15 have been rebalanced. This 21-stock theoretical model portfolio assumes a 4.76% weight for each stock.
This short sale model is composed of low-quality stocks, and only tends to work well during periods of high uncertainty or volatility in the market. Low-quality stocks do tend to outperform high-quality stocks during market rallies as the market prices in expectations for a sharp recovery in fundamentals.
Close Short Sale Positions:
John Wiley & Sons, Inc. (JW.A)
Hess Corporation (HES)
Genesee & Wyoming Inc. (GWR)
Sensata Technologies Holding N.V. (ST)
Splunk Inc. (SPLK)
Guidewire Software, Inc. (GWRE)
Workday, Inc. (WDAY)
Autodesk, Inc. (ADSK)
Tableau Software, Inc. (DATA)
Hold/Rebalance Short Sale Positions:
Mattel, Inc. (MAT)
Under Armour, Inc. (UAA)
Liberty Broadband Corporation (LBRD.A)
CIT Group Inc. (CIT)
Incyte Corporation (INCY)
Nektar Therapeutics (NKTR)
The Medicines Company (MDCO)
Jacobs Engineering Group Inc. (JEC)
John Bean Technologies Corporation (JBT)
Ritchie Bros. Auctioneers Incorporated (RBA)
ZTO Express (Cayman) Inc. (ZTO)
Snap Inc. (SNAP)
PTC Inc. (PTC)
Agrium Inc. (AGU)
The Mosaic Company (MOS)
Open New Short Sale Positions:
Willis Towers Watson Public Limited Company (WLTW)
MetLife, Inc. (MET)
Kite Pharma, Inc. (KITE)
Ultragenyx Pharmaceutical Inc. (RARE)
Symantec Corporation (SYMC)
TIM Participações S.A. (TSU)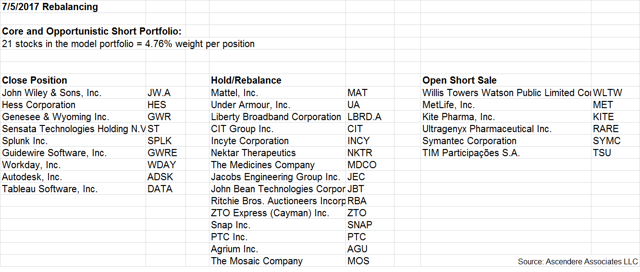 June 2017 Theoretical Returns

Core Model
The theoretical Core Long Model portfolio finished June 2017 up +1.40% versus the +0.50% return of the S&P 500 and the +0.57% return of the SPDR S&P 500 ETF (SPY).
Stocks in the theoretical Core Short Model portfolio finished down -1.72% for the assumed inverse +1.72% short sale gain.
The theoretical Core Long/Short Model portfolio finished up +3.12%, well above preliminary June 2017 results for the Barclay Equity Long/Short Index of down -0.11%.
Opportunistic Model
The theoretical Opportunistic Long Model assumed a 100% cash position through just prior to the June 15 close, when it assumed a 70% stock/30% cash position. This long model finished the month up +0.41%. 
Returns for the theoretical Opportunistic Short Model portfolio were identical to the Core Short Model return of +1.72%.
The resulting theoretical Opportunistic Long/Short Model finished the month up +2.13%.
The Opportunistic Long Model will assume a 70% stock position through at least July 13, assuming no further significant market volatility.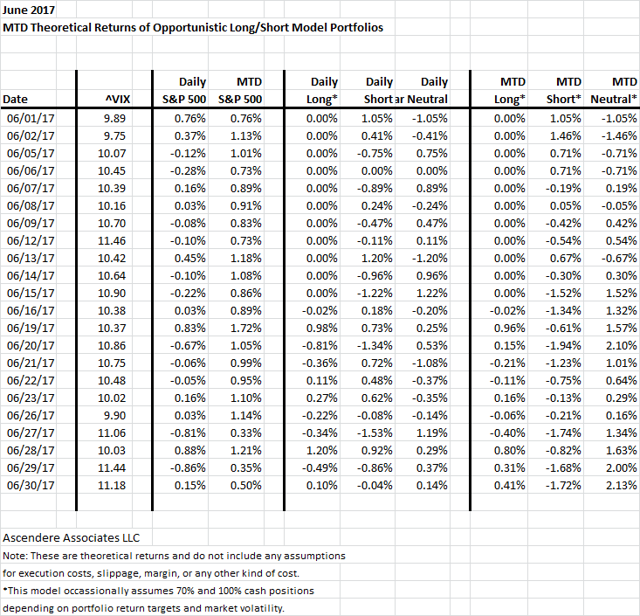 Disclosure: I/we have no positions in any stocks mentioned, and no plans to initiate any positions within the next 72 hours.
Additional disclosure: There are limitations inherent in our theoretical model results, particularly with the fact that such results do not represent actual trading and they may not reflect the impact material economic and market factors might have had on our decision making if we were actually managing client money. We do our best to provide accurate information in this report, but do not guarantee its accuracy.