This is an update to last month's model portfolio report, 26 Stocks for July 2017.
Below are the latest rebalancing portfolio actions for the theoretical long and short model portfolios, theoretical July returns, and our favorite long idea for the month.
Our favorite idea for August 2017 is Facebook, Inc. (FB).
Facebook was our favorite idea for the November 30, 2016 update when the stock was at $118.42. Despite the 43% run-up to $169.25 today, we think it looks more attractive now from a simple quantitative perspective.
FB was ranked 3-3-5 back in November; today's ranking of 3-4-5. This indicates the company's operating momentum has improved, while relative value is still attractive and consensus estimates continue to be revised higher. The key assumption here is that ongoing positive consensus estimate revisions could be indicative of the likelihood for ongoing fundamental momentum. (We intend to review this stock in more detail once we complete an equity research consulting project for one of our institutional clients.) 
Long Rebalancing Actions
Just prior to the close as of July 31, 2017, we assume 10 stocks have left the long-only model, 17 have been added, and 16 positions have been rebalanced. This 33-stock theoretical long model assumes a 3.03% weight for each stock. The long model portfolios are composed of high-quality stocks.
Close Long Positions:
Vipshop Holdings Limited (VIPS)
Costco Wholesale Corporation (COST)
Apollo Global Management, LLC (APO)
Anthem, Inc. (ANTM)
The Brink's Company (BCO)
Donaldson Company, Inc. (DCI)
Intuit Inc. (INTU)
Teradyne, Inc. (TER)
CDW Corporation (CDW)
Ansys, Inc. (ANSS) 
Hold/Rebalance
Dollar General Corporation (DG)
Yum! Brands, Inc. (YUM)
East West Bancorp, Inc. (EWBC)
Bristol-Myers Squibb Company (BMY)
Agilent Technologies, Inc. (A)
Masimo Corporation (MASI)
MasTec, Inc. (MTZ)
ManpowerGroup Inc. (MAN)
Graco Inc. (GGG)
InterDigital, Inc. (IDCC)
Advanced Energy Industries, Inc. (AEIS)
Norbord Inc. (OSB)
Trinseo S.A. (TSE)
Louisiana-Pacific Corporation (LPX)
Cabot Corporation (CBT)
Worthington Industries, Inc. (WOR) 
Open Position
KKR & Co. L.P. (KKR)
Evercore Partners Inc. (EVR)
First Horizon National Corporation (FHN)
Morgan Stanley (MS)
Cathay General Bancorp (CATY)
Raymond James Financial, Inc. (RJF)
Home Bancshares, Inc. (Conway, AR) (HOMB)
SVB Financial Group (SIVB)
The PNC Financial Services Group, Inc. (PNC)
Amgen Inc. (AMGN)
Celgene Corporation (CELG)
EMCOR Group, Inc. (EME)
Valmont Industries, Inc. (VMI)
Stamps.com Inc. (STMP)
Vishay Intertechnology, Inc. (VSH)
Facebook, Inc. (FB)
United States Steel Corporation (X)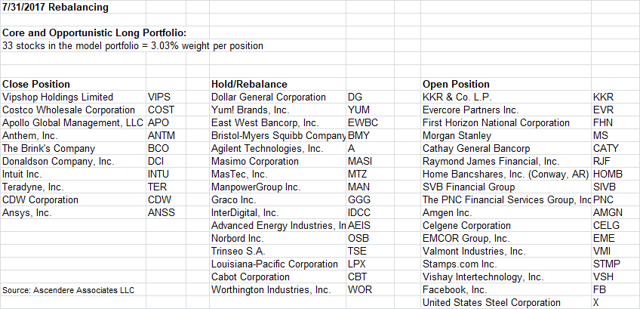 Short Sale Rebalancing Actions
Just prior to the July 31, 2017 close, we assume that 7 stocks have left the theoretical short-sale model portfolios, 8 have been added, and 14 have been rebalanced. This 22-stock theoretical model portfolio assumes a 4.55% weight for each stock.
This short sale model is composed of low-quality stocks, and only tends to work well during periods of high uncertainty or volatility in the market. Low-quality stocks do tend to outperform high-quality stocks during market rallies as the market prices in expectations for a sharp recovery in fundamentals.
Close Short Sale Positions:
Mattel, Inc. (MAT)
Willis Towers Watson Public Limited Company (WLTW)
CIT Group Inc. (CIT)
Incyte Corporation (INCY)
John Bean Technologies Corporation (JBT)
Snap Inc. (SNAP)
TIM Participações S.A. (TSU) 
Hold/Rebalance Short Sale Positions:
Under Armour, Inc. (UAA)
Liberty Broadband Corporation (LBRD.A)
MetLife, Inc. (MET)
Kite Pharma, Inc. (KITE)
Ultragenyx Pharmaceutical Inc. (RARE)
Nektar Therapeutics (NKTR)
The Medicines Company (MDCO)
Jacobs Engineering Group Inc. (JEC)
Ritchie Bros. Auctioneers Incorporated (RBA)
ZTO Express (Cayman) Inc. (ZTO)
Symantec Corporation (SYMC)
PTC Inc. (PTC)
Agrium Inc. (AGU)
The Mosaic Company (MOS) 
Open Short Sale Positions:
Vail Resorts, Inc. (MTN)
Penske Automotive Group, Inc. (PAG)
National Oilwell Varco, Inc. (NOV)
Allergan plc (AGN)
Johnson Controls International plc (JCI)
Flowserve Corporation (FLS)
Alliance Data Systems Corporation (ADS)
Cree, Inc. (CREE)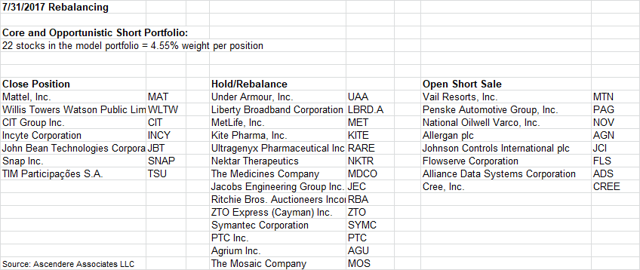 July 2017 Theoretical Returns
Core Model
The theoretical Core Long Model portfolio finished July 2017 up +4.72% versus the 1.93% return of the S&P 500 and the +2.05% return of the SPDR S&P 500 ETF (SPY).
Stocks in the theoretical Core Short Model portfolio finished up +1.62% for the assumed inverse short sale loss of -1.62%.
The theoretical Core Long/Short Model portfolio finished up +3.10% (+4.72% -1.62% = +3.10%). At this time, preliminary July 2017 results for the Barclay Equity Long/Short Index are unavailable.
For the year to date, on a simple cumulative return basis, the Core Long Model is up +10.46% versus the S&P 500 up +9.97%.
Opportunistic Model
The theoretical Opportunistic Model was assumed to move from a 30%/70% cash/stock position to a 100% stock position just prior to the July 13 close. The Opportunistic Model uses the same basket of stocks as the Core Model, but employs an additional cash allocation strategy that is triggered by sudden stock market volatility. The Opportunistic Long/Short Model finished the month up +2.37%. 

Theoretical portfolio returns for July 3 and July 5 reflect an extension of the basket of stocks that were in place as of June 30.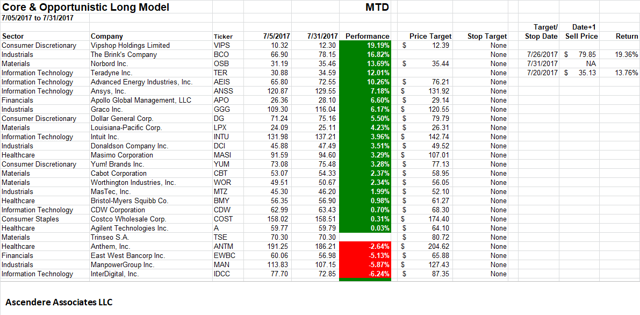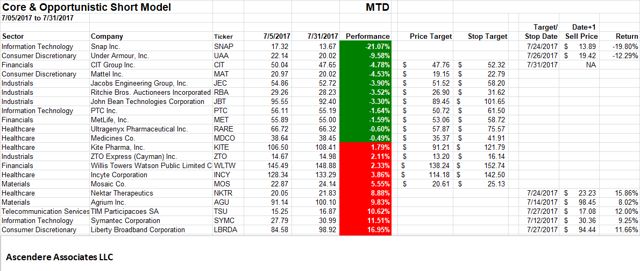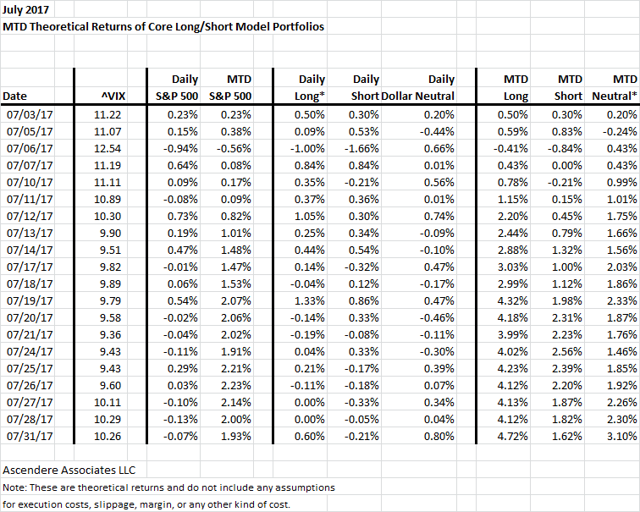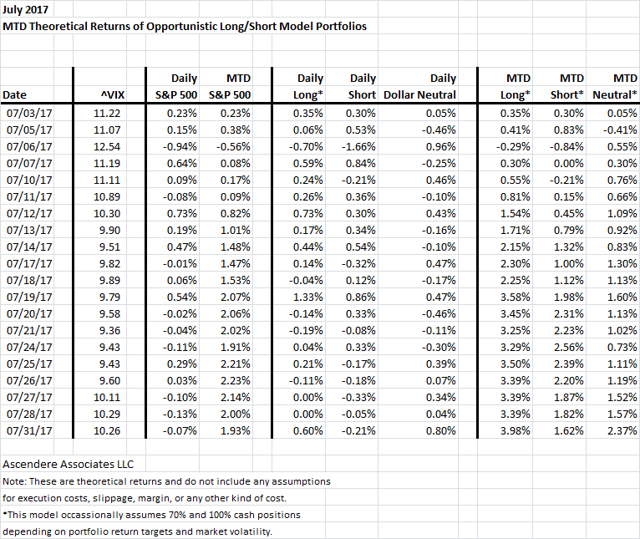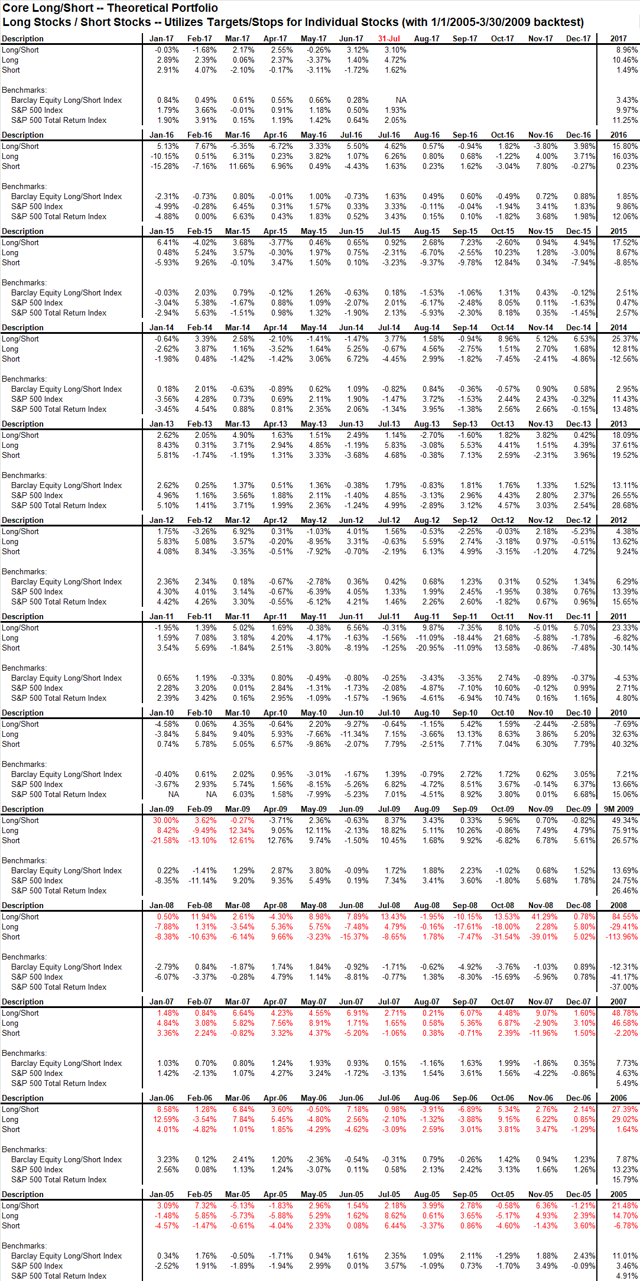 Disclosure: I/we have no positions in any stocks mentioned, and no plans to initiate any positions within the next 72 hours.
Additional disclosure: There are limitations inherent in our theoretical model results, particularly with the fact that such results do not represent actual trading and they may not reflect the impact material economic and market factors might have had on our decision making if we were actually managing client money. Theoretical return data reflect simple cumulative returns (not compound returns) and do not assume the impact of costs such as execution fees, margin fees, slippage, the availability of stocks for short selling, or any other kind of cost. We do our best to provide accurate information in this report, but do not guarantee its accuracy.