This is an update to our model portfolio report, 33 Stocks for August 2017.
Agilent Technologies achieves stock price target
A position in Agilent Technologies, Inc. (A) achieved its price target in the theoretical Core Long Model portfolio and will be assumed closed at the end of trading today, September 1, 2017. The stock is up +8.25% for the month of August.
Rebalancing actions for the theoretical model portfolios
Current stock positions will be assumed to remain in place until we rebalance the theoretical model, which we intend to execute early next week. 
Return data for August 2017
Portfolio returns below are presented on a simple cumulative basis. By not compounding, we make it easier to compare recent return data to older return data. 
Core Model
The theoretical Core Long Model portfolio finished August 2017 down -0.01% versus the +0.09% return of the S&P 500 and the +0.33% return of the SPDR S&P 500 ETF (SPY).
Stocks in the theoretical Core Short Model portfolio finished down -5.06% for the assumed inverse short sale gain of +5.06%.
The theoretical Core Long/Short Model portfolio finished up +5.05% (-0.01% +5.06% = 5.05%). The Barclay Equity Long/Short Index has collected data on 13 hedge funds showing an average +4.62% return for August. (By way of contrast, the index has collected preliminary return data from 406 funds for July so far.)
For the year to date, on a simple cumulative return basis, the Core Long Model is up +10.44% versus the S&P 500 up +10.07%.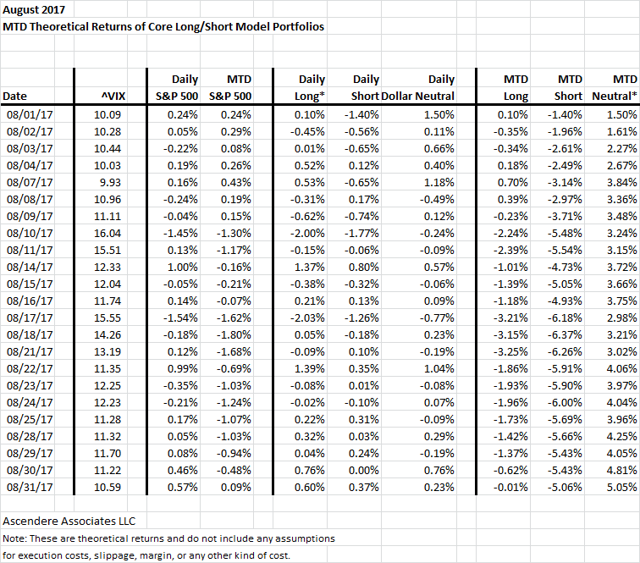 Opportunistic Model
The theoretical Opportunistic Long Model portfolio assumed a 100% cash position at the August 10 close, and will remain that way through at least September 15. Just prior to the close that day, it is expected to assume a 70% stock/30% cash position. The Opportunistic Long/Short Model finished August 2017 up +2.83%.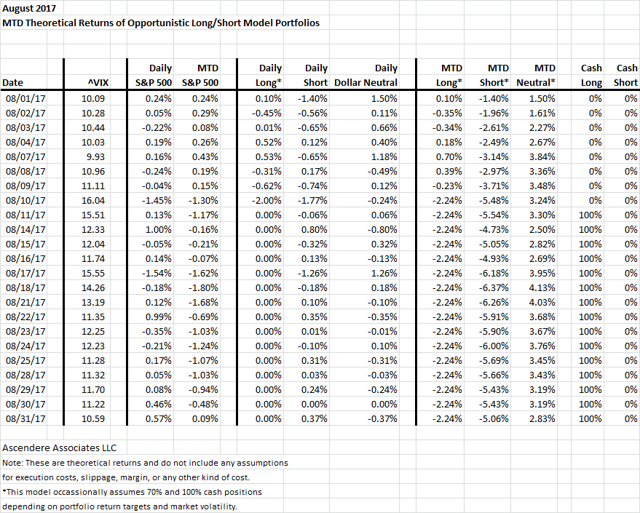 Theoretical long stock returns for August 2017
Our favorite long idea for August was Facebook, Inc. (FB). The stock finished the month up +1.61%.

The best performing stock in the long model for August was Stamps.com Inc. (STMP), reaching a its price target on August 3 and assumed closed the next day for a return of +42.64%.
The worst performing stock in the long model was MasTec, Inc. (MTZ), down 11.69% for the month.
On August 18 we published our deeper look into Dollar General Corp (DG), which was in the model portfolio. We had suspected might be a good long-term idea because it held up very well during the August 10 market volatility. We learned that company is in the process of digesting acquisitions, refurbishments, and store manager training and increased compensation. Once it demonstrates operating efficiencies from all these measures, which most likely won't occur for at least two quarters, we think it could rapidly appreciate to the $80-86 level. Meanwhile, we expect little volatility in the stock either on the upside or on the downside. DG finished the month down -3.46%.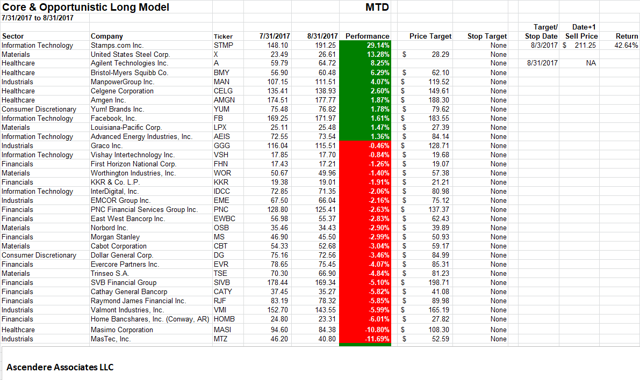 Theoretical short sale stock returns for August 2017
The best short sale idea for August was Nektar Therapeutics (NKTR), which declined -16.35% through August 11 when the position was assumed closed for the inverse short sale gain of +16.35%.
The worst short sale idea for August was Kite Pharma, Inc (KITE). This stock position hit a stop loss on August 14 and was assumed closed the next day a short sale loss of -16.96%. This stock continued to move higher and finished the month up +64.18%. This is not the first time we have seen low-quality stock prices to move higher following a stop loss trigger, so it is worth taking a special look of at these kind of stocks as potential long ideas. 
Disclosure: I/we have no positions in any stocks mentioned, and no plans to initiate any positions within the next 72 hours.
Additional disclosure: As a simple quantitative model based on fundamental rankings, the portfolio models do not take into account rumors or pending M&A transactions. Theoretical return data reflect simple cumulative returns (not compound returns) and do not assume the impact of costs such as execution fees, margin fees, slippage, the availability of stocks for short selling, or any other kind of cost. There are limitations inherent in our theoretical model results, particularly with the fact that such results do not represent actual trading and they may not reflect the impact material economic and market factors might have had on our decision making if we were actually managing client money. We do our best to provide accurate information in this report, but do not guarantee its accuracy.