This is an update to last month's model portfolio report, 33 Stocks for August 2017.
Favorite Long Idea: Yum! Brands, Inc. (YUM)
Our favorite long idea for September 2017 is Yum! Brands, Inc. YUM has been in the model portfolio since July 5. While we try to highlight our favorite ideas from new stocks to the model portfolio, none of them seem as compelling as YUM. This stock has held up well during bouts of recent volatility, the forecast surge in ROIC is far greater relative to other model portfolio stocks.

Long Rebalancing Actions
Just prior to the close as of September 8, 2017, we assume 14 stocks have left the long-only model, 12 have been added, and 19 positions have been rebalanced. This 31-stock theoretical long model assumes a 3.23% weight for each stock. The long model portfolios are composed of high-quality stocks.
Close Long Positions:
Dollar General Corporation (DG)
KKR & Co. L.P. (KKR)
Morgan Stanley (MS)
East West Bancorp, Inc. (EWBC)
Home Bancshares, Inc. (Conway, AR) (HOMB)
The PNC Financial Services Group, Inc. (NYSE:PNC)
Bristol-Myers Squibb Company (NYSE:BMY)
Amgen Inc. (NASDAQ:AMGN)
ManpowerGroup Inc. (NYSE:MAN)
Graco Inc. (NYSE:GGG)
InterDigital, Inc. (NASDAQ:IDCC)
Stamps.com Inc. (NASDAQ:STMP)
Trinseo S.A. (NYSE:TSE)
Worthington Industries, Inc. (NYSE:WOR)

Hold/Rebalance
Yum! Brands, Inc. (YUM)
Evercore Inc. (NYSE:EVR)
First Horizon National Corporation (NYSE:FHN)
Cathay General Bancorp (NASDAQ:CATY)
Raymond James Financial, Inc. (NYSE:RJF)
SVB Financial Group (NASDAQ:SIVB)
Agilent Technologies, Inc. (NYSE:A)
Masimo Corporation (NASDAQ:MASI)
Celgene Corporation (NASDAQ:CELG)
MasTec, Inc. (NYSE:MTZ)
EMCOR Group, Inc. (NYSE:EME)
Valmont Industries, Inc. (NYSE:VMI)
Advanced Energy Industries, Inc. (NASDAQ:AEIS)
Vishay Intertechnology, Inc. (NYSE:VSH)
Facebook, Inc. (NASDAQ:FB)
Norbord Inc. (NYSE:OSB)
Louisiana-Pacific Corporation (NYSE:LPX)
Cabot Corporation (NYSE:CBT)
United States Steel Corporation (NYSE:X)

Open Position
Burlington Stores, Inc. (BURL)
Kohl's Corporation (NYSE:KSS)
LVMH Moët Hennessy Louis Vuitton S.E. (LVMU.Y)
Peabody Energy Corporation (NYSE:BTU)
Allison Transmission Holdings, Inc. (NYSE:ALSN)
Cirrus Logic, Inc. (NASDAQ:CRUS)
YY Inc. (NASDAQ:YY)
CDW Corporation (NASDAQ:CDW)
Alphabet Inc. (NASDAQ:GOOG)
Ansys, Inc. (NASDAQ:ANSS)
Arista Networks, Inc. (NYSE:ANET)
Teck Resources Limited (NYSE:TECK)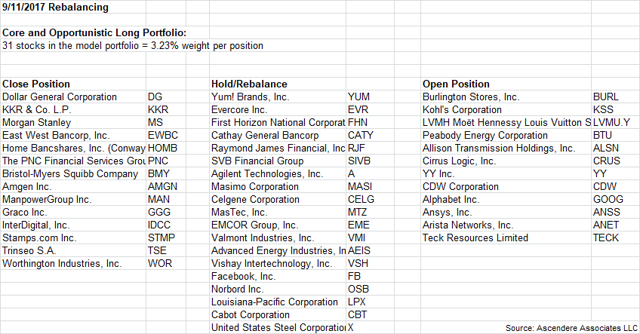 Short Sale Rebalancing Actions
Just prior to the September 8, 2017 close, we assume that 13 stocks have left the theoretical short-sale model portfolios, 11 have been added, and 9 have been rebalanced. This 20-stock theoretical model portfolio assumes a 5.00% weight for each stock.
This short sale model is composed of low-quality stocks, and only tends to work well during periods of high uncertainty or volatility in the market. Low-quality stocks do tend to outperform high-quality stocks during market rallies as the market prices in expectations for a sharp recovery in fundamentals.
Close Short Sale Positions:
Vail Resorts, Inc. (MTN)
Penske Automotive Group, Inc. (NYSE:PAG)
Liberty Broadband Corporation (LBRD.A)
National Oilwell Varco, Inc. (NYSE:NOV)
Allergan plc (NYSE:AGN)
Ultragenyx Pharmaceutical Inc. (NASDAQ:RARE)
Nektar Therapeutics (NASDAQ:NKTR)
The Medicines Company (NASDAQ:MDCO)
Ritchie Bros. Auctioneers Incorporated (NYSE:RBA)
Johnson Controls International plc (NYSE:JCI)
Cree, Inc. (NASDAQ:CREE)
Symantec Corporation (NASDAQ:SYMC)
Agrium Inc. (AGU)
Hold/Rebalance Short Sale Positions:
Under Armour, Inc. (UAA)
MetLife, Inc. (NYSE:MET)
Kite Pharma, Inc. (NASDAQ:KITE)
Jacobs Engineering Group Inc. (NYSE:JEC)
ZTO Express (Cayman) Inc. (NYSE:ZTO)
Flowserve Corporation (NYSE:FLS)
Alliance Data Systems Corporation (NYSE:ADS)
PTC Inc. (NASDAQ:PTC)
The Mosaic Company (NYSE:MOS)

Open Short Sale Positions:
Adient plc (ADNT)
DISH Network Corporation (NASDAQ:DISH)
Voya Financial, Inc. (NYSE:VOYA)
Sage Therapeutics, Inc. (NASDAQ:SAGE)
Agios Pharmaceuticals, Inc. (NASDAQ:AGIO)
Penumbra, Inc. (NYSE:PEN)
Univar Inc. (NYSE:UNVR)
Fluor Corporation (NYSE:FLR)
MACOM Technology Solutions Holdings, Inc. (NASDAQ:MTSI)
Integrated Device Technology, Inc. (NASDAQ:IDTI)
ViaSat, Inc. (NASDAQ:VSAT)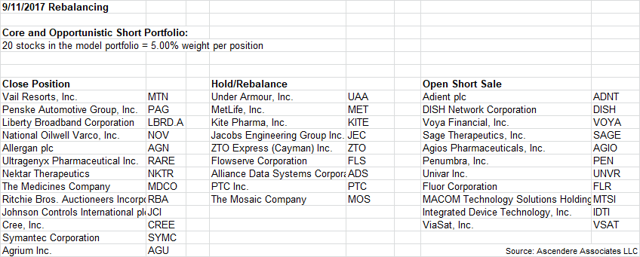 In previous notes, we have provided return data for August 2017 and the first week of September 2017.
Disclosure: I/we have no positions in any stocks mentioned, and no plans to initiate any positions within the next 72 hours.
Additional disclosure: There are limitations inherent in our theoretical model results, particularly with the fact that such results do not represent actual trading and they may not reflect the impact material economic and market factors might have had on our decision making if we were actually managing client money. Theoretical return data reflect simple cumulative returns (not compound returns) and do not assume the impact of costs such as execution fees, margin fees, slippage, the availability of stocks for short selling, or any other kind of cost. We do our best to provide accurate information in this report, but do not guarantee its accuracy.