This is an update to our latest model portfolio report 36 Stocks for November 2017. A more detailed report is available here. 
New Actions Required
*We intend to rebalance the model portfolio just prior to the close tomorrow, November 30. If these stocks pass our ranking process, the positions will be retained in the model portfolios at new initial equal weights.

Sell Side Upgrades and Downgrades Today
Long model: ITW price target raised to $190 from $180 and maintained Buy.
Long model: Arista Networks, Inc. (ANET) price target raised to $250 from $210 and maintained Neutral.
Also of Note
The Nasdaq (QQQ) sold off -1.27% today, presumably on "profit taking."
While 7 from the original 10 Tech and Materials stocks in our long model were hard hit, the overall Core Long Model portfolio finished +0.46% higher today.
MKS Instruments Inc. (MKSI) was the worst performer in the long model today, down -8.75%. 
Norfolk Southern Corp. (NSC) was the best performer today, up +4.80%.
Return Data
For the month to date the Core Long Model portfolio is up +5.03% on a simple cumulative return basis (sum of daily returns). This compares to the S&P 500 up +2.01%, the S&P 1500 Composite up +2.08%, and the Russell 2000 up +2.66%.  The Core Long/Short Model is up +5.56%.

Presaging Major Sell Side Analyst Actions
MTD 12 stocks in the long model have received 34 positive price target revisions, and 6 stocks have received 8 ratings upgrades from sell side firms, led by Facebook, Inc. (FB).
MTD 5 stocks in the short sale model have received 17 negative price target revisions, and 5 stocks have received 8 ratings downgrades, led by Under Armour, Inc. (UAA).
Latest Model Portfolio Stock Returns and Price Targets
Stock Selection Criteria
Our criteria for selecting stocks in these model portfolio strategies, which heavily weight proxies for cash flow growth and ROIC, include the following:
Relative Value
Operating Momentum
Consensus Estimate Revision Momentum
Fundamental Quality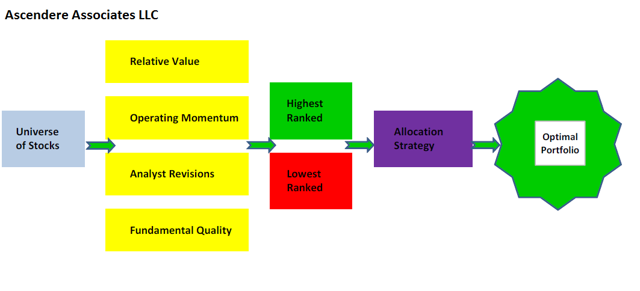 We rebalance our model portfolios every month and have been tracking long-only and long/short theoretical daily returns since March 31, 2009 (up +474.4% and 378.5% through October 31, 2017, respectively).
These models also tend to generate some solid ideas for 12-month holding periods (up an average +25.60% versus an average of +15.87% for the S&P 500 Index since December 31, 2015).