This is an update to our model portfolio report 35 Stocks for December 2017. 
New Actions Required:
Sell Side Upgrades and Downgrades Today
Also of Note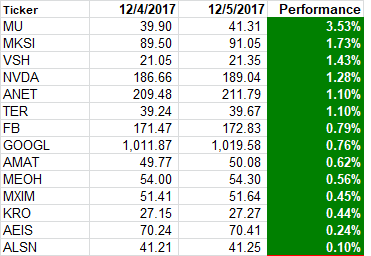 The short sale model performed well today, with stocks in the overall short model declining -1.03% for the assumed inverse short sale daily gain of +1.03%. Portola Pharmaceuticals, Inc. (PTLA) is Goldman Sachs top biotech pick with a $75 price target, and seems to be the favorite idea of a number of Seeking Alpha readers as well.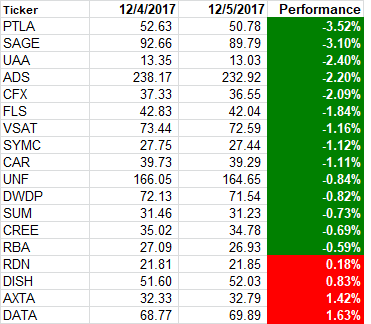 Teaching Goldman Sachs How to Pick Stocks
In June 2017 Goldman Sachs (GS) recommended a "new strategy" of investing in companies with improving returns on capital. My LLC, Ascendere Associates, has been publishing such a strategy since 2009.
Goldman calls its new strategy the GS Sustain 50. I think I will call mine the AA+ Super Sustain 25. "AA" for Ascendere Associates. "25" for being less bloated and more focused. The "+" for being awesome and tip top. What do you think? We have a winner, I do believe.
Return Data
For the MTD December, the Core Long Model is down -2.46% on a simple cumulative return basis (sum of daily returns). This compares to the S&P 500 down -0.68%, the Nasdaq down -1.63%, and the Russell 2000 is down -1.78%.  The Core Long/Short Model is down -2.36%.
Presaging Major Sell Side Analyst Actions in November 2017
In November, 12 stocks in the long model have received 36 positive price target revisions, and 6 stocks have received 8 ratings upgrades from sell side firms, led by Facebook, Inc. (FB).
In November, five stocks in the short sale model have received 17 negative price target revisions, and 5 stocks have received 8 ratings downgrades, led by Under Armour, Inc. (UAA).
Latest Model Portfolio Stock Returns and Price Targets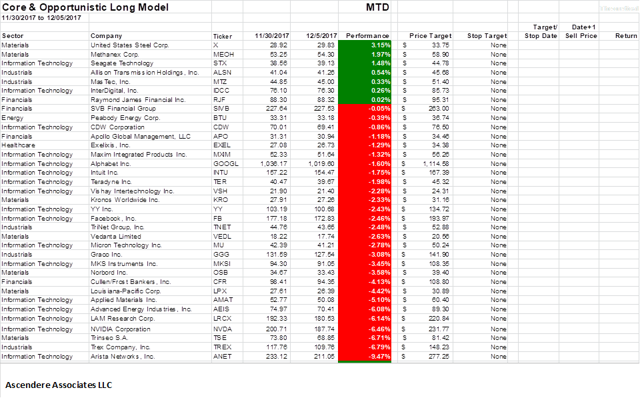 Stock Selection Criteria
Our criteria for selecting stocks in these model portfolio strategies, which heavily weight proxies for cash flow growth and ROIC, include the following:
Relative Value
Operating Momentum
Consensus Estimate Revision Momentum
Fundamental Quality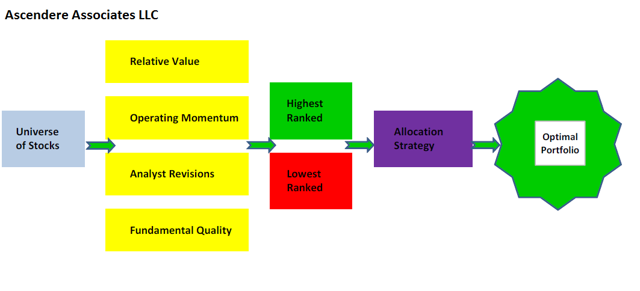 We rebalance our model portfolios every month and have been tracking long-only and long/short theoretical daily returns since March 31, 2009 (up +503.7% and 407.4% through November 30, 2017, respectively).
These models also tend to generate some solid ideas for 12-month holding periods (up an average +25.88% versus an average of +16.24% for the S&P 500 Index since December 31, 2015, and up an average of +13.11% versus an average of +9.06% for the S&P 500 since December 31, 2014).