This is an update to our model portfolio report 35 Stocks for December 2017. 
New Actions Required:
Short sale model: Close position in Radian Group Inc. (RDN) (stop loss).
Opportunistic Short Sale Model portfolio: Assumed a 100% cash position for all stocks (portfolio stop loss as of the December 8 close).
Sell Side Upgrades and Downgrades Today
Also of Note
Graco Inc. (GGG) announced a 3-for-1 stock split effective December 27, 2017 for shareholders of record as of December 18, 2017.
Return Data
For the MTD December, the Core Long Model is down -0.37 % on a simple cumulative return basis (sum of daily returns). This compares to the S&P 500 up +0.15%, the Nasdaq down -0.49%, and the Russell 2000 down -1.45%.  The Core Long/Short Model is down -6.09%.
Presaging Sell Side Analyst Actions in December 2017
MTD five stocks in the long model have received five positive price target revisions, and three stocks have received three ratings upgrades from sell side firms.
| | | | |
| --- | --- | --- | --- |
| Date | Company | Ticker | Action |
| 12/7/2017 | Lam Research | (LRCX) | Nomura maintains $215 price target and upgrades to Buy from Neutral |
| 12/5/2017 | Applied Materials | (AMAT) | Wells Fargo initiates with $65 price target and Outperform. |
| 12/5/2017 | Facebook | (FB) | Evercore ISI initiates with $225 price target and Outperform. |
| 12/5/2017 | Peabody Energy | (BTU) | Jefferies raises price target to $43 from $38 and maintains Buy. |
| 12/1/2017 | Arista Networks | (ANET) | Deutsche Bank raises price target to $250 from $225 and maintains Buy |
MTD one stock in the short sale model has received a negative price target revision, and two stocks have received two ratings downgrades.
| | | | |
| --- | --- | --- | --- |
| Date | Company | Ticker | Action |
| 12/7/2017 | Flowserve | (FLS) | Goldman downgrades to Sell from Neutral with a $37 price target. |
| 12/1/2017 | Axalta Coating | (AXTA) | Vertical Research reduces price target to $31 from $37 and downgrades to Hold from Buy. |
Low-Quality Stock Rally
Low-quality stocks in the short sale model have received 13 positive price target revisions and 3 ratings upgrades, led by Sage Therapeutics (SAGE) with nine positive price target revisions.
SAGE was stopped out and was assumed closed in the Core Short Sale Model portfolio on December 8 for an assumed -81.08% loss. 
The rally in the short sale model was not reserved to SAGE, thought it was by far leading cause for the MTD short sale loss. As indicated prior to the market close on December 8, the accumulated loss in the Opportunistic Short Sale Model caused it to assume a 100% cash position at the December 8 close and lock in a short sale loss of -5.72% for December.

Latest Model Portfolio Stock Returns and Price Targets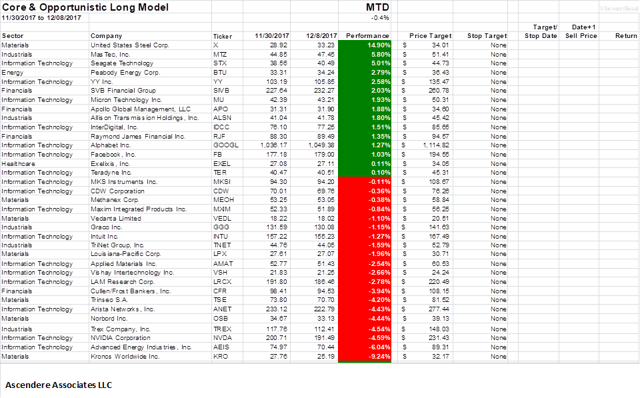 Stock Selection Criteria
Our criteria for selecting stocks in these model portfolio strategies, which heavily weight proxies for cash flow growth and ROIC, include the following:
Relative Value
Operating Momentum
Consensus Estimate Revision Momentum
Fundamental Quality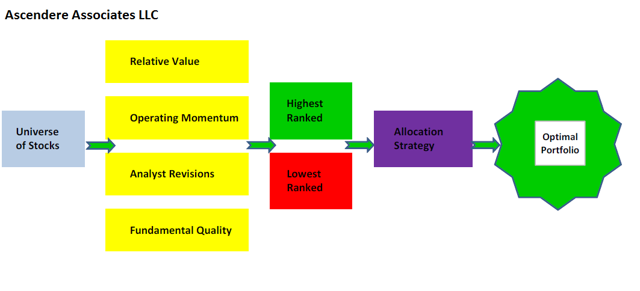 We rebalance our model portfolios every month and have been tracking long-only and long/short theoretical daily returns since March 31, 2009 (up +503.7% and 407.4% through November 30, 2017, respectively).
These models also tend to generate some solid ideas for 12-month holding periods (up an average +25.88% versus an average of +16.24% for the S&P 500 Index since December 31, 2015, and up an average of +13.11% versus an average of +9.06% for the S&P 500 since December 31, 2014).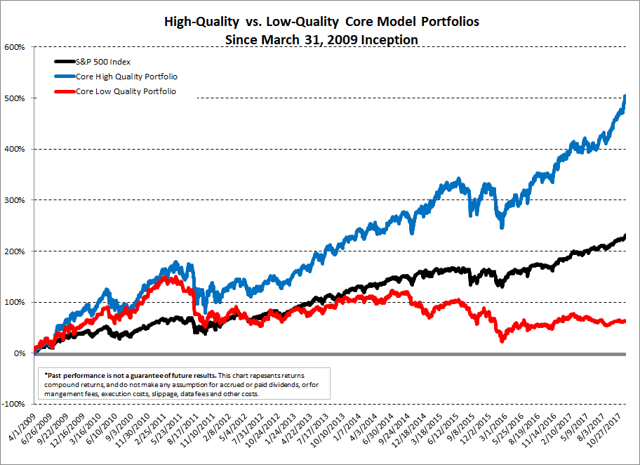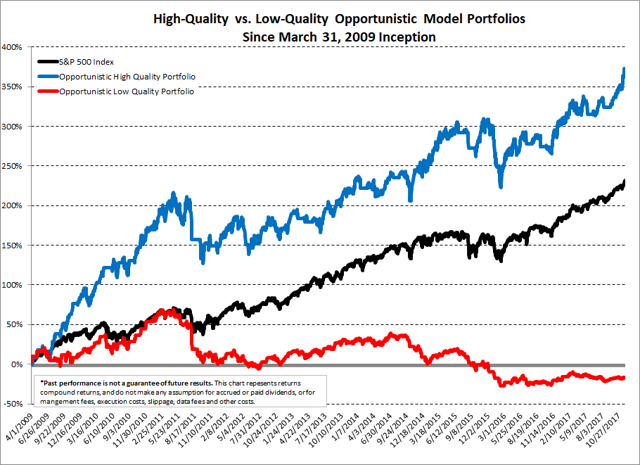 Disclosure: I/we have no positions in any stocks mentioned, and no plans to initiate any positions within the next 72 hours.
Additional disclosure: As a simple quantitative model based on fundamental rankings, the portfolio models do not take into account rumors or pending M&A transactions. Theoretical return data reflect simple cumulative returns (not compound returns) and do not assume the impact of costs such as execution fees, margin fees, slippage, the availability of stocks for short selling, or any other kind of cost. There are limitations inherent in our theoretical model results, particularly with the fact that such results do not represent actual trading and they may not reflect the impact material economic and market factors might have had on our decision making if we were actually managing client money. We do our best to provide accurate information in this report, but do not guarantee its accuracy.