Since early October, Apple Inc.'s (OTC:APPL) retrenchment from $705 per share to a current $586 has shaken the faith of many enthusiasts, and in some cases, shaken the enthusiasm for many participants for the market as a whole.
Based on current consensus estimates, we believe Apple is trading at the low end of its historic range. As you can see from the chart below, Apple P/E ratio on current earnings has declined asymptotically to about 11.6 times.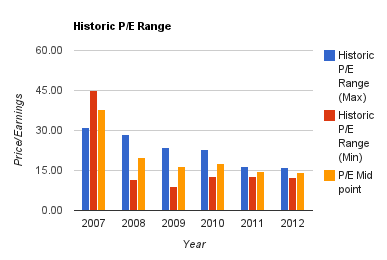 At current prices the shares are trading below their mid point p/e for the last two years. They are also trading below the SP 500 market multiple.
If the shares were to trade at the midpoint of both historic multiples 14.2 times (17.10 median) and median consensus estimates $49.75 upcoming year and and $57.95 for the following, then the shares should trade at between $800 and $850, and offer a +40% return, even before the current $2.65 dividend. So yes the shares look cheap.
Disclosure: I have no positions in any stocks mentioned, and no plans to initiate any positions within the next 72 hours.