Today's Pair Trade: Long JPM, Short BAC

Fundamental Commentary
Everyone knows that the looming question surroding any financial company these days is regulatory reform. Congress has been heavily debating the correct way to limit risk-taking and "predatory" by financial instutitions amid pressure to help prevent another financial collapse that we saw in 2009.
Representative Barney Frank and Senator Christopher Dodd have self-imposed a goal of delivering the final bill to President Obama by July 4th. Whether or not this goal is attained remains to be seen.
For the purposes of this analysis, let's assume that some flavor of financial regulation is ultimately passed by Congress and signed by President Obama into law.
Consider the fact that it is very likely that the financial reform bill will affect Bank of America, JPMorgan, and other financial instutitons in a nearly identical form. Their operations are nearly identical and thus the impact caused by financial reform should also be nearly identical. (The only fortunate ones in this matter seem to the hedge funds, who are garnering support for an exemption from some of the provisions in the bill.)
Yet, JPMorgan has, of late, underperformed Bank of America in trading. This underperformance should correct itself as investors begin to understand the effects of the financial regulation bill.
What's more is that investors are pricing in that the "Volker Rule" (which prevents proprietary trading by banks) will be included in the final bill. However, there is some talk that this provision may be tamed down, which would be favorable for JPMorgan as it generates hefty profits from prop trading. Last quarter, JPM generated about ~$1.1 billion from trading (which includes prop trading).
Statistical Commentary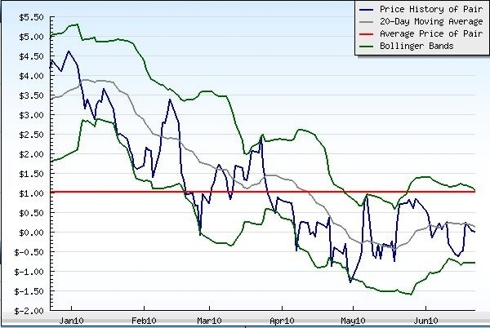 As you can see from the model, shares of JPM have trailed BAC's as of late. Although the pair did approach the 20-day MA, it has since retreated.
The current price of the pair is in the 53.66% percentile and is 1.03 standard deviations from the mean.
Our pair model puts the target move at 5.79%. If you believe in the principles of mean convergence, you can predict that this pair will return to a value closer to the mean, meaning the Long will go up and/or the Short will go down.
Take a look and see if it is something that may interest you.
Good luck,
Phil
phil@catalystcorner.com

The graphical representation of the this pair was generated from the Pair Trading Tool at Catalyst Corner
. 
Both the Pair Tool and site membership are completely FREE.

Catalyst Corner is a financial website that provides FREE in-depth researchs on comapnies with significant milestones or "catalysts" coming up in the near-term. 

Disclaimer: The information disseminated by Catalyst Corner ("Catalyst", "us", or "we") is for informational purposes only, and is neither a solicitation to buy nor an offer to sell securities. We do undertake or purport to render any investment advice or recommendations for the buying and selling of securities. 
Disclosure:
No positions