Pair Trade: Long BBL, Short BHP
Fundamental Commentary
Nothing spectacular here with regards to the fundamentals, other than the two stocks themselves.
Let's first make sure we understand what exactly we are getting ourselves into:
-
BHP Billion
is a diversified natural resources companies that engage in exploration, production, development, and marketing of oil and gas properties. 
-
BBL
is the ADR for two shares of BLT.L (the UK-based half of the Dual Listed Company, denominated in Pence)
-
BHP
is the ADR for two shares of BHP.AX (the Australian-based half of the Dual Listed Company, denominated in Australian dollars)
The
Dual Listed Company
has the same board, employees, and property throughout. It is as if they are the same company. 
Dividends are declared in USD and shareholders of both equities receive the same dividend with respect to their trading currencies. The ADRs get twice the declared dividend (NYSEARCA:
USD
) per share.
Statistical Commentary
What makes this a great trade is the technicals. This pair has strongly diverted from the mean (for a reason mostly unknown to me, it may have something to do with currency fluctuations, but I can't say for certain).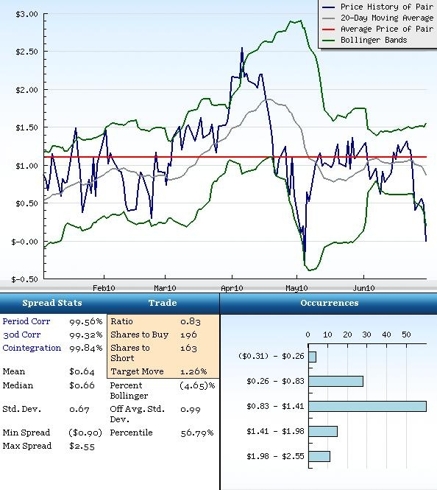 This is exactly what you look for in a pair: high correlation and co-integration, similar assets, but dissimilar valuations.
These equities essentially represent the exact same company, yet their valuations have been all over the place. 
If you look back in May 10, you can see a similar situation where it made sense to go Long BBL, Short BHP. The pair converged in about a week and a half.
It seems that the pair is back to a similar level that it was in May 10 -- and we expect the same convergence to occur.
If you believe in the principle of mean convergence, it is reasonable to expect that this pair will return to a level more in-line with the mean.
Good luck! If you'd like to see the full version of this pair, visit our 
Pair Tool (completely free)
and gives a really nice statistical, fundamental, and graphical output.
Happy trading,
Phil
phil@catalystcorner.com
The graphical representation of the this pair was generated from the Pair Trading Tool at Catalyst Corner
.
Both the Pair Tool and site membership are completely FREE.

Catalyst Corner is a financial website that provides FREE in-depth researchs on comapnies with significant milestones or "catalysts" coming up in the near-term. 

Disclaimer: The information disseminated by Catalyst Corner ("Catalyst", "us", or "we") is for informational purposes only, and is neither a solicitation to buy nor an offer to sell securities. We do undertake or purport to render any investment advice or recommendations for the buying and selling of securities. 
Disclosure:
No positions