Pair Trade: Long GOOG, Short AAPL
Fundamental Commentary
Nobody likes to short Apple, right? Well - this might be a good time. There's been a lot of hype surronding Apple's concurrent releases of the iPad and the iPhone 4G, but it may start to fizzle.
Google is starting to catch up to Apple in the mobile market, and it may not be long before they are considered even. And we all know what Apple is without the iPhone..
Just this May, the NPD Group announced that, in the first quarter of 2010, there were more phones running Android than iOS (Apple's mobile OS). 
(Blackberry - 36%)
Android - 28%
iOS - 21%
This trend is occurring for two reasons:
1.
Android is an open-source OS:
Phone makers are loving this - why pay for an operating system, or spend the time/money developing your own? People have embraced Android (for good reason) so there is little reason not to use it from the manufacturer's point of view. It's pretty safe to assume that there are a lot more Android handsets on the way (that aren't made by Motorola or HTC)
2.
AT&T's networks are less than impressive:
What good is the iPhone if you can't get service? My guess is that many people have decided to give up the lure of the iPhone in favor of more reliable service on Verizon. Sometimes you just need to make a call; and at that point, who cares if your phone has "FaceTime" or "Retina display?"
It is true that Verizon has announced that they will be carrying the iPhone come January - but my guess is that by that point there will already be phones on the market that are quite comparable to the iPhone. The Droid X, available in mid-July is a good start.
Statistical Commentary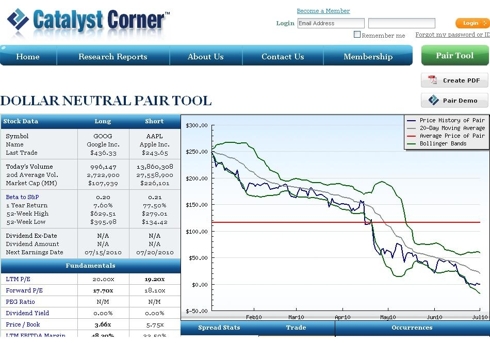 Another pretty good looking graph we got here. The pair is trading in the 2.09% percentile and is 2.65 standard deviations from the mean.
The correlation isn't the best, with a period correlation of 57.04% - but I still think the space is close enough to make the pair worthwhile.
The fundamentals also look pretty good:
P/E: 17.70 vs 18.10
Price/Book: 3.66 vs 5.75x
S&P Beta: 0.20 vs 0.21
What's interesting is that Google has returned only 7.60% this year, while Apple has given 77.50%. There have been a few articles in the WSJ recently that have picked up on this, and have mentioned that people are starting to get bullish on Google. One article put a target of around $700.
If you believe in the principle of mean convergence, it is reasonable to expect this pair will return to a level closer to the mean. Our pair model puts the target move at 36.13%.
Good luck! If you'd like to see the full version of this pair, visit our Pair Tool (completely free) and gives a really nice statistical, fundamental, and graphical output.

Happy trading,
Phil
phil@catalystcorner.com

The graphical representation of the this pair was generated from the Pair Trading Tool at Catalyst Corner. Both the Pair Tool and site membership are completely FREE.

Catalyst Corner is a financial website that provides FREE in-depth researchs on comapnies with significant milestones or "catalysts" coming up in the near-term. 

Disclaimer: The information disseminated by Catalyst Corner("Catalyst", "us", or "we") is for informational purposes only, and is neither a solicitation to buy nor an offer to sell securities. We do undertake or purport to render any investment advice or recommendations for the buying and selling of securities. 
Disclosure:
No positions