This is an update on the pair trade (Long CMCSK, Short CMCSA) that I posted yesterday.

To start, this pair still looks great and convergence has already started. But why?
I was able to discern that there was a very large seller of CMCSK, for whatever reason. 
Some large holders of CMCSK (for Bloomberg users, CMCSK Equity HDS GO):
- Clearbridge Advisors
- Franklin Templeton
- Capital Research Global
- Lazard
- Eagle
It's likely that one of the top 20 holders decided to unwind a very large portion of this equity, sending the stock down disproportionately to CMCSA.
Jefferies & Co. sold  around 10M shares on behalf on this seller, but it looks as if the selling is now over. The pair has already begun to converge and I expect that it will continue.
Long CMCSK, Short CMCSA

The original note on the pair is located here: 
https://seekingalpha.com/instablog/529007-catalyst-corner/80499-pair-trade-long-comcast-k-short-comcast-a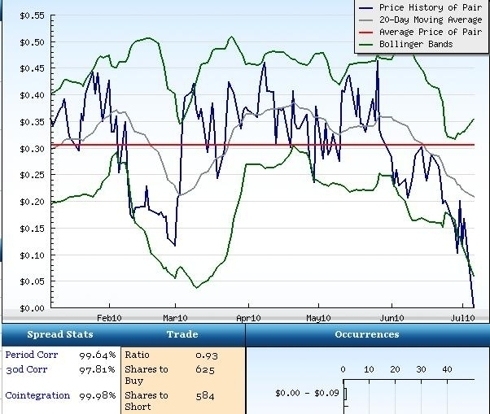 Good luck! If you'd like to see the full version of this pair, visit our Pair Tool (completely free) and gives a really nice statistical, fundamental, and graphical output.

Happy trading,
Phil
phil@catalystcorner.com

The graphical representation of the this pair was generated from the Pair Trading Tool at Catalyst Corner. Both the Pair Tool and site membership are completely FREE.

Catalyst Corner is a financial website that provides FREE in-depth researchs on comapnies with significant milestones or "catalysts" coming up in the near-term. 

Disclaimer: The information disseminated by Catalyst Corner("Catalyst", "us", or "we") is for informational purposes only, and is neither a solicitation to buy nor an offer to sell securities. We do not undertake or purport to render any investment advice or recommendations for the buying and selling of securities.
Disclosure:
No positions