Phreesia: A Smart Investment Against Pandemic
Please Note: Blog posts are not selected, edited or screened by Seeking Alpha editors.
Summary
Outstanding Applications Against Covid-19.
3rd Medical Company by Market Cap.
Put/Call Ratios & Insider Trading.
Strong Buy from Analysts.
Introduction
We have seen many pharmaceutical & Drug companies that are working to eliminate possible effects of COVID-19 in the last year. There are still many institutions creating Joint Ventures to find optimum solutions for the pandemic if they are not capable of generating solutions on their own. However, this article will not be analyzing what these companies were figuring out against Pandemic environment and COVID-19 because there is something unique about the company which is the leading actor of this article. Besides, Pandemic reminds us how everything must be going to eliminate possible problems during storage of drugs, management of hospitals and operations of supply chain systems within the emergency situations. This is the point in which Phreesia takes place to manage each steps of the system within the health chain of any institutions in relation to Hospitals or Emergency services.
Customized Patient Intake System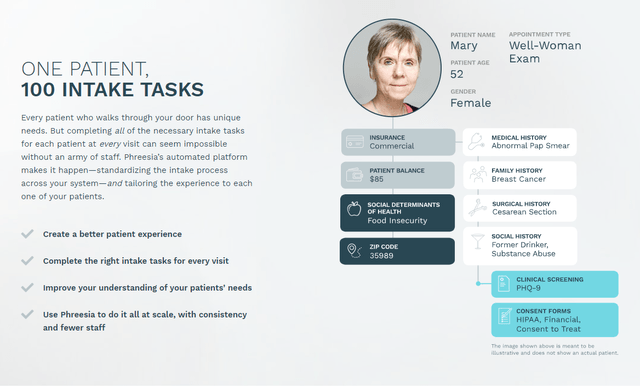 Leaders, managers or even presidents have always pointed out that there must a social distance among patients within Hospitals and their cases are needed to be evaluated one by one to maintain high level of service quality in the pandemic. Therefore, Phreesia has developed a cutting-edge management system allowing doctors to evaluate each patient by their disease, age, gender, or even medical tendencies towards diseases. One of the companies benefitting from Phreesia's patient identification system is Memorial Health System.
Memorial Health System adopted Phreesia's contactless check-in solutions to diminish possible interactions between patients and doctors. Since it is believed that Covid-19 is infectious through cough or physical interactions, Phreesia's zero contact intake system is playing a crucial role to decrease interactions and increase patients safety. Furthermore, zero contact patient intake system, which was launched by Phreesia, might be a requirement for all Hospitals within the USA as long as relevant permits are taken by Phreesia. Therefore, there is a huge opportunity for Phreesia to develop new efficient systems in Medical industry.
Market Capitalization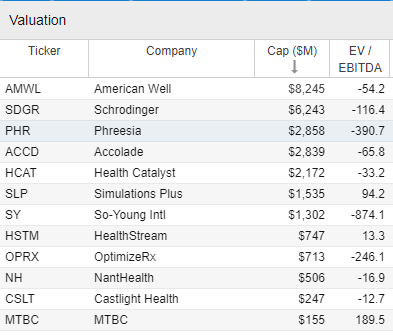 (Source = StockRover)
Phreesia is one of the biggest companies whose Market Cap is $2,858 placing it in 3rd level within its competitors. American Well and Schrodinger are the biggest players of the industry but what differentiates American Well from Schrodinger is about its TeleHealth application which might be comparable with Phreesia's Zero Contact. This year has been a massive year for companies developing efficient software that takes burden from Hospital Management Team or Doctors. Therefore, it would be a logical benchmark to compare Growth rates of companies written below in the graph. Phreesia's cutting-edge applications which have been adopted by Hospitals and Health Professionals allowed the company to increase its sales by 17.9%, whilst the sales of American Well has not been well in this year. Thus, it can be clearly stated that Phreesia has not only acquired a huge Market Cap with its applications, but also increase its sales that place PHR to 4th level.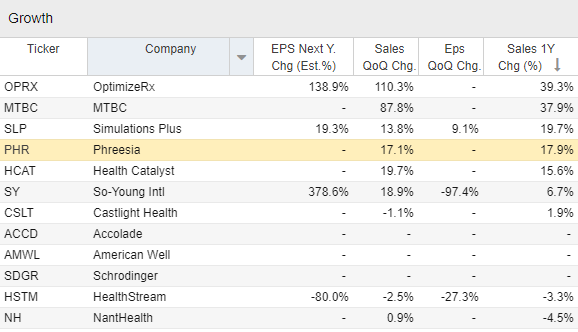 (Source = StockRover)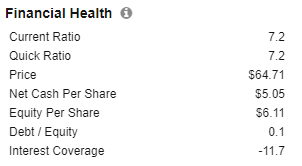 (Source = StockRover)
According to my calculations, Phreesia has a strong financial ratio with higher current ratio and lower debt/equity rates. Phreesia has enough capital to compensate its short-term debts with its total current assets. This is an important factor for a company that has growth plans in the future. Current Market Capitalization and Growth rates show us that Phreesia might come to the stage with outstanding projects and differentiate itself from its competitors. Phreesia's Financial ratios are defining that the company is strong enough to accomplish big projects.
The company has outstanding capital to compensate short term debts with its cash. We understand this by checking current ratio, which is 7.2. This ratio proves that Phreesia has no obligations which will be happened in the short period of time. Phreesia's Quick Ratio also proves that the company has remarkable liquid assets to cover its short-term liabilities. The Quick Ratio of 7.2 points out that Phreesia has a great advantage to fulfill its inventory, which also proves that there is a strong supply chain mechanism within the company.
Put/Call Ratios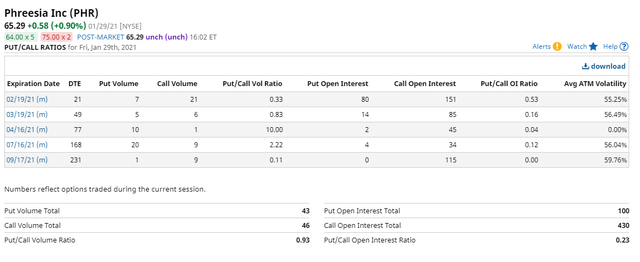 (Source = BarChart)
Put/Call ratios are one of the leading indicators to forecast if the stock tends to be higher or not. Call positions, that are open for the next 2 months, are much higher than Put options, which means that there might be a tendency to take the stock price up in the next 2 months. However, options that will be expired within 8 months were filled for Put instead of Call. This might provide us various messages about current and future positions of Pandemic or demand towards Health Industry. In my opinion, as vaccination processes were adopted by almost all countries in the world, it might decrease the demand towards Phreesia's products and services and therefore this point of view has been reflected into Put/Call options. These options are being fluctuated mostly by hedge funds, which means that Hedge funds might be staying away to obtain Phreesia. Therefore, I check Insider Actions in my next analysis.
Insider Trading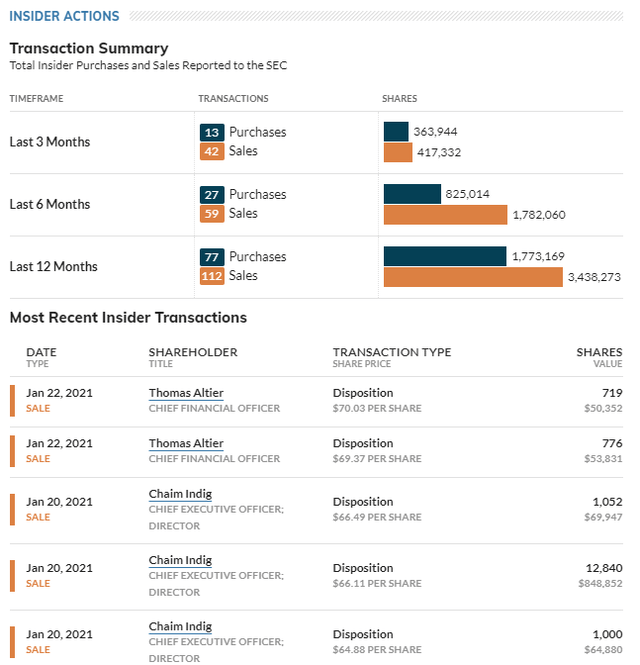 (Source = MarketWatch)
After having analyzed Put/Cal Ratio to forecast where the stock might be falling into, we need to check if there is a considerable amount of Insider Trading actions on the stock. According to the chart above, it can be easily found out that executive officers in Phreesia are collecting shares day by day. In 6 Months, 1.782.060 shares have been acquired while 417.332 shares have been acquired in 3 months. This proves that Phreesia has a keen management team since there are standing behind their company. In some unreliable companies, executives tend to sell shares once they have been obtained by retail traders. If there is a bubble in the stock prices, selling or shorting stocks tend to be higher but this is not observed In Phreesia. Therefore, it might be logical to keep in mind this stock.
Analyst Recommendations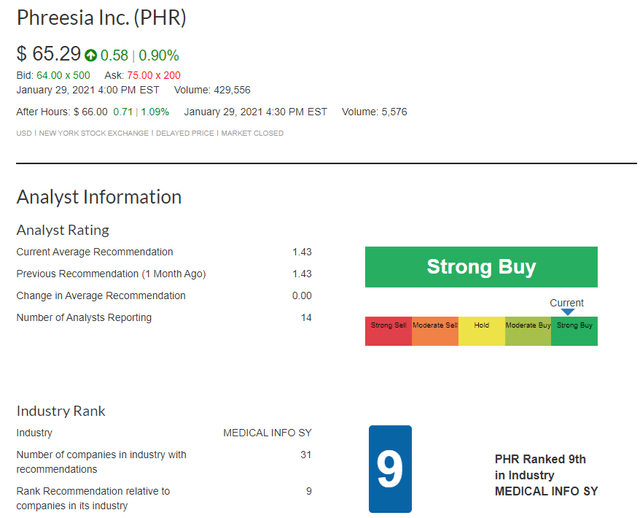 (Source = QuoteStream)
Phreesia is ranked at 9th place within Medical Industry Companies. There are 31 companies in Medical industry and being 9th among 31 companies is a suitable result for Phreesia. It gets "Strong Buy" from analysts, meaning that there are some expectations from Phreesia by analysts. These people are investors, traders, or Hedge fund managers so once they strongly recommend a stock, huge volumes are expected to be seen soon due to high level of positions being taken. Therefore, if you forecast that there might be good news about Medical Industry in the future, you should have a look at Phreesia and make some research about it. Besides, Phreesia is taking 3rd position by Market capitalization rankings, so it will get attention easily once demand towards medical industry is occurred.
Final Words
Obviously Phreesia impressed me with its cutting-edge technologies and unique approach towards Medical industry. However, I have some concerns if these pandemic trend keeps going in the future due to the vaccination that has been started already. Therefore, I cannot say that it is a solid "buy" right now. However, it can be easily said that Phreesia is a reliable company for long term investors whose investment style looks like Warren Buffett. Phreesia filled in all empty gaps in my checkmark and these checkmarks are reliable financial ratios, Insider actions within the company and overall financial health of the company. As always, do your due diligence on any stock before buying or selling, Happy investing!
Analyst's Disclosure: I/we have no positions in any stocks mentioned, and no plans to initiate any positions within the next 72 hours.
Seeking Alpha's Disclosure: Past performance is no guarantee of future results. No recommendation or advice is being given as to whether any investment is suitable for a particular investor. Any views or opinions expressed above may not reflect those of Seeking Alpha as a whole. Seeking Alpha is not a licensed securities dealer, broker or US investment adviser or investment bank. Our analysts are third party authors that include both professional investors and individual investors who may not be licensed or certified by any institute or regulatory body.