What Is Theme-Based Investing?
Dec. 23, 2020 12:52 PM ET
Please Note: Blog posts are not selected, edited or screened by Seeking Alpha editors.
Summary
Understanding Theme-Based Investing.
Why to invest in Theme-Based Investing?
Benefits of Theme-Based Investing.
Risk associated with Theme-Based Investing.
Brief Overview:
Imagine, one fine Sunday evening you decide to cook a surprise dinner for your family. Now, having decided upon cooking, the next point of contention is, what to cook? Say, after dwindling between various options, you make up your mind and decide to bake a pizza for your family.
Now, having decided on the menu, the next important step is to freeze on the recipe for pizza. So, after due diligence, we decide on the recipe and also list out the ingredients like dough, canola oil, salt, sugar, tomato sauce, chopped vegetables, mozzarella cheese, other pizza toppings, etc. And most importantly a pizza oven to bake the pizza into.
So, if I were to compare the whole concept of cooking dinner to the concept of Theme based Investing, then we can say that baking a pizza is like selecting the theme or goal in which one wants to invest. And all the ingredients of the pizza, are like all the stocks which are important to make the investment into that particular category/theme complete.
What is Theme-Based Investing?
Theme-based investing is sometimes also referred to as Goal-based Investing. The basic premise here is to invest in stocks/shares of the company which are going to be an important ingredient for the growth or success of that particular theme or goal.
The General tendency of every human being is to invest their money or energies, into something which they understand or something which they can relate to. Similarly, theme-based investing is also an investment approach through which you analyse the micro and macro environment and make your investment decisions based on that. And most importantly invest in companies which one believes in.
Theme based investing is different from traditional investing on the simple fact that in the traditional form of investing, the investor would invest based on the facts and results. But, in the case of theme-based investing the investment is based on ideas and thought process. Here more than the past results, the future potential is given importance. To put things into perspective, an investor might be bullish on the idea of "Digital India" and willing to invest in the companies that will be active contributors to the growth of the idea of Digital India. So, we can see here that the investment is based on the idea and expected future potential of the particular theme.
How to create themes for Investment?
Although the concept of theme-based investing sounds very simple and easy to implement, but to create a theme for investment purpose is a task in itself. The fund managers need to select the theme which is expected to grow and is likely to gain prominence in the future. Sometimes certain themes might be suitable for the current environment but might not have similar attractiveness in the future. So, selecting a theme which could suffice in the long term is also of prime importance to fund manager.
Understanding a Theme
Let us try and understand the concept of theme-based investing what the help of a simple example.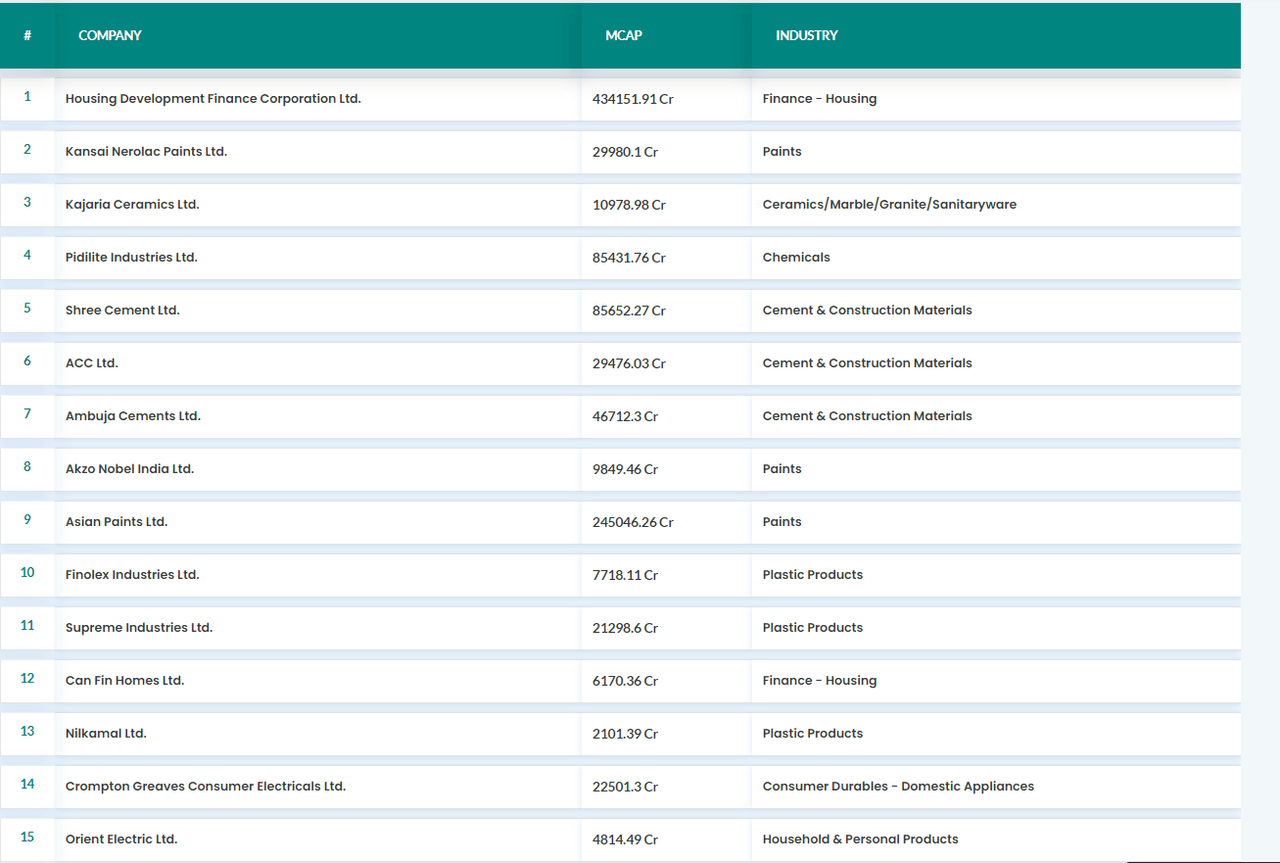 Image: Companies in "Housing India Theme" (Courtesy: portal.tradebrians.in)
Now, if we carefully look at the image above, it can be seen that the companies selected in the theme of 'housing India' are the ones that are expected to be the major contributors to the housing and infrastructure development of India. And moreover, India being a nation that is fast moving in the area of growth and development, the housing theme is the one which is likely to be investor favourite. This theme includes companies from various industries/sectors like housing Finance, paints, chemicals, cement, plastic products, consumer durables, household & personal products, etc.
Benefits of Theme-Based Investing:
Traditional investing is sometimes referred to as value investing i.e., you wait for a fundamentally strong companies share price to go to the value buy zone and once it does, you just park your investments there. But, in the case of theme-based investing, the simple premise is to invest in the potential and hope for good returns once the theme starts to play. Here, is a list of some of the benefits of theme-based investing:
Investment is intuitive by nature: Theme based investment is generally based on some ideas and intuitions. Once we have sufficient knowledge about a particular theme we tend to select the companies which would be most benefitted in the future and make our investments based on that.

Diversified Portfolio: One might argue here that investing based on theme and diversification don't go hand in hand. But in the example explained above, we see that although the investment is on the basis of the 'Housing India' theme, but within the theme, we have diversified investment across various industries and sectors.

High returns: As the investment in the theme-based investing is very focussed and value-based by nature, so if the stocks in the theme start to play, then there is the potential of earning exponential returns on the investment made.
Risks associated with Theme-based investing:
Goal-based investing also comes with its own series of risks and hurdles. Here are a few prominent ones:
Potential Risky Investment: As we know that the theme-based investment has the potential to earn a huge return on investment if the theme does well. But if the theme does not do well, then there is a huge risk of losing a huge chunk of investment.

Companies in theme-based Investing: As we know that theme-based investing is more potential based, so some of the companies selected in the theme are from the small-cap sector, and they come with their own set of inherent risks and challenges.

Time of Entry: This is probably the biggest risk associated with theme-based investing. Sometimes even though we might select the right theme to invest in, but the prices of the shares of the company in this theme might have already gone up limiting the potential of returns upon investment.
To Conclude…
The modern investment methodology is very focused based investing and people are willing to invest in companies that align with their values and thought process. And theme-based investing helps them in achieving their goals. But it does come with its own set of challenges and risks. So, one should use his own judgment and discretion while selecting themes which they are willing to invest in.
Seeking Alpha's Disclosure: Past performance is no guarantee of future results. No recommendation or advice is being given as to whether any investment is suitable for a particular investor. Any views or opinions expressed above may not reflect those of Seeking Alpha as a whole. Seeking Alpha is not a licensed securities dealer, broker or US investment adviser or investment bank. Our analysts are third party authors that include both professional investors and individual investors who may not be licensed or certified by any institute or regulatory body.