Introduction
The semi-autonomous Kurdistan region of Iraq has an estimated 50 billion barrels of oil according to the US Geological Society. The region has drawn Exxon Mobil, Marathon, Chevron, Gazprom, and France's Total among others, who have secured licenses begin exploring the region. Kurdistan has had an ongoing dispute with the Iraqi Central Government over oil and gas law and payment agreements for exports. Political risk? Yes, but as the list of major energy companies above indicates, the opportunity to secure rights in one of the few remaining under-explored on-shore regions in the world where the potential for billion barrel oil fields exists, is too hard to pass up.
A small number of smaller companies acquired Production Sharing Contracts (PSCs) from the Kurdistan Regional Government years before the larger players arrived on the scene. Range Energy Resources (RGO, RGOZF) is a company that is virtually unknown to most oil investors which is one factor that makes it one of the most favourable risk reward trades at its at current share price.
Profile
Symbol: RGO (CNSX Exchange in Canada), RGOZF
Shares outstanding: 232 million
Last trade-- Cdn $0.025
$5.8 million market cap
$3.2 million cash
Top Institutional Holders:
Gulf LNG America LLC 29.23%
Salida Capital 16.26%
RAB Capital 9.75%
Mackenzie Financial 7.08%
US Global Investors 6.57%
Background
Between 2009 and 2012, the Company raised $35.6 Million in order to complete the acquisition of an indirect 24.95% interest in the Khalakan Block. In late 2010, the acquisition of 252 km of 2D seismic was completed.
Range Resources partners on the Khalakan block are BlackGold Khalakan (Private Company- 25.05% interest), and NewAge African Global Energy (Private Co.) that is the operator with a 50% interest. New Age African Global is a private company with that is well funded. A private equity fund in Hong Kong through its Kerogen Energy Fund, L.P made a commitment to subscribe US$125 million in three tranches to NewAge (African Global Energy) Limited in 2012 to fund its activities in Africa and Kurdistan.
Exploration Potential
Geology
The Zagros Foldbelt is a prolific hydrocarbon province in both Iraq and Iran. Compressional folds form the basis of structural traps, the largest of which (for example Kirkuk) are classified as giant fields. Tertiary and Mesozoic carbonate reservoirs are charged from marine claystone source rocks in the Jurassic Sargelu and, possibly, older formations.
Source: New Age African Global Energy 2011 Preliminary Prospectus
Large Reserves and Production in the Neighbourhood.
The Khalakan Block is contiguous with the Taq Taq block and only 25 km to the east of the producing Taq Taq oilfield. The Taq Taq licence area, with gross 2P reserves at 647 million barrels, currently has 12 producing wells with current production capacity of the field is 120,000 barrels per day, with plans in place to increase this to 200,000 barrels per day in 2014.
Source:Genel Energy
Directly to the south of the Khalakan Block is the Miran block -a world-class gas field. Miran contains two large contiguous structures, Miran West and Miran East. Results from wells drilled to date have confirmed the existence of two hydrocarbon systems with oil in the shallower Upper Cretaceous section and gas & condensate within the deeper Lower Cretaceous and Jurassic formations. A competent person's report prepared by RPS Energy Consultants in March 2012 for Heritage, estimated that the block contains mean Gas in Place of 10.5 tcf with mean contingent and risked prospective resources of 3.75 trillion cubic feet of gas and 161 million barrels of liquids.
Source:Genel Energy
From the Range Energy website:
On March 22, 2010 the company issued a news release summarizing an independent appraisal report entitled "Petroleum Reserves, Khalakan Field, Kurdistan, Prospective Petroleum Resources" prepared for the Company by Citadel Engineering Ltd. of Calgary, Alberta. The report indicates a mean gross projected oil in place reserve of 1.642 billion barrels for the Khalakan Block. The Company's indirect working interest, oil-in-place is estimated at 409.6 million barrels. If a recovery factor of 30% is assumed, Range's indirect working interest recoverable prospective resource would be 122.9 million barrels.
The main prospects have been mapped on the Khalakan Block:
Prospect A1 is the main surface anticline measuring 30 by 5 km at outcrop. Prospect A1 is defined by surface geology, seven dip lines and two strike lines. On current mapping Prospect A1 has an area of structural closure of over 90 km2 and a vertical relief of over 1,500 m at Top Jurassic level and 54 km2 and 1600 m at Top Kurra chine (Triassic) level. There are multiple potential reservoirs from surface downwards, the principle targets being Jurassic and Triassic carbonates. Overall risk is currently assessed by McDaniel at approximately 15-45%. Trap risk is considered to be low for Prospect A1, with the main risk thought to be the efficiency of seal..
Lead A5 is a sub-thrust "piggy-back" anticline updip from Taq Taq and to the southwest of the A1 anticline at Cretaceous and older levels and has no surface expression, movement having been taken up by thickness variations in the thick clastics of the Paleocene. Lead A5 is defined by four dip lines and one strike line all of which have been processed to depth migration. On current mapping it has an area of structural closure of 30 km2 at Top Cretaceous level and a vertical relief of 400 m. The overall risk is currently put at 17% by McDaniel, with the main risk thought to be trap uncertainty.
Source: New Age African Global Energy Preliminary Prospectus Sept 2011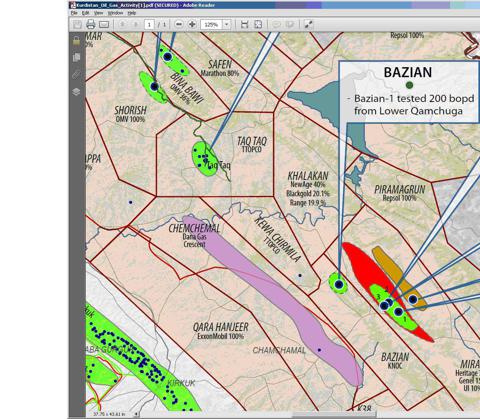 Source: Shamaran Energy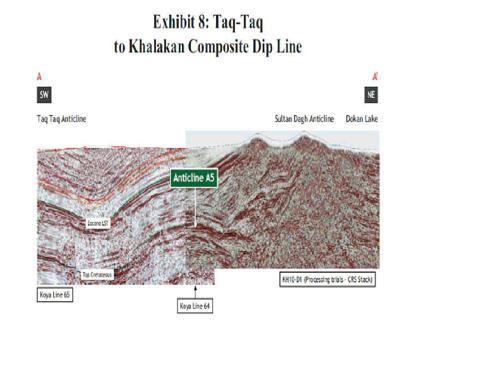 Source: New Age African Global Energy 2011 Preliminary Prospectus
Current Situation-
All public energy companies need to disclose to shareholders the key information related to its operations on a regular basis. The operator on the Khalakan block, New Age African Global Energy is a private company and therefore doesn't have an obligation to press release any results. As a consequence, Range has not been provided with little information.
What we do know-
Range continues to meet its obligations to joint venture participants. Obligations involve cash calls by the operator to pay Range's share of operations. Monthly reporting by Range indicates they are on side with the payment obligations.
It can be assumed one well has been drilled, The minimum work program commitments for the initial exploration period were to acquire 200 km of 2D seismic and to drill one exploration well with a minimum expenditure of $13.0 million. That period expired in spring of 2012 and if a well wasn't drilled, the KRG would have undoubtedly imposed some sort of penalty on the joint venture participants.
3. Preparations for a second well appear to be underway.
www.clarkeltd.com/news.htm November 2012 - January 2013
"Our most recent contract awarded was for Gas Plus Khalakan Ltd (GPK) drilling campaign in Khalakan Block, Kurdistan Region of the Republic of Iraq. This works involves the Construction of Access Road, Rig site Facilities and Camps for Gas Plus, Khalakan @ Shewashan-1"
An area called Shiweshan in Kuridistan based on a search of a map corresponds to the A-5 lead location from the NewAge prospectus.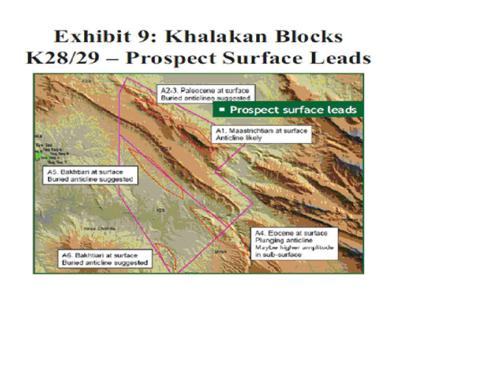 4. April is a pivotal month. On July 20, 2012 Range commenced arbitration proceedings against its joint venture partners to force disclosure of information. The arbitration panel has set a procedural schedule for resolving the dispute that could result in a hearing on the merits of the Range's claims at the end of April 2013.
5. Cash Requirements? The top institutional holder of Range, Crest Investments has shown they are believers in the Kurdistan region. In addition to its investment in Range, Crest Energy International bought about 10% of Western Zagros Resources by way of private placement for $57 million dollars in 2012. Range will likely have to raise additional equity in 2013 for ongoing operations and it is unlikely that Crest and all of the other institutional holders will walk away at this stage after the investments made to date. It is also worth noting that current institutional holders subscribed to previous offerings well above the stock price at the time to reduce dilution.
6. Upside vs. Risk? Any positive information from the arbitration would be positive for the share price of Range. Just how positive? Lets take a look at other small companies and valuation:
**Again, for reference Range's market cap is $5.8 million.
Shamaran Petroleum-SNM
Market Cap: $312 million (CDN)
Asset: Atrush Block 26.8% interest, one successful well
Abu Dhabi National Energy Co. (Taqa), has completed its purchase of a 53.2% stake in the Atrush block in Kurdistan for about $600 million.
Western Zagros-WZR
Market Cap: $420 million (CDN)
Asset: 40% interest in 2 blocks, 4 successful wells
Gulf Keystone Petroleum-GKP (NASDAQ:LN)
Market Cap: $1.88 Billion (GBp)
Asset: Interests in 4 blocks
Gulf Keystone's Shaikan Oil Field: 13.7 billion barrels of gross mean oil in place
Conclusion
At current share price, Range Energy Resources presents as compelling a risk vs. reward profile as you will find in the small cap energy space. Investors, like in all small cap energy stocks are making a bet on success with the drill bit. Range Energy and its partners on the Khalakan block are right next door to large, proven oil and gas resources.
A virtual lack of awareness of the company by the majority of retail investors has resulted in a built-in a discount to the share price that could quickly reverse. Tax loss selling likely pushed the share price down even further. Additionally, it is common for small cap energy stocks to draw attention and increased share prices in anticipation of the outcome of drill results.
In April of this year, investors will perhaps get the results on two wells and the production and reserve potential on the Khalakan block. One successful well would have the potential effect of multiplying the current share price.