Last week Seeking Alpha published our most recent article, "How To Beat The Market Using Tactical Asset Rotation". In this article we illustrated a very simple, single factor asset rotation strategy utilizing only trailing three month price momentum to determine the monthly holdings in our portfolio. Our risk-adjusted returns were extremely impressive, posting an average annual return since 2004 of 22.7% versus 7.7% for the S&P 500. More importantly, our portfolio was able to produce such a wide margin of outperformance while significantly reducing risk. Over the eleven full calendar years measured in the illustration, not once did the portfolio generate a negative calendar year return, and the portfolio experienced a max drawdown of only -21.3% for the period versus -55.2% for the S&P 500. It should also be noted that over this historical measurement period our illustrated portfolio demonstrated only a 30% correlation to the S&P 500.
Our purpose for writing the article was simple. The tactical managed ETF portfolio space is one of the most rapidly growing segments of the investment markets, and yet the masses continue to be left in the dark as to what the possibilities of true modern day portfolio management really are. The proliferation of the ETF as an investment vehicle has dramatically changed the landscape for investors. With only a handful of trades, investors can now dramatically alter an investment allocation, remaining nimble, and be far more likely to adapt to current market conditions based on underlying trends and avoid prolonged declines.
Surely, no professional money managers in this space are relying solely on a single-factor asset rotation model, nor do we really recommend it, but that is not to say they do not work or provide a baseline for further study. We illustrated this in our book, Asset Rotation, by providing statistical analysis of an elementary model based solely on trailing one month price return. However, likely many of our Seeking Alpha readers may not have read it. So in order to put things into better perspective, in this article, as a follow up to our last, rather than use trailing three month momentum as our single factor for determining portfolio holdings, we will take a look at the performance of these same previously discussed portfolios, but with trailing one month momentum as our single factor.
Recall from our last article, our initial sample portfolio was comprised of only 5 eligible ETFs:
In the following illustration our rules for tactical management of the sample portfolio will be:
The portfolio will be reconstituted on a monthly basis
Each month we will select and hold only one out of our 5 eligible ETFs
Our holdings we will be based solely on purchasing the best performing ETF out of our five over the trailing 1 month period at the time of portfolio reconstitution.
Our portfolio will be traded on the last trading day of each month
Before continuing on we should note in this example when we refer to "1 month" we are actually referring to the trailing 20 day period prior to our trade date. Generally speaking there are 252 trading days in a given year. 252 divided by 12 equals 21 days in the average trading "month". Obviously, some months are longer than others. Some tactical managers utilizing trailing period returns to follow trends use calendar months, whereas others adhere to this 21 day method (or as was the case in our last article, 3 month = trailing 63 trading days).
So let's take a look at how our simple tactical asset rotation portfolio measured up versus the S&P 500 from 2004 through March 18, 2015: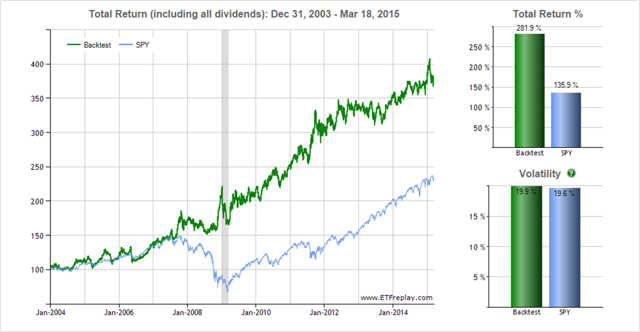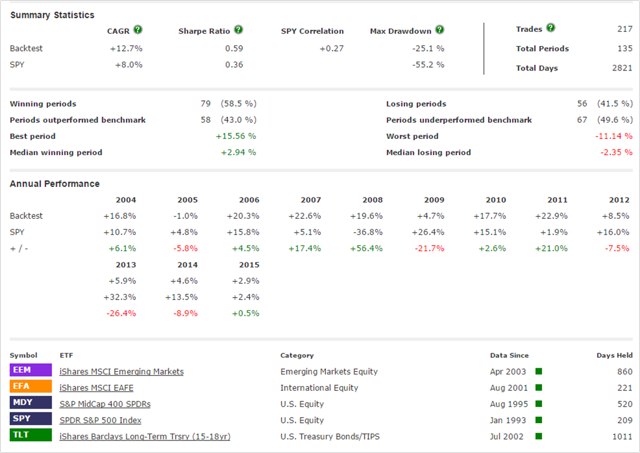 From 2004 through March 18, 2015 our simple 5 security asset rotation portfolio illustrated above averaged a highly respectable compound annual growth rate of 12.7% versus an 8.0% annual return for the S&P 500. When you consider literally only a handful of active managers were able to beat the S&P 500 over this period, this performance is quite impressive. Over the entire period what may not seem like that great of a divergence in performance lead to a significant difference in cumulative return, as our simple asset rotation portfolio increased by 281.9%, versus 135.9% for the S&P 500.
Other notable observations:
Over the course of the period, this portfolio experienced one calendar year of negative returns. What to many may seem counterintuitive, it didn't happen in 2008. In fact, in 2008 the portfolio would have been up +19.6% while the SPY was down -36.8%. However, in 2005 when the S&P 500 was up a modest 4.8%, this portfolio was down -1.0%.
Our tactical portfolio illustration demonstrated a correlation of only 27% to SPY
The max drawdown on the tactical portfolio was -25.1%, versus -55.2% for SPY
The tactical nature of this portfolio provided concentrated exposure during multiple periods in the mid 2000's when emerging markets were on a tear.
Out of this 2821 day period, TLT was held for 1011 days, EEM was held for 860, and MDY was held for 520. SPY was only held 209 days out of the entire period, roughly only 7% of the time.
The volatility of our illustrated tactical portfolio was nearly identical to that of SPY, at 19.9% versus 19.6%.
In 2012, 2013, and 2014 our sample asset rotation portfolio would have significantly lagged SPY (2012: 8.5% versus 16.0%, 2013: 5.9% versus 32.3%, 2014: 4.6% versus 13.5%).
In 2009, after the March lows of the Great Recession we saw markets around the world go on an extended run and yet this portfolio severely lagged the market, up only 4.7% versus a 26.4% return on SPY.
After examining the statistical analysis of this simple asset rotation portfolio based on only one single factor to determine portfolio holdings (trailing one month return), it is hard to argue with the longer term results. That said, we would all likely agree that other than during 2010 and 2011, investors in this portfolio from 2009 and beyond would have been largely disappointed. After all, despite the fact that comparing a portfolio that is not 100% in equities at all times to another one that is fully invested at all times is simply not a fair comparison, the reality is we all like to see a winning horse and likely investors lagging over such a prolonged period would have pulled the eject handle and once again returned to chasing the hot dot.
On a side note, investors should be aware that the portfolios illustrated in this article should be considered to take a "global" approach; half of the eligible equity ETFs are ex-US. As such, it should not come as a surprise that a portfolio with international exposure has lagged in recent years. Consider that since the last time markets peaked in October of 2007, the S&P 500 is up over 150% and both the MSCI EAFE and MSCI Emerging Market indices remain in negative territory. We are only using the S&P 500 as our benchmark for comparison because it is so widely recognized.
Moving along, just as we did in our last article, let's take a look at this exact same process, but add one more eligible fixed income ETF (iShares Barclays 7-10 Year Treasury, Ticker: IEF) and change our portfolio holding requirement up from one to two ETFs per month. This way our portfolio can at times assume the following allocations: 100% equity, 100% fixed income, and 50% equities / 50% bonds. Whereas the previously highlighted portfolio could only be 100% in one or the other (which can make whipsaws in the portfolio more dramatic).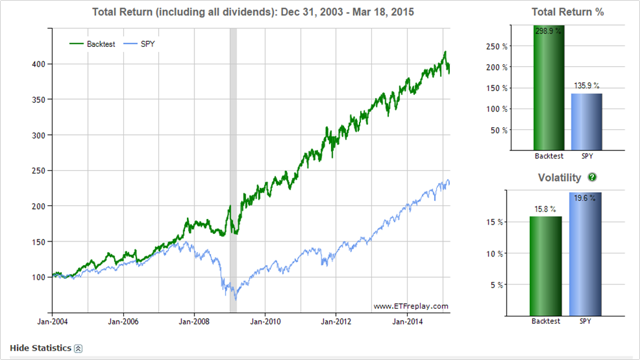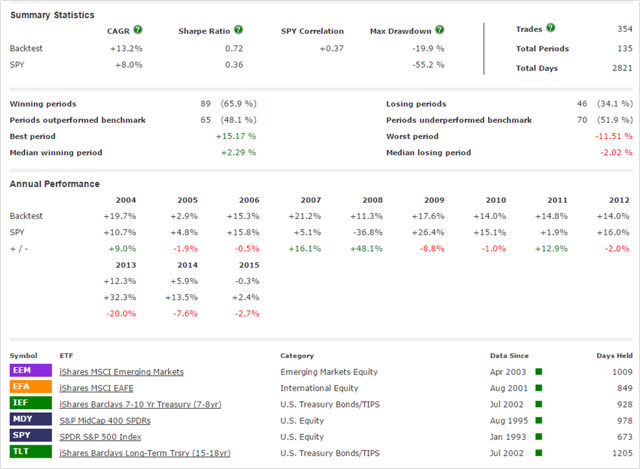 By adding an additional eligible fixed income component and increasing our monthly holdings to two, some may be surprised to learn that our performance increased from a compound annual growth rate of 12.7% up to 13.2%. Granted a half percent per year may not sound like much, but over time that adds up considerably, as our cumulative return for the period increased from 281.9% up to 298.9%. In our last article highlighting trailing three month momentum as our single factor for determining portfolio holdings, when we made these same additions our average annual return dropped from 22.7% to 17.8% and this lead to a reduction in cumulative return for the period from 884.5% down to 526.6%.
Other notable observations include:
As should be expected, with the ability to now assume a 50/50 allocation and not be simply alternating between either 100% equities or 100% long dated Treasuries, our volatility decreased from 19.9% down to 15.8%.
Unlike our prior illustration, this sample portfolio did not experience a single calendar year of negative returns for the measurement period. In 2005 when our prior asset rotation illustration was down -1.0%, this sample portfolio was up 2.9%.
The dramatic lag we witnessed in 2012 and 2013 in our prior illustration was less so in our second sample portfolio, and whereas our prior illustration only generated a return of 4.7% in 2009, in this version we were up a much more acceptable 17.6%.
Having now provided our readers with a look at using both trailing one and three month returns in single factor asset rotation portfolios, it is likely pretty clear using a longer time frame has historically generated greater long term returns. The reason behind the outperformance of the intermediate term models is really quite simple; they simply are not as likely to fall for head fakes in the market. When "flash news" hits, we often see an overly dramatic response in the short term by market participants. In a portfolio focused on trailing one month returns as the sole factor for determining portfolio holdings this can cause an investor to sell out of equities, enter into Treasuries for the next month, only to have the overall intermediate term trend resume and they miss out on these gains.
With that said, there are obviously flaws with taking a trailing three month approach as well. Most notably, when equity markets begin to decline you will likely be riding down with them for a couple months before you get out. You are also slower to react to emerging trends.
Ultimately, there are flaws to really any single factor approach, but that is not to say that over prolonged periods they do not work; we are simply stating that by adding some additional factors to your investment selection criteria you can more consistently generate superior performance. In the end, it really comes down to having a properly constructed eligibility list; one comprised of both risk assets, as well as those that will provide a margin of safety. Once an appropriate eligibility list is constructed, there are a number of different processes that can successfully be applied to an asset rotation based portfolio and generate superior long term risk-adjusted returns. Just remember, they may not always "look like the market", but that's ok - they're not supposed to.
Disclosure: The author is long TLT, MDY, SPY.
The author wrote this article themselves, and it expresses their own opinions. The author is not receiving compensation for it. The author has no business relationship with any company whose stock is mentioned in this article.