The RCM Focus 20 Portfolio adheres to a "Quantamental" discipline, combining a data-driven quantitative approach to investing with bottom-up fundamental stock picking. Since inception, this 5-Star Rated Large-Cap Value strategy has handily outperformed its peers, as well as benchmark indices.
Over the trailing 3-year period ending August 31, 2017, the RCM Focus 20 has averaged an annualized return of 10.45%, versus 6.74% for the Russell 1000 Value Index. With an Alpha of 4.7 and a Beta of only 0.81, this strategy has managed to generate superior performance while at the same time demonstrating less risk.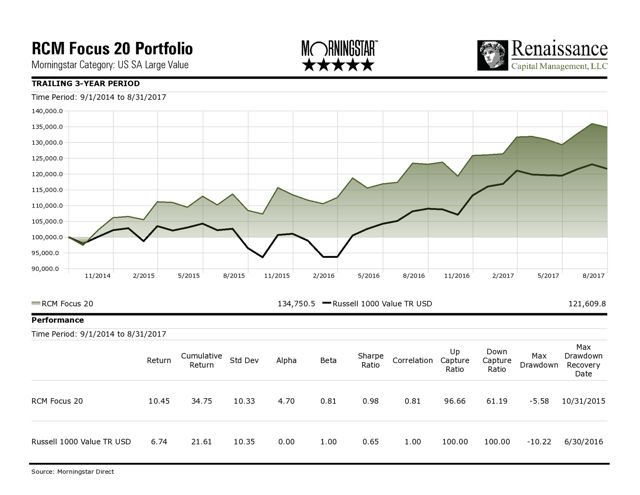 In recent weeks, the RCM Focus 20 Portfolio has begun to distance itself further from the pack:
Performance Through 9/12/2017
Month-To-Date

: Focus 20 +3.85% / Russell 1000 Value +1.22%

Quarter-To-Date

: Focus 20 +5.43% / Russell 1000 Value +1.37%

Portfolio Leaders QTD

: GAP (+25.56%), T Rowe Price (+14.35%), Bristol-Myers (+13.88%), LyondellBasell (+13.64%), and Target (+11.94%)

Year-To-Date

: Focus 20 +10.93% / Russell 1000 Value +6.09%
The RCM Focus 20 Portfolio is managed on a relative basis to the S&P 500 Index, remaining fully invested at all times. The objective of the strategy is to identify and hold the Top 20 stocks within the S&P 500 that by proprietary metrics represent the greatest value and risk-adjusted opportunity for gains, thus eliminating more than 95% of index constituents.
Over time, this portfolio has historically generated both top-line and risk-adjusted outperformance over comparable benchmarks, but more importantly has provided investors with relative downside risk mitigation during more adverse conditions in the U.S. equity markets.
The RCM Focus 20 Portfolio is currently open to new investors through Renaissance Capital Management, LLC. Interested parties are encouraged to contact RCM at 888-308-3993, or via email at info@rcmportfolios.com for further information.
Disclosure: I am/we are long GPS, TROW, BMY, LYB, TGT.