Is Wall Street Mistaken On Tesla…. Again?
Please Note: Blog posts are not selected, edited or screened by Seeking Alpha editors.
Summary
Tesla's bull thesis depends on revenues from robotaxis, robotaxi services & robust EV market share.
Tesla is unlikely to get regulatory approval for robotaxis before Waymo & Cruise. This will affect Tesla's projected robotaxi & service revenues.
True safe autonomy in competing EV's could decimate Tesla's market share.
Wall Street was crowded with Tesla bears, ready to point out that Elon Musk could never disrupt the capital intensive car industry. They were dead wrong.
Some of those analysts have now turned into enthusiastic Tesla bulls. This article is about why I believe they're wrong again.
Tesla's P/E ratio is high, very high - 1743 as I write.
The argument goes that Tesla is not a car company. They should be priced like a Tech Company.
Why they should be priced like a Tech company?
Because..
Robotaxis! Tesla will grab a chunk of the 160 billion dollar ride hailing market.

With all those captive robotaxi riders, there's a ton of potential service revenue.
Real question is - Will Tesla be first to Robotaxis?
The extreme bull thesis hinges on the answer to this question, so it's important to not gloss over it.
It's a question of likelihood.
Is it likely that Tesla will beat Waymo & other AV makers to regulatory approval for robotaxi's?
Well.. does it really matter when Tesla gets there?
If Waymo gets there first, their OEM partners will create competing robotaxi & truck delivery services.
That's okay, Tesla will get there later. They'll still get a lot of market share because they'll have a million robotaxis on the road overnight.
That picture could change though, if the next batch of autonomy companies (Cruise, Zoox and others), also get there before Tesla.
Because if they do, competition between them will drop the price of autonomy. Then it's not just Robotaxi revenues that Tesla stands to lose out on.
If OEM's are able to include safe & reliable autonomy in personal vehicles at an economical price, while Tesla FSD (Full Self Driving) still needs monitoring, this poses a much more serious competitive threat to Tesla's sale volumes.
Is Elon Musk concerned about Waymo?
Elon knows regulators love safe and boring. He knows that "Waymo driver" is safe and boring.
On Oct 8th, Waymo announced - "No more safety drivers" & Waymo's taxi fleet was declared open to anyone in Phoenix.
Elon realized that a milestone of this sort could shift autonomy enthusiasm away from Tesla.
So in yet one more brilliant move, on Oct 12th, exactly four days after the Waymo announcement, Musk announces a limited FSD beta for "expert & careful" Tesla drivers.
Any dawning public interest in Waymo's astounding achievement was immediately buried under a wave of Tesla owner/investor excitement.
Is Waymo really a threat to Tesla?
Being a Tesla owner & investor myself, I was inclined to dismiss Waymo thinking
Waymo is geofenced.
They'll take ages to scale up. Tesla meanwhile has a million Tesla owners, who with one software update, could become robotaxi owners.
LIDAR & Waymo hardware costs 75K/car, way way too much.
Is Waymo really limited by being geofenced?
Waymo is geofenced only because Phoenix is a pilot. They can actually operate anywhere they have an HD map.
Okay ... so how hard is it to create an HD map?
Not hard. Apparently they simply send a LIDAR equipped vehicle to drive all over a city. This is followed by some automated and manual labeling. There are optional additional city specific traffic rules and oddities you can choose to handle in the interest of safety.
So maybe a couple weeks to a couple months.
Then their fleet of cars monitor & update the map. All updates go out to the entire fleet.
Why hasn't Waymo already rolled out everywhere?
Waymo is building a fake city in Ohio to improve Waymo drivers performance in snow. Once they're happy with that, regulatory approvals should start to roll in.
If I had to hazard a guess, I'd guess that they'll start getting regulatory approvals by the end of 2021. OEM fleets might start appearing in these cities by the middle of 2022.
Will Waymo operate these robotaxi fleets or will the OEM's?
From what Krafcik (John Krafcik - Waymo's CEO) has been saying, it appears that Waymo is focused solely on developing "Waymo driver". Car fleets will be operated by OEM's or other companies, not Waymo.
How much will Waymo charge the OEM's?
If you were leading the autonomy race and wanted to maximize your revenues, what would you charge? As much as possible, while still allowing car/truck makers to share in the profits.
Krafcik mentioned the cost of software/hardware would roughly match the cost of the car. This makes the cars too expensive to sell to customers.
(Waymo has brought down hardware cost from 75K down to 7.5K. They plan to cut cost of their inhouse LIDAR further by increasing volumes selling it to non-automotive industries).
As long as Waymo has pricing power, car companies will be able to include autonomy only for ride hailing & perhaps some leasing. (Ride hailing revenues are higher - Personal cars are utilized only 5% of the time. Ride Hailing cars are utilized 95% of the time).
When will car makers integrate Waymo driver into their robotaxis?
The OEM's that Waymo is partnered with today have likely already designed the integration into their EV designs, including integration with the android/ apple car play ecosystems we're all used to.
Once Waymo regulatory approvals roll in (at a guesstimate - end 2021). Robotaxis with Waymo hardware/software might start rolling out in 6-12 months, so Mid 2022.
So... when can I buy a non-Tesla autonomous car?
Only after autonomy competition from Cruise & others hits the market, maybe in 3-4 years.
Waymo will then be forced to lower prices to compete.
Car makers should then be able to sell personal vehicles with L4 autonomy -   in direct competition with Tesla's FSD.
When will Tesla get there?
Waymo completed an end to end city trip in the firefly (car without a steering wheel) in 2015.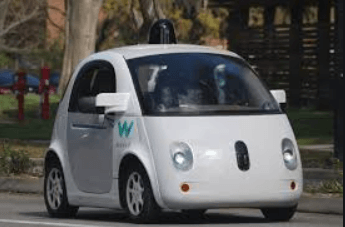 It took them 5 years to get from that day to safe driverless Robotaxi's in Phoenix.
Tesla's gamble is that their many many miles of driving data will
Enable them to shrink 5 years down to 1 year, or less.
Overcome the disadvantages of no LIDAR.
Overcome the higher load & delays caused by regenerating their 3D map all the time.
Note that Tesla has yet to reach Waymo's 2015 milestone. Also note Elon's consistent disclaimer on regulatory approval.
It's also worth noting that Andrej Karpathy's (Leads AI at Tesla) colleagues at other companies and universities do not seem to believe that Tesla's "mounds of data" approach will work in drastically shortening the time needed (at least not with the neural net algorithms currently available).
Most likely outcome - Tesla's FSD will be an excellent driver assist system. But it's doubtful it will gain regulatory approval for autonomous operation in the next 5 years.
In 5 years, we'll probably have 2-3 companies with robotaxis in various cities. Android auto & apple car play will be battling it out for services revenues.
Assuming no autonomy, what would Tesla's share price be in 2030?
Lets take an optimistic view and assume that Elon Musk meets his goal of selling 20 million cars in 2030. A very rough back-of-envelope calculation of Tesla's share price is below.
2019 Cars Delivered = 367,500
2019 EPS = $0.52
Ratio of EPS to Cars Delivered = 0.000001414965986
2030 Cars Delivered = 20,000,000
Projected EPS in 2030 = 20,000,000 * 0.000001414965986 = $28
Lets say car Industry normal P/E ratio is around 20.
Tesla price in 2030 would be $560
What about other revenue streams - batteries, solar?
Battery Tech has plenty of competition from Chinese companies and this will only increase as solid state and hydrogen get closer.
Solar will take a while to become profitable as they're currently tacking on only a 2% margin.
What will Elon do?
Perhaps he'll combine everything under the Tesla umbrella and the Teslanaires will continue to benefit.
Or perhaps he'll leave the Teslanaire's to their fate while he continues on his mission of speeding the planet towards carbon neutrality.
Analyst's Disclosure: I am/we are long GM, GOOGL.
I have a small long position in Tesla, as well as a small short position.
Seeking Alpha's Disclosure: Past performance is no guarantee of future results. No recommendation or advice is being given as to whether any investment is suitable for a particular investor. Any views or opinions expressed above may not reflect those of Seeking Alpha as a whole. Seeking Alpha is not a licensed securities dealer, broker or US investment adviser or investment bank. Our analysts are third party authors that include both professional investors and individual investors who may not be licensed or certified by any institute or regulatory body.