Greece Hits Strike 10, Violence Erupt Again
Please Note: Blog posts are not selected, edited or screened by Seeking Alpha editors.
Another general strike in protest against the EU/IMF austerity in Greece have brought the country to a standstill once again. Today's general strike the 1oth since the crisis started. Greek youths clashed with the police again Wednesday, with protesters hurling rocks in the face of tear gas and stun grenades.


"If Greece decides to attempt a so-called internal devaluation – that is by cutting salaries and prices within the country – it would risk setting off civil war."
Port workers, teachers, civil servants, professors and nurses stayed off the job in some 14 cities across the nation, with schools closed, public transport halted, hospitals providing only emergency services and flights in and out of Athens airport grounded for four hours.
This is the second general strike this year, and the 10th since the start of the crisis.
Video
Prime Minister George Papandreou is under pressure to hold his government together, with growing numbers of MEPs and ministers coming out publicly against austerity measures and privatisation, siding with the protesters.
Video
The industrial action is the first in the new round of announcements from the government of a fresh €26 billion round of cuts and tax hikes and a €50 billion privatisation plan and at a time of record, 15 percent unemployment, three years into a recession.

But yesterday the Greek finance ministry said that the central government's deficit had increased 14 percent on last year for the first quarter.
However, senior officials from the troika descended upon Athens today to push for more thoroughgoing cuts and structural reforms.

Meanwhile, the Greek daily newspaper, Kathimerini, reports that the IMF is currently putting together a €80-100 billion rescue for the country, employing unacknowledged sources.
Other domestic media put the figure at €50-60 billion.

The rumours come after the government denied that it was engaged in any such negotiations.

However, European citizens are getting used to denials by ministers over such matters that days later are confirmed.

Video

The quid pro quo would likely be further austerity amounting to €7 billion, firing more public sector workers, a commitment to fully privatise the
Hellenic Telecommunications Organisation
, the country's electricity firm and the Athens airport, as well as putting up government property as collateral against the new round of cash, according to the
EUobserver.com.

EU's
finance ministers meeting next Monday will consider what strategy to take. But no decisions are expected until the troika inspectors return with their verdict on the situation.

Leaders are divided as to what approach to take to confront the dawning reality of a pro-cyclical austerity policy that offers ever-widening public debt and little likelihood of a return to growth, with Greece returning to the markets for funding in 2012 a virtual impossibility.
Also on Wednesday, the European Commission reiterated its stance that
"restructuring is excluded"
as an option, a position underlined by French finance minister
Christine Lagarde
the same day speaking in centre-right newspaper Le Figaro.
"We totally exclude it in any form. Nor is there any question of Greece leaving the euro zone," she says, but indicates a possible second bail-out.

"Nobody wants to keep funding countries in difficulty like this," she continued.
"But we absolutely must do it because a sovereign debt restructuring would send such a negative message to investors that the whole zone would suffer, the cost of refinancing for all its members would soar," the French minister says.

Ms. Lagarde stresses that an acceptance of restructuring would result in a hike in interest rates for all euro zone government borrowing and the ECB would be saddled with considerable losses.
However, it's being reported that the
German finance ministry
are considering restructuring as a final solution, despite the losses to banks, accepting that the current policies are not working, that endless funding of the Greek state is not politically viable and that a controlled restructuring could limit the losses.
Video
At the same time, the country's finance minister, Wolfgang Schaeuble, reportedly told
MEPs
behind closed doors that an interest rate cut or an extension in the loan repayment period for Athens was a possibility, the EUobserver writes.

Austria's ECB board member, Ewald Nowotny, for his part, says he opposed restructuring, because it would "only heighten the crisis" and produce "massive consequences" for all of Europe's banking system, not just that of Greece.
"It does not have to be fresh loans. It could also be a question of the time horizon of how long one has to repay," Mr. Nowotny tells Austrian radio.

But at the moment it seems that the policy makers seems to go for an   indefinitely extending aid to Greece – and potentially Ireland and Portugal – and thereby accepting the costs of restructuring.

The politicians seem to be focused on that a Greek exit from the euro must be avoided at all costs.

Video
On Friday, Spiegel Online reported that Greece was considering such an option, a move since vehemently denied by Athens.

"Everything would be better than an exit," Mr. Nowotny says.

Such an outcome would lead to massive losses for German banks in the face of the certain collapse of the Greek banking system that would result from such an exit.

Moreover, the ECB itself would be facing up to €110 billion owed by Greek financial institutions, requiring a recapitalisation of the central bank, according to the politicians.
Nevertheless, beyond the Spiegel report, three days ago, Hans-Werner Sinn, head of the influential Munich-based
IFO Institute for Economic Research
, recommended the country leave the single currency.
"If Greece were to exit the euro, it would be able to devalue its currency and thus become competitive once again," he said, adding:
"If Greece decides to attempt a so-called internal devaluation – that is by cutting salaries and prices within the country – it would risk setting off civil war."
A recent poll for Mega Television reported that 60,3 percent of the Greek citizens want to renegotiate the EU-IMF bailout and more than 25% want the country to exit both the bailout programmes, as well as the euro zone.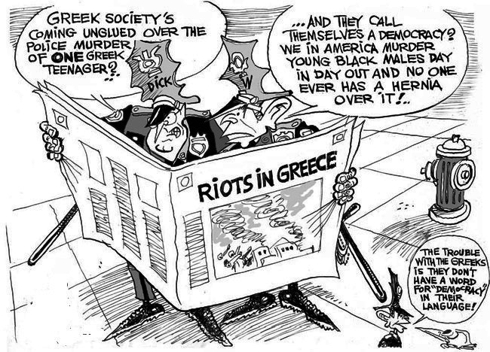 Related by the Econotwist's:
Seeking Alpha's Disclosure: Past performance is no guarantee of future results. No recommendation or advice is being given as to whether any investment is suitable for a particular investor. Any views or opinions expressed above may not reflect those of Seeking Alpha as a whole. Seeking Alpha is not a licensed securities dealer, broker or US investment adviser or investment bank. Our analysts are third party authors that include both professional investors and individual investors who may not be licensed or certified by any institute or regulatory body.