If you think you are ready for a heavy dose of financial cool aid, I suggest you head over to the newyorker.com and read their fascinating interview with the richest and strangest hedge fund founder, Ray Dalio. In 2007, Dalio predicted that the housing-and-lending boom would end badly. Later that year, he warned the Bush Administration that many of the world's largest banks were on the verge of insolvency. Now he's saying that several developed countries, particularly those tied to the euro, are destined to undergo "classic depressions."



"People concentrate on the particular thing of the moment, and they forget the larger underlying forces. That's what got us into the debt crisis. It's just today, today."

Ray Dalio

As I pointed out in my commentary post on New Years Eve, it is quite possible that we have to struggle with the financial crisis and its consequences for another decade or so. It seems like the sixty-one-year-old founder of Bridgewater Associates, the world's biggest hedge fund, is of the same opinion."We are still in a deleveraging period. "We will be in a deleveraging period for ten years or more,"
Ray Dalio concludes in a feature interview with
The NewYorker
.

Dalio believes that some heavily indebted countries, including the United States, will eventually opt for printing money as a way to deal with their debts, which will lead to a collapse in their currency and in their bond markets.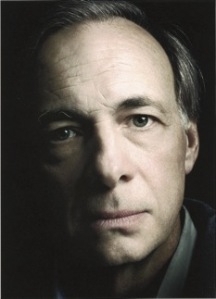 "There hasn't been a case in history where they haven't eventually printed money and devalued their currency,"
he says.
Other developed countries, particularly those tied to the euro and thus to the European Central Bank, don't have the option of printing money and are destined to undergo "classic depressions," Dalio said. The recent deal to avoid an immediate debt default by Greece didn't alter his pessimistic view.

"People concentrate on the particular thing of the moment, and they forget the larger underlying forces," he says. "That's what got us into the debt crisis. It's just today, today."

Dalio, the son of a jazz musician,  began investing at age 12 when he bought shares of Northeast Airlines for $300 and tripled his money when the airlines went through a merger.

In 1975, he founded the investment management firm, Bridgewater Associates, and his investment advisory service began to attract pension funds worth millions of dollars.
In March this year, AR, a magazine that covers hedge funds, quoted a former colleague of Dalio's saying; "Bridgewater is a cult. It's isolated, it has a charismatic leader and it has its own dogma."

The authors of the article noted that Dalio's "emphasis on tearing down an individual's ego hints at the so-called struggle groups of Maoism," while his search for "human perfection devoid of emotion resembles the fantasy world in Ayn Rand's 'The Fountainhead."

But I just have to reveal the punchline (sorry!):
"Dalio's assessment sounded alarmingly plausible. But when one plays the global financial markets a thorough economic analysis is only the first stage of the game. At least as important is getting the timing right. I asked Dalio when all this would start to come together. "I think late 2012 or early 2013 is going to be another very difficult period," he said."